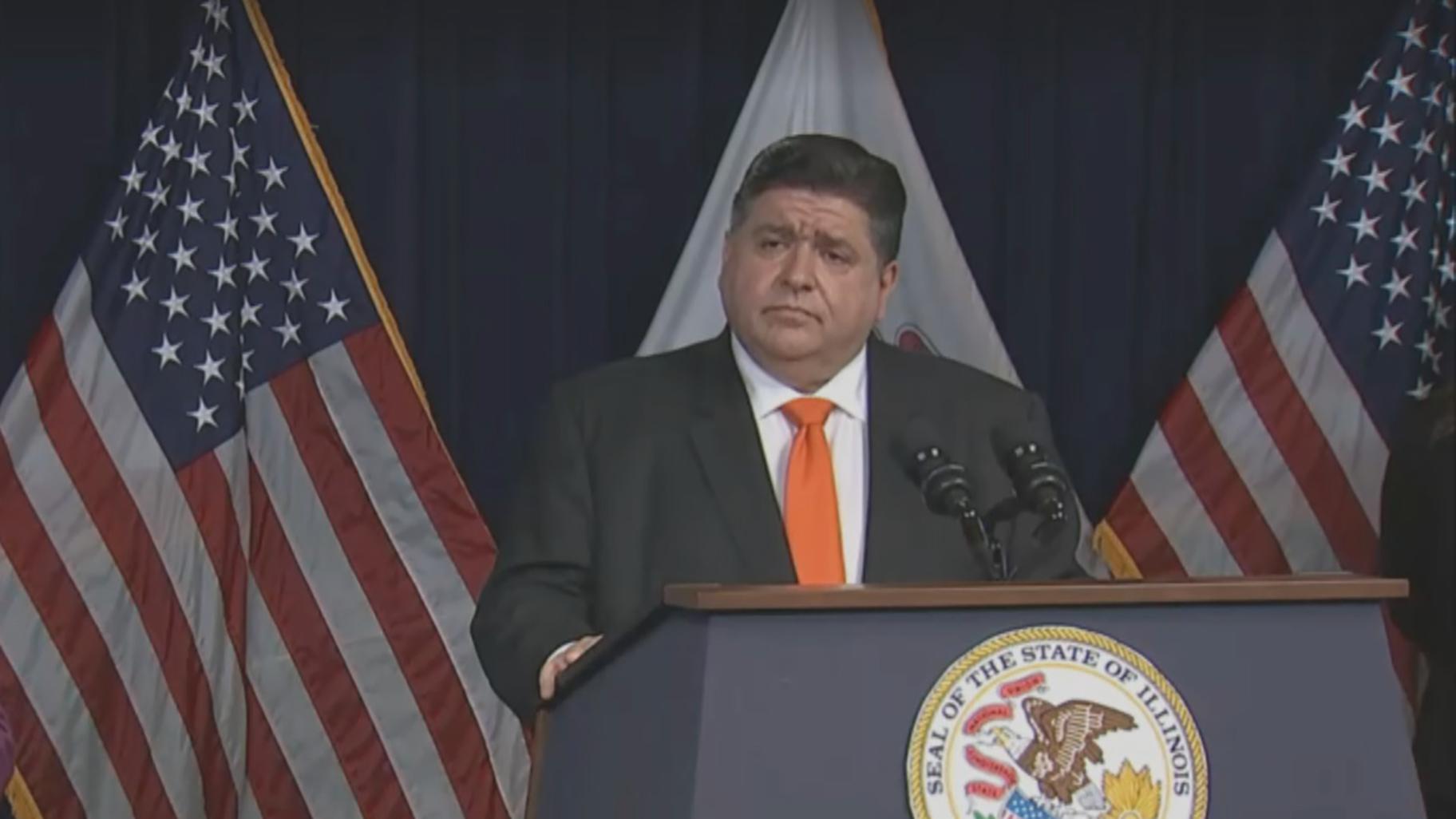 Gov. J.B. Pritzker announces that the state's indoor mask mandate will be lifted on Feb. 28 during a press conference on Feb. 9, 2022. (WTTW News)
Gov. J.B. Pritzker announced late Friday students and staff will no longer be required to wear masks in Illinois schools as of Monday, after the Illinois Supreme Court declined to take up his request to overturn an appellate court decision that prompted school districts across Illinois to drop their requirement that students and teachers wear face coverings to stop the spread of COVID-19.
Pritzker said he was "gratified" by the Supreme Court's ruling, which he said in a statement "meant that if a school mask mandate needs to go into effect in the future, we continue to have that authority."
In addition to rejecting the governor's appeal of an appeals court ruling, the Supreme Court order also vacated the temporary restraining order issued by a Sangamon County judge on Feb. 4 that lifted the mask mandate in 168 school districts across the state. 
Because a General Assembly committee declined on Feb. 15 to reissue rules from the Illinois Department of Health requiring masks to be worn in school buildings, the Fourth District Appellate Court was correct in deciding that the matter was moot, but erred in dismissing Pritzker's appeal of the lower court ruling. Instead, the panel should have sent the matter back to Sangamon County Circuit Judge Raylene Grischow, according to the Supreme Court order.
Members of the General Assembly committee said they did not want to act until the appellate court made a decision on Pritzker's request to stop the order lifting the mask mandate from taking effect while the lawsuit proceeded. But the Supreme Court ruled their failure to act made the matter moot, forcing the matter back to Grischow's court and preventing the governor's appeal from moving forward.
Pritzker said he would withdraw an executive order that he has said required students in Illinois schools to wear masks to prevent the spread of COVID-19 because of new rules for mask wearing issued Friday by the Centers for Disease Control.
Those rules urge people to wear masks indoors in communities only where hospitals are at risk of being overwhelmed by patients diagnosed with COVID-19, CDC officials said. 
The new rules are determined by how many people are being hospitalized for COVID-19 and how much hospital capacity they require, CDC officials said. That is a more accurate way of measuring the progress of the COVID-19 pandemic, now that everyone older than 5 is eligible to be vaccinated and anti-viral treatments are available, officials said. 
The new rules no longer call for all students and staff to be masked in schools. Instead, only schools in communities at a high level of risk should require masks to be worn, CDC officials said. 
Under the new guidelines, there is a "low" chance of contracting COVID-19 in Cook County and across Illinois.
Pritzker said he was "extremely pleased" to lift the mask mandate for schools. Most school districts made masks optional after the appellate court rejected Pritzker's appeal of the lower court ruling.
The governor's announcement had no immediate impact on Chicago Public Schools, where an agreement between the district and the Chicago Teachers Union will require students to wear masks until August unless a new agreement is reached.
When Pritzker announced Feb. 9 that he would lift the state's mask mandate for most indoor public spaces Monday, he said he would keep the mask mandate in place in schools for several additional weeks at a minimum.
Federal rules mean masks will continue to be required in congregate settings, including hospitals, day cares and long-term care facilities, where people are forced to have close contact. The mask mandate for airplanes, trains and buses is scheduled to expire March 18.
Illinois Department of Public Health Director Dr. Ngozi Ezike said she still strongly recommends that people wear masks, especially in crowded indoor spaces.
Contact Heather Cherone: @HeatherCherone | (773) 569-1863 | [email protected]
---