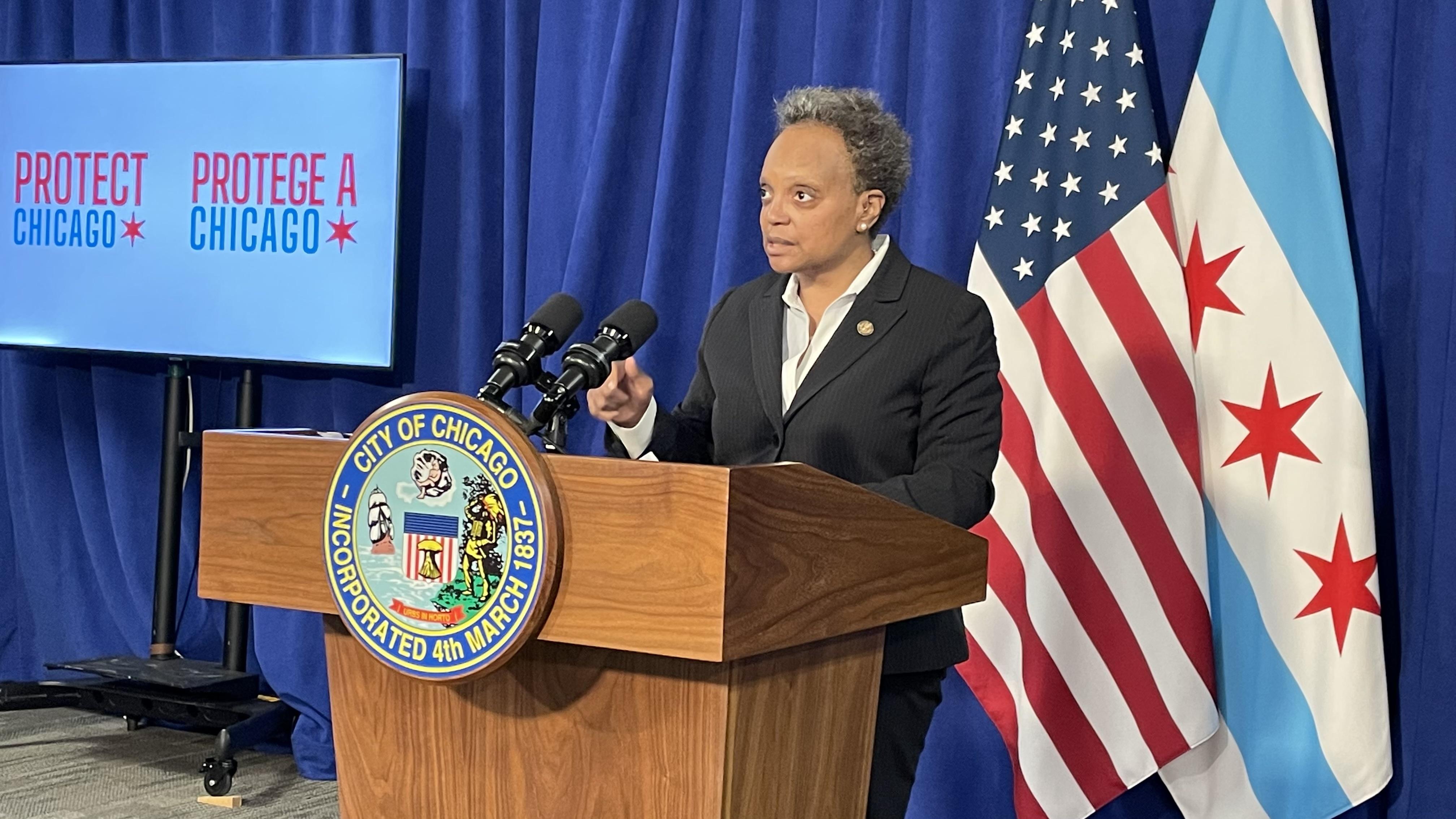 Mayor Lori Lightfoot addresses the news media on Tuesday, Feb. 22, 2022. (Heather Cherone/WTTW News)
Chicago will end its indoor mask mandate and will no longer require that restaurants, fitness centers and bars demand proof of vaccination from customers on Monday, Mayor Lori Lightfoot said on Tuesday.
"It's important for us to recognize this moment for what it is: a huge step forward in our effort to overcome COVID-19," Mayor Lori Lightfoot said.
Chicago will act in concert with the state, which is also scheduled to lift its mask mandate on Monday. The mask mandate and proof-of-vaccine requirement will also end on Monday in suburban Cook County, officials said.
Lightfoot's action is not in line with current guidelines set by the U.S. Centers for Disease Control and Prevention, which recommends mask mandates in places where the rate of transmission of COVID-19 is "high" or "substantial" because masks reduce that rate of transmission.
All of Cook County is experiencing substantial transmission and masks should be worn in doors, according to the CDC.
While city officials credited the vaccine mandate for boosting vaccinations, Lightfoot said it was designed to ensure Chicago hospitals could continue to operate at the height of the surge driven by the omicron variant. The rule has made operating very hard for some restaurants and fitness centers, she said.
Illinois Restaurant Association CEO Sam Toia called Lightfoot's announcement "an encouraging sign of better times ahead" for Chicago's hospitality industry.
"This is a meaningful step that will increase consumer confidence and keep our restaurants on a steady path to recovery," Toia said.
When Gov. J.B. Pritzker announced on Feb. 9 he would lift the statewide mask mandate on Monday, Lightfoot said Chicago would only follow suit two weeks after three of the four metrics health officials use to assess the risk of COVID-19 transmission hit a "lower rate." Two weeks is a full incubation period for COVID-19, according to federal health officials.
Chicago reached that point on Sunday, starting what Lightfoot said would be a 14-day countdown, according to the Chicago Department of Public Health. 
However, Lightfoot's announcement means Chicago will have only spent nine days with three of the four risk metrics at a lower rate.
City officials assess COVID-19 transmission risk with four metrics based on seven-day average: the number of confirmed cases, the number of positive tests as compared will all tests taken, the number of hospital beds occupied by COVID-19 patients and the number of intensive care unit beds occupied by COVID-19 patients. Only the number of confirmed cases of COVID-19 remain at "substantial transmission."
Dr. Allison Arwady, the commissioner of the Chicago Department of Public Health, said Feb. 16 that Chicago could move to end the mask mandate and vaccine requirement before that two week period to avoid confusion with the state rules.
The first day that Chicago had fewer than 250 hospital beds occupied by patients with COVID-19 was Saturday and the first day Chicago hopsitals had less than 100 COVID-19 patients in intensive care was Friday to meet the standard set for "lower risk transmission," according to city health data.
Masks will continue to be required in schools and congregate settings, including long-term care facilities, where people are forced to have close contact, Lightfoot said. Federal rules remain in place that require masks in hospitals and on public transportation.
An agreement reached in January with the Chicago Teachers Union requires all students and staff to wear masks inside school buildings until August. That agreement means the Chicago Public Schools mask rules have not been impacted by an ongoing court challenge that prompted most school districts outside Chicago to make masks optional.
Despite that agreement, Lightfoot said discussions were "ongoing" about masks in Chicago Public Schools and an announcement would be made "soon."
However, hours after the mayor's remarks, Chicago Public Schools officials said there would be no change to the district's COVID-19 mitigation requirements, including the requirement that all staff and students wear masks.
"We look forward to the day when we can be mask-optional at CPS, but we still need to get more students vaccinated across our district, and we still need to work with our public health and labor partners on the best way to preserve a safe in-person learning environment for all," the district said in a statement.
In a statement, union leaders said they were glad school leaders would "continue to honor the safety agreement that our members sacrificed four days of pay last month. This agreement today provides Chicago's public school communities with the legal right to guarantee safety, despite a right-wing legal attack to remove public health protections."
Lightfoot and Arwady acknowledged that another variant could reverse the progress they celebrated on Tuesday.
"We really don't know, is the honest truth," Lightfoot said. "We are ... constantly, diligently looking to see if there's any other variant on the horizon."
Daily hospitalizations for COVID-19 in Chicago peaked at an average of more than 240 on Jan. 6 and have declined to an average of 27 per day as of Monday, according to data from the Chicago Department of Public Health.
An average of 283 Chicagoans have been diagnosed each day with the coronavirus during the past week, a 37% drop as compared with the previous week, according to Chicago Department of Public Health data. 
The city's test positivity rate is 1.5%, down from 2% the previous week, while the number of tests dropped 13%, according to city data.   
Daily hospitalizations dropped 29% in the past seven days, and 76.5% of all Chicagoans have gotten at least one dose of the COVID-19 vaccine, according to city data. 
Contact Heather Cherone: @HeatherCherone | (773) 569-1863 | [email protected]
---