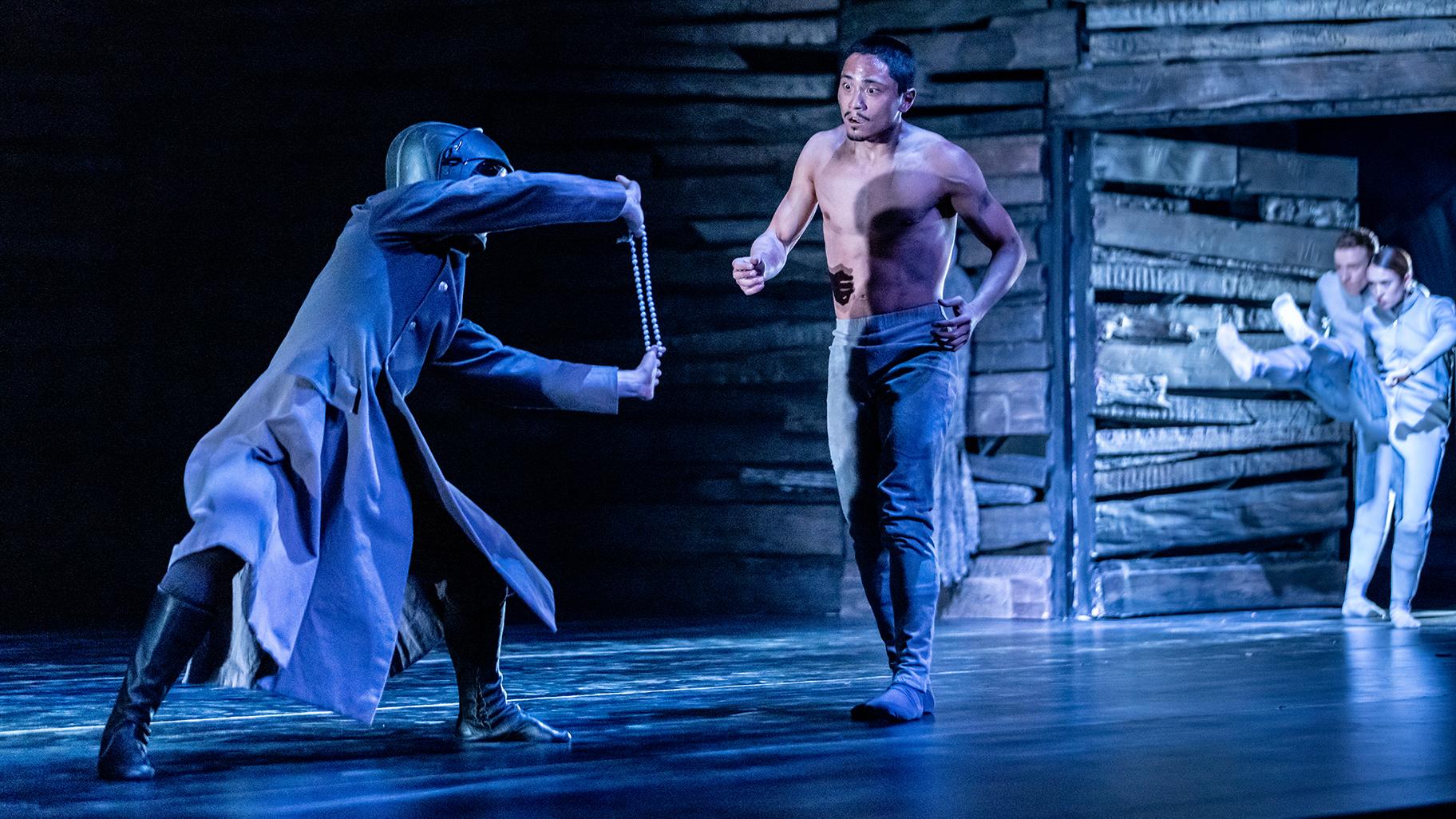 Victor Prigent and Jeffrey Cirio in Akram Khan's "Creature." (Courtesy of the English National Ballet)
In 2019, the English National Ballet's breathtaking production of Akram Khan's "Giselle," a reimagined version of the ballet classic, arrived at the Harris Theater for Music and Dance and was an enormous success. The company was subsequently scheduled to return to Chicago in the spring of 2020 to perform Khan's "Creature," but that was a visit that had to be canceled because of the onset of COVID.
This past week, in a chillingly prescient way, a rescheduled visit of "Creature" arrived on the Harris stage, and it could not have been more ideally timed. For watching what Khan has described as a work created to "explore our very destructive nature of wanting to control everything" felt more chillingly prescient and eerily of the moment than ever as Russia began its brutal, globe-threatening attack on Ukraine.
With its echoes of Georg Buchner's play "Woyzeck" and the Alban Berg opera it inspired (the tale of a naive soldier who is physically and emotionally tortured, and is in pursuit of love), plus a vague hint of Mary Shelley's "Frankenstein," and a strong streak of sci-fi gloom, "Creatures" spins the deeply disturbing tale of a young man and woman whose lives are destroyed by the cold, maniacal machinations of an army Major and his collaborators.
The story (for which Ruth Little served as dramaturg), is set in a giant, rotting wooden barrack in a desolate part of the Arctic, and it goes like this: The shy, innocent fellow known only as Creature (in a spellbinding turn by Jeffrey Cirio), is deeply in love with Marie, a young maid (Fernanda Oliveira, at once delicate and frightened, but fierce of spirit). But he is forced into a terrible experiment of near inhuman endurance by an army Major (James Streeter, dressed in an imperial style coat, who suggests all the arrogance and chilling cruelty of a Putin-like figure), who wants Marie for himself. The Major is aided and abetted by the Doctor (Stina Quagebeur, a willowy blonde), who will do his bidding only to inspire his love. And his henchman, the Captain (Henry Dowden), clearly takes orders to keep his position.
The Major's "experiment" on the Creature comes with a sardonic echo of man's first adventures in space, with a recording of President Nixon's message to Neil Armstrong heralding man's first steps on the moon. And it feels like Khan's way of suggesting that perhaps we have ventured too far. (Ironically enough, it came at the very moment Russia raised questions about its joint work with the U.S. on the International Space Station.)
But back to the ballet. As it happens, the Creature survives his terrible ordeal and is still madly in love with Marie. But once again the Major takes control and pursues Marie against her will, and to a tragic end. The Creature is helpless.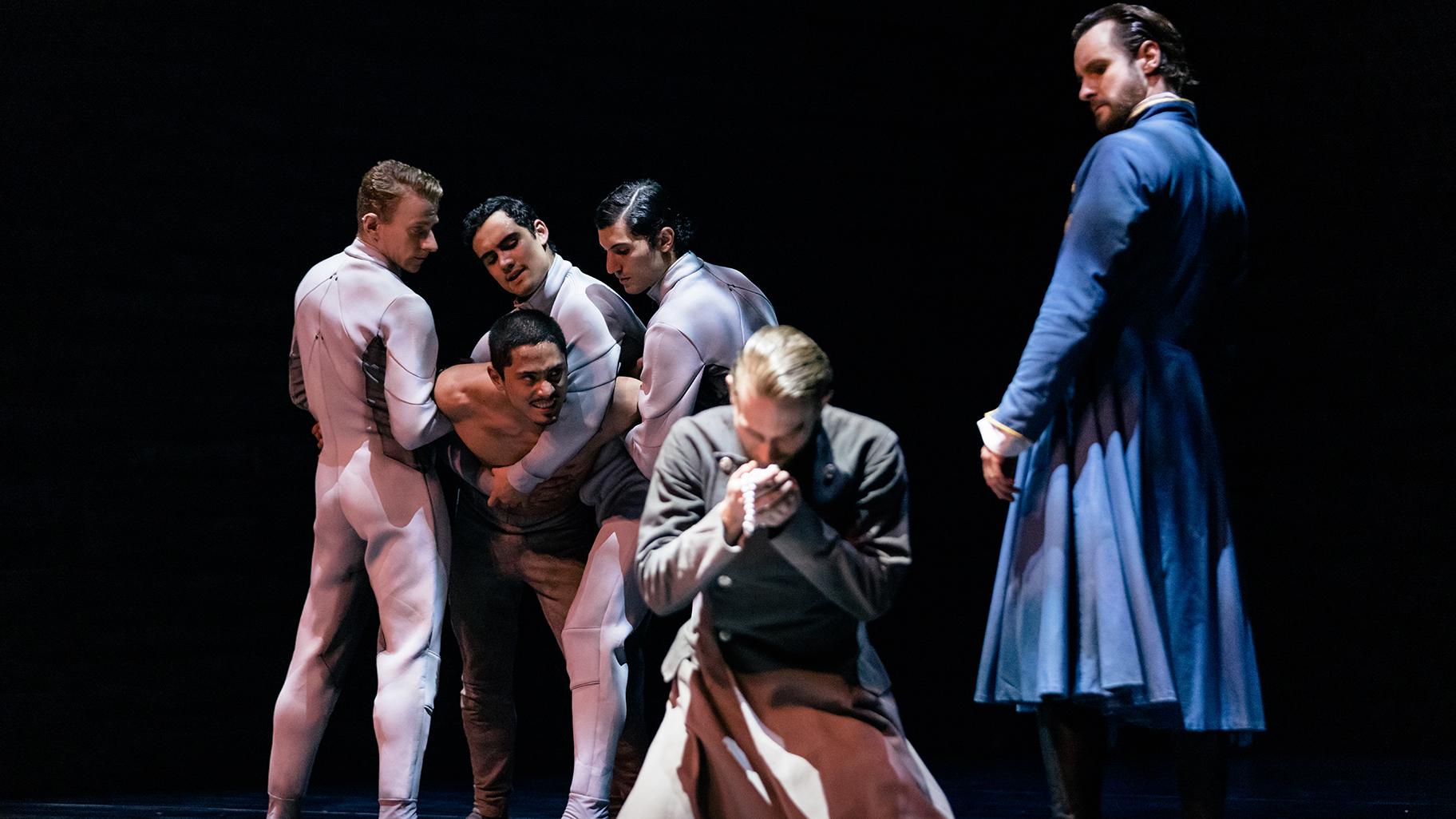 Jeffrey Cirio, Henry Dowden and James Streeter in Akram Khan's "Creature." (Courtesy of the English National Ballet)
Love and innocence, power and cruelty, the quest for mass control and human destruction are all part of the ballet's mix. And with its massive set – a fortress-like bunker with heavy timber walls that break away and fall to the ground – it even suggested the news photos of the buildings being destroyed in the Ukrainian city of Kiev. (The grand-scale set is the work of Tim Yip, with lighting by Michael Hulls.)
Khan's choreography (rooted in contemporary dance as well as classical kathak, a form of Indian storytelling dance that suggests his Bangladeshi heritage), is fluid and compulsively repetitive, and was performed to stunning effect by the dancers of the English National Ballet. Cirio's remarkable plasticity and seamless flow, as well as his formidable dramatic skills and sheer endurance, were mightily impressive.
Oliveira beautifully captured the fear, yearning and determination of Maria as she ached for the Creature but was reduced to mopping the floor and repelling the unwanted (and finally violent) advances of the Major. The supporting dancers, dressed in gray-toned fatigues, were an ideal chorus.
The fiendishly difficult score and sound design for the ballet was by Vincenzo Lamagna, and ideally set the mood for "Creature," underscoring Khan's repetitive movement and the ballet's dystopian chill. It sounded almost electronic but was not. In fact, it was brilliantly played by the musicians of the Chicago Philharmonic, and was conducted by Gavin Sutherland.
"Creature" is a fascinating, ideally realized work. I left the theater in awe of its artistry, but I can't say I walked away feeling hopeful about the future of mankind.
Follow Hedy Weiss on Twitter: @HedyWeissCritic
---