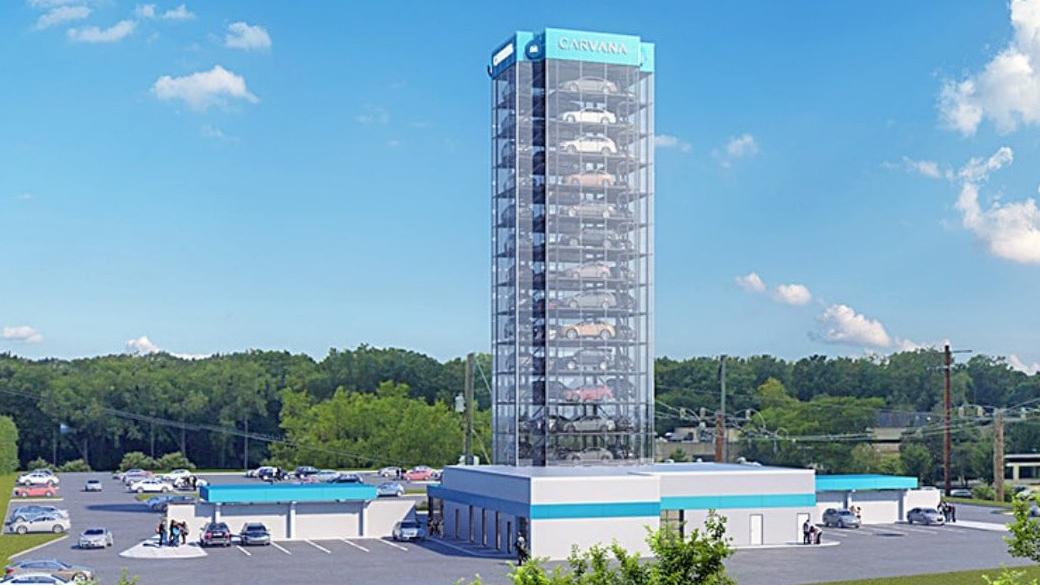 A rendering of Carvana's proposed 14-story tower in Skokie. (Facebook)
Though opponents were disappointed by the approval of Carvana's proposal to build a 14-story transparent glass car vending machine in Skokie directly across from a nature preserve, the fight against the project did earn a number of concessions from the company.
The list of modifications made to the original site plan include:
— Wrapping the tower in a pattern of bird-friendly markers up to a height of 63 feet, 10 inches.
— Turning off building and sign lighting between midnight and 7 a.m. during spring and fall bird migration seasons. (The sign facing the Edens Expressway will remain lit.)
— Routing delivery trucks away from the neighboring Optima residential complex.
The question is, who will hold Carvana to the promises it made?
There is a system of checks and balances in place, officials told WTTW News.
After receiving initial approval at the Skokie board of trustees' Feb. 7 meeting, these changes are being written into an ordinance, which will come up for a second reading and final approval at a subsequent board meeting. This second reading could take place at the board meeting scheduled for Feb. 22 or in March, officials said.
Failure to comply with the mitigations and concessions outlined in the ordinance, assuming it passes its second reading, would be treated like a violation of any business license, Ann Tennes, spokeswoman for the Village of Skokie, told WTTW News via email.
Carvana would first be notified of the issue and given time to come into compliance. If requirements aren't met, further steps would involve an administrative hearing process, the potential for fines up to $750 per day, and an escalation of consequences that could ultimately result in suspension of the company's business and dealership licenses, Tennes explained.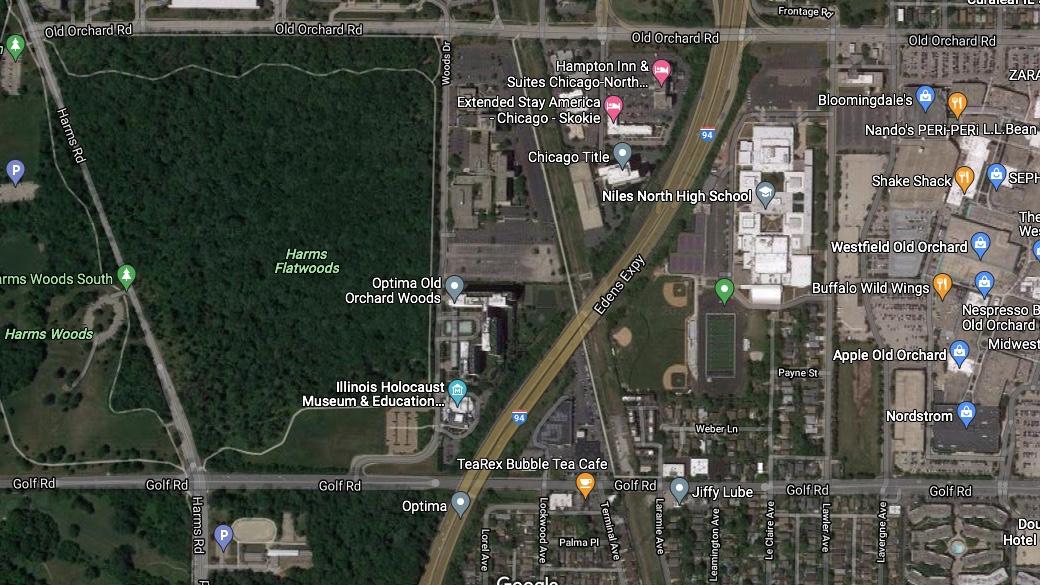 A satellite view of the Carvana site, currently a vacant lot just north of the Optima development, with the Edens Expressway to the east. (Google maps)
As for a construction timeline on the controversial tower, Carvana has a few additional hoops to jump through before obtaining the necessary permits.
Because the building's unique vending machine structure is fit for a very specific purpose — a display box for cars — Carvana will have to provide a $200,000 bond to cover the cost of demolition and removal of materials in the event Carvana files for bankruptcy and abandons the building. Proof of the bond is required before building permits will be released, Tennes said.
Days after the board of trustees' decision, the furor has yet to die down over their approval of the tower by a 6-1 margin. Residents are continuing to vent their frustration on the village's social media pages.
"Over 30 community members spoke in opposition, there were over 6000 petitioners opposed, only to have the Board ignore all of us," complained one resident. "Absolute lunacy and irresponsibility coming from the people we elect to represent us," wrote another. 
The next election in Skokie isn't scheduled until 2025, but attendees at Monday's meeting said their memories would be long. The petition against Carvana received more signatures than any trustee managed to earn in votes, one resident noted.
Contact Patty Wetli: @pattywetli | (773) 509-5623 |  [email protected]