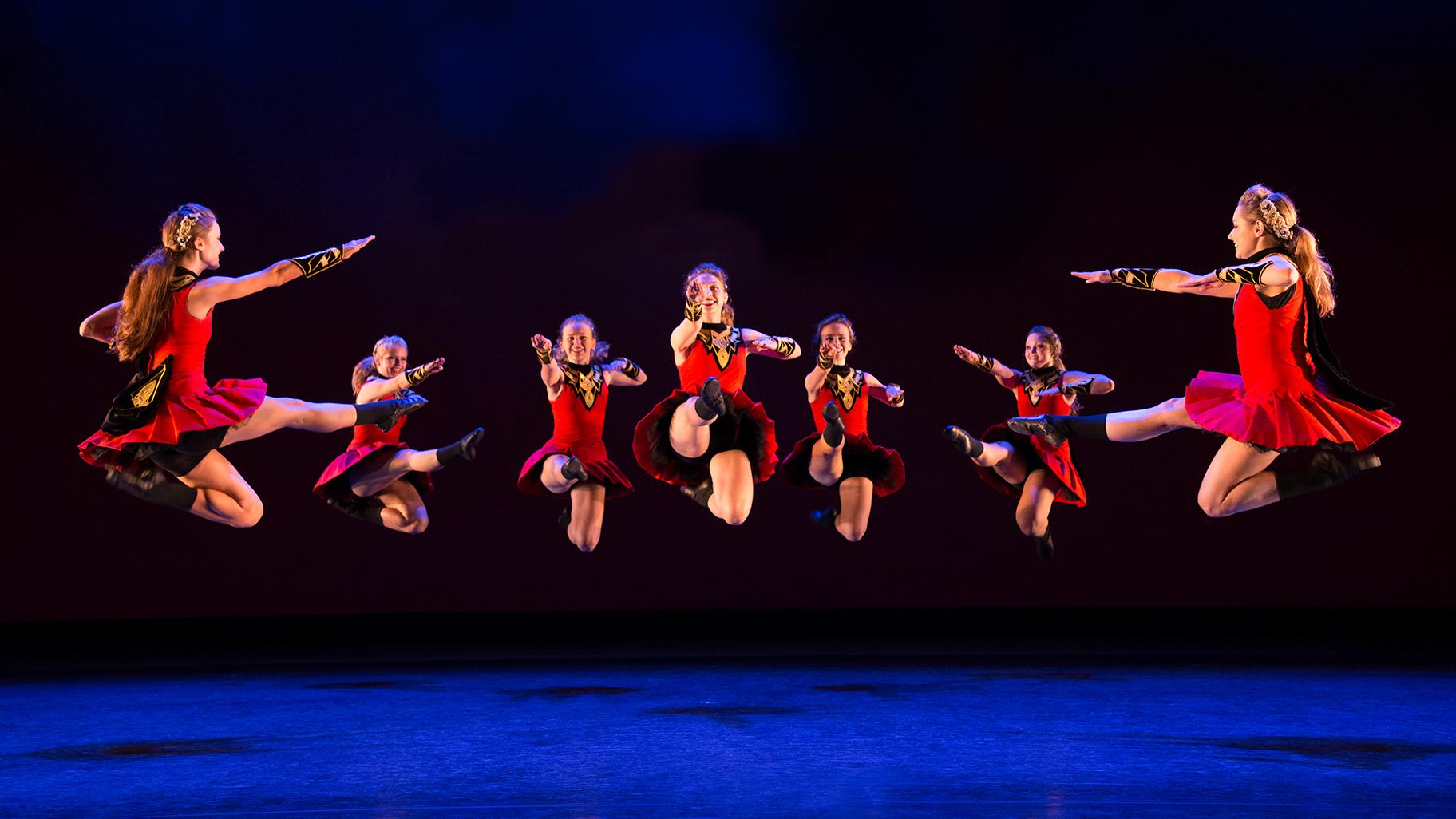 Chicago's Trinity Irish Dance Company returned to the Auditorium Theatre Feb. 5, 2022, for a dynamic and thunderous performance. (Courtesy of Chelsea Hoy)
Thunderous, high-speed footwork, dynamic jumps, leaps executed with ramrod straight backs, and interlocking floor patterns set to percussive rhythms were all in evidence Saturday night as Chicago's Trinity Irish Dance Company returned to the stage of the Auditorium Theatre for the first time since the pandemic drove it away two years ago.
The Trinity company – founded 40 years ago by Mark Howard, who still serves as its artistic director and supplies much of its choreography – is currently comprised of 18 precision-tuned dancers, of which just two are men (one of them is the company's first dancer from Mexico).
Trinity collaborates with a familiar, virtuosic quartet of musicians dubbed the TIDC Band that includes "speed demon" fiddler Jake James, guitarist/vocalists Christopher Devlin and Brendan O'Shea, and percussionist Steven Rutledge. (The dancers are masters of percussion, too, creating what might best be described as "a symphony of steps and sticks.")
The company also has a large, enthusiastic and ever-loyal audience with a solid base that is deeply rooted in the Trinity Academy of Irish Dance, a network of dance schools in both Illinois and Wisconsin.
Watching this performance took me back a few months to "Paradise Square," the new musical that had its pre-Broadway tryout in Chicago. A major theme in the show, which is set in New York during the Civil War period, was the connection and competition between traditional Irish dance as practiced by recent immigrants, and the African-based tap dance techniques of Black dancers, some of whom were fleeing the South.
That stylistic mix-and-match was most evident in Trinity's performance of "American Traffic," a 2020 work choreographed by Michelle Dorrance (the master hoofer and MacArthur Fellow) and Melinda Sullivan.
Set to drums and hand percussion by Steven Rutledge, "Traffic" is an exuberant hybrid of both the Irish and tap dance styles, with costumes on the red, orange and rose spectrum designed by Kristine Fatchet, and lighting by Al Crawford (who devised all the program's richly dramatic effects).
The overlapping of these two dance styles was evident in subtler ways throughout the evening, too, with the first act's showcasing of works by Howard and several different collaborators. There was the opening work, "Soles," followed by "A New Dawn," with its faster-than-the-speed-of-light movement, and "Black Rose." The latter two works were both set to music by Winston Damon with Liz Carroll. ("Black Rose" used the sound of a giant lambeg drum.)
Next came "Sparkes," a world premiere co-choreographed and performed by company member Ali Doughty, and featuring what might best be termed "Irish pointe work."
Closing the first act was "Communion," a beautifully danced piece choreographed by Howard and Sandy Silva that was particularly moving in its appeal for human connection, and its use of a repeated gesture of the hand to the heart.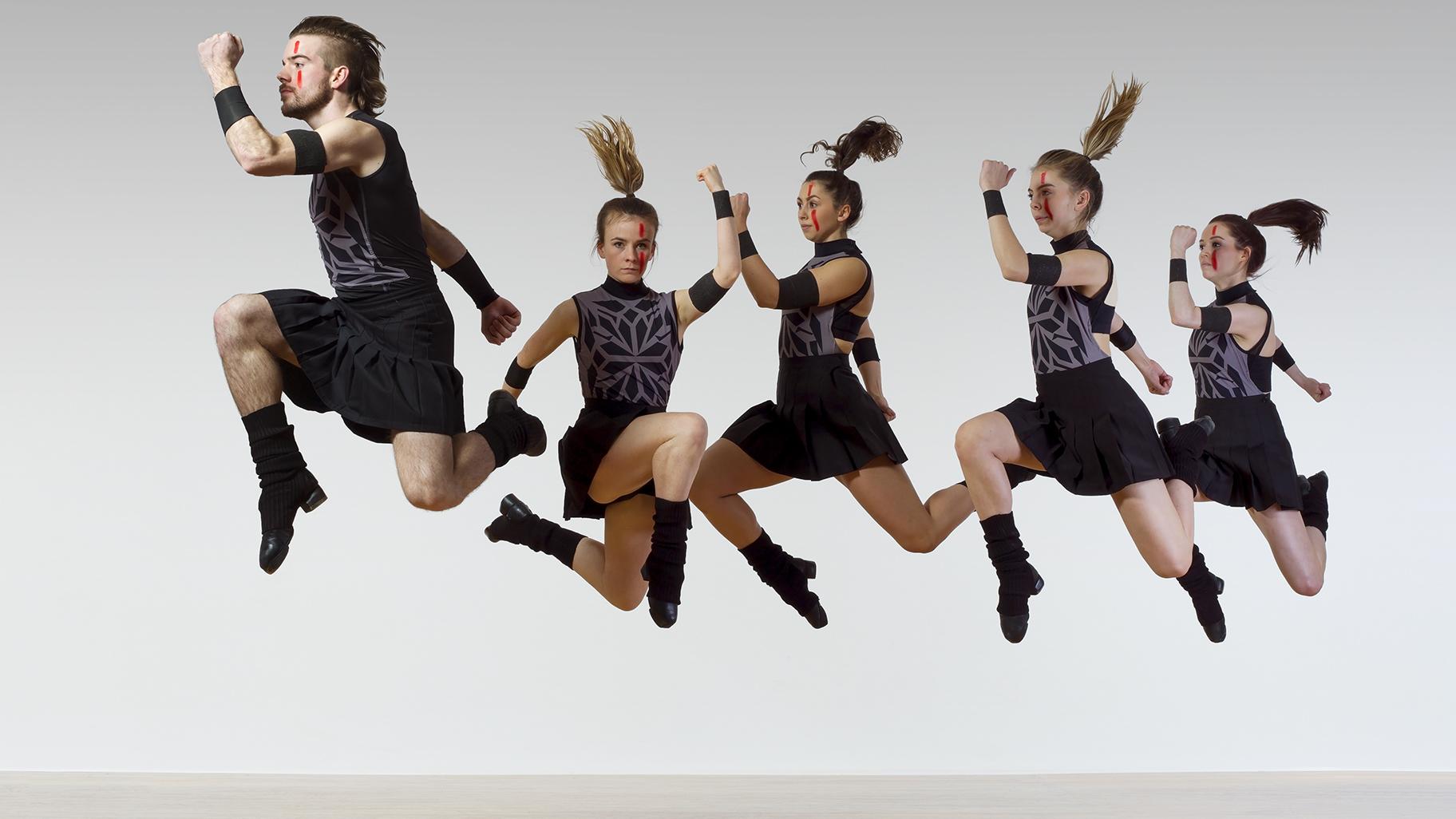 Chicago's Trinity Irish Dance Company, pictured in a promotional photo, returned to the Auditorium Theatre Feb. 5, 2022, for a dynamic and thunderous performance. (Courtesy of Lois Greenfield)
The program's second act works included "Johnny," danced amid an atmosphere of blue light and mist, and "Push," a highly motorized piece choreographed by Howard and Andrew Vickers. And as was the case throughout much of the program, "Push" was driven by the formation and "re-formation" of circular and linear configurations. Bringing the evening to a close was "An Sorcas (The Circus)," a richly rhythmic workout choreographed by Howard and company dancer Chelsea Hoy.
Before it was all over, I did find myself wishing that Trinity's repertoire could be expanded to include works with a greater narrative element. The powerful rhythmic elements of this program were impressive, but the addition of even a couple of brief interludes of storytelling drawing on the essential elements of Irish literature and poetry would add a crucial bit of variety.
Finally, while I am naming the company's dancers last, they are of the greatest importance and deserved all the applause and cheers they received on Saturday night after their demanding, highly polished performance. The ensemble includes: Courtney D'Angelo, Ali Doughty, Michael Fleck, Lydia Fredrick, Anna Gorman, Abigail Graham-Luke, Chelsea Hoy, Francisco Lemus, Danielle Masbruch, Sierra McNall, Claudia Morrison, Margaret Nalley, Sydney Niewiedzial, Colleen Michael O'Connor, Kelsey Parry, Gracie Peters, Clare Rahner and Kaitlyn Sardin.
And one final note: Trinity will soon be headed to an engagement at New York's esteemed dance center, the Joyce Theater, with a run slated for March 15-20.
Follow Hedy Weiss on Twitter: @HedyWeissCritic
---