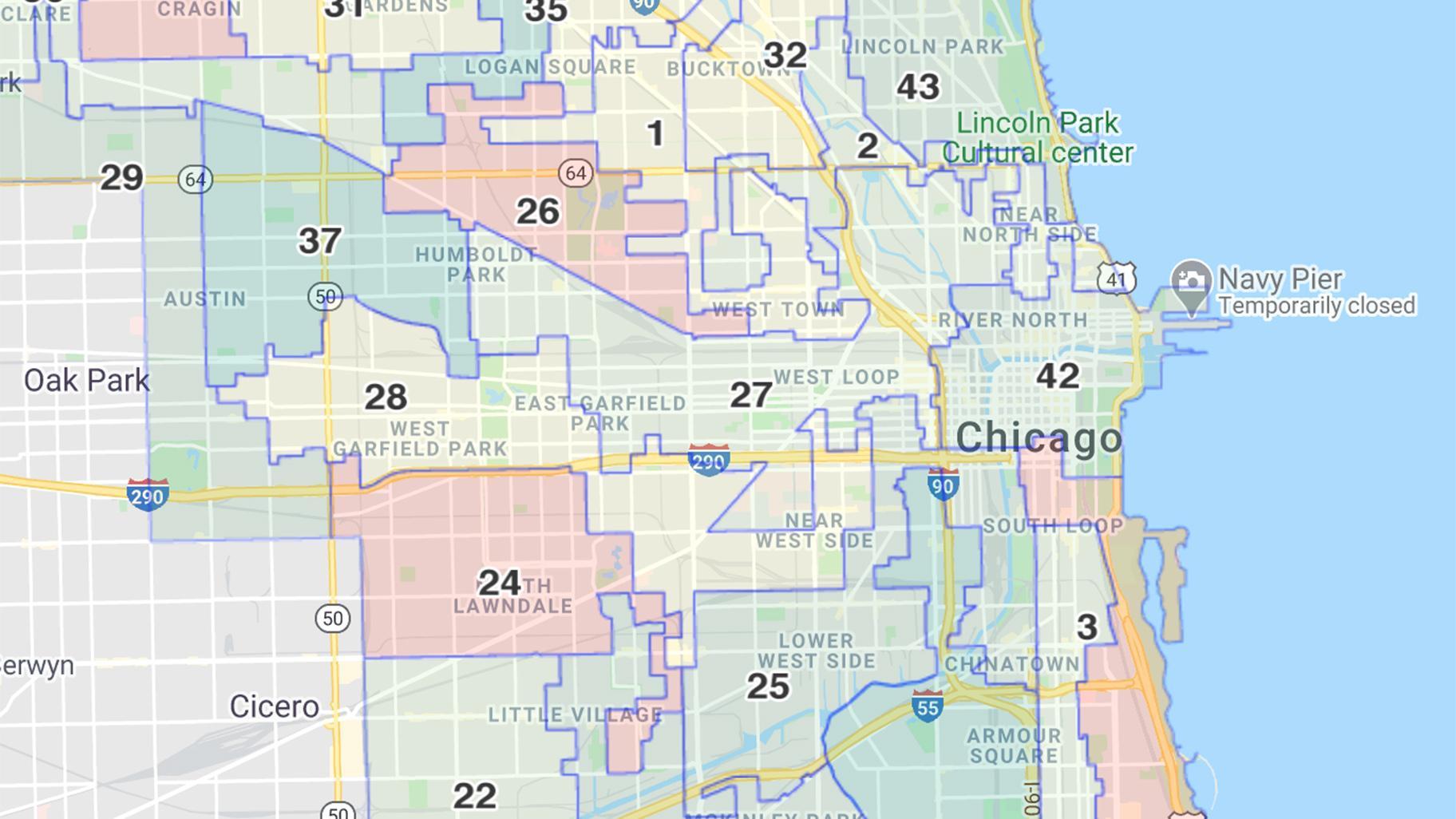 Representatives of the Black and Latino City Council caucuses will meet behind closed doors at City Hall at 10 a.m. Sunday in an attempt to break the monthslong deadlock over the ward map that will shape Chicago politics for the next decade.
The announcement from Rules Committee Chair Ald. Michelle Harris (8th Ward) Friday morning that she would convene the meeting in the Council Chambers came after four public hearings in less than a month failed to resolve the debate that will determine the balance of political power between Black, Latino and Asian Chicagoans.
The meeting will include three members of the City Council's Black Caucus, three members of the Latino Caucus and three other members of the City Council. Harris, Mayor Lori Lightfoot's floor leader, is a member of the Black Caucus.
"We have been asking for serious negotiations for some time," said Latino Caucus Chair Ald. Gilbert Villegas (36th Ward), telling WTTW News that members of his caucus plan to attend the session.
Villegas said the session should be streamed online "to show the public backroom deals are a thing of the past."
Mayor Lori Lightfoot's representative did not respond to questions from WTTW News about whether she supported the closed-door meeting Sunday. During the 2019 mayoral campaign, Lightfoot vowed to root out corruption at City Hall while increasing transparency. Her campaign's commercials vowed she would "bring in the light."
Villegas and Black Caucus Chair Ald. Jason Ervin (28th Ward) told WTTW News on Tuesday the closed-door meeting would take place Friday. However, that meeting was canceled without explanation 24 hours before it was to occur, Villegas said.
Despite the rare Sunday session set to take place behind closed doors, the Black and Latino Caucuses remain further apart than ever after the Black Caucus defended its decision to craft a map using data based on the number of Chicagoans who are citizens older than 18, rather than including all Chicago residents who are older than 18.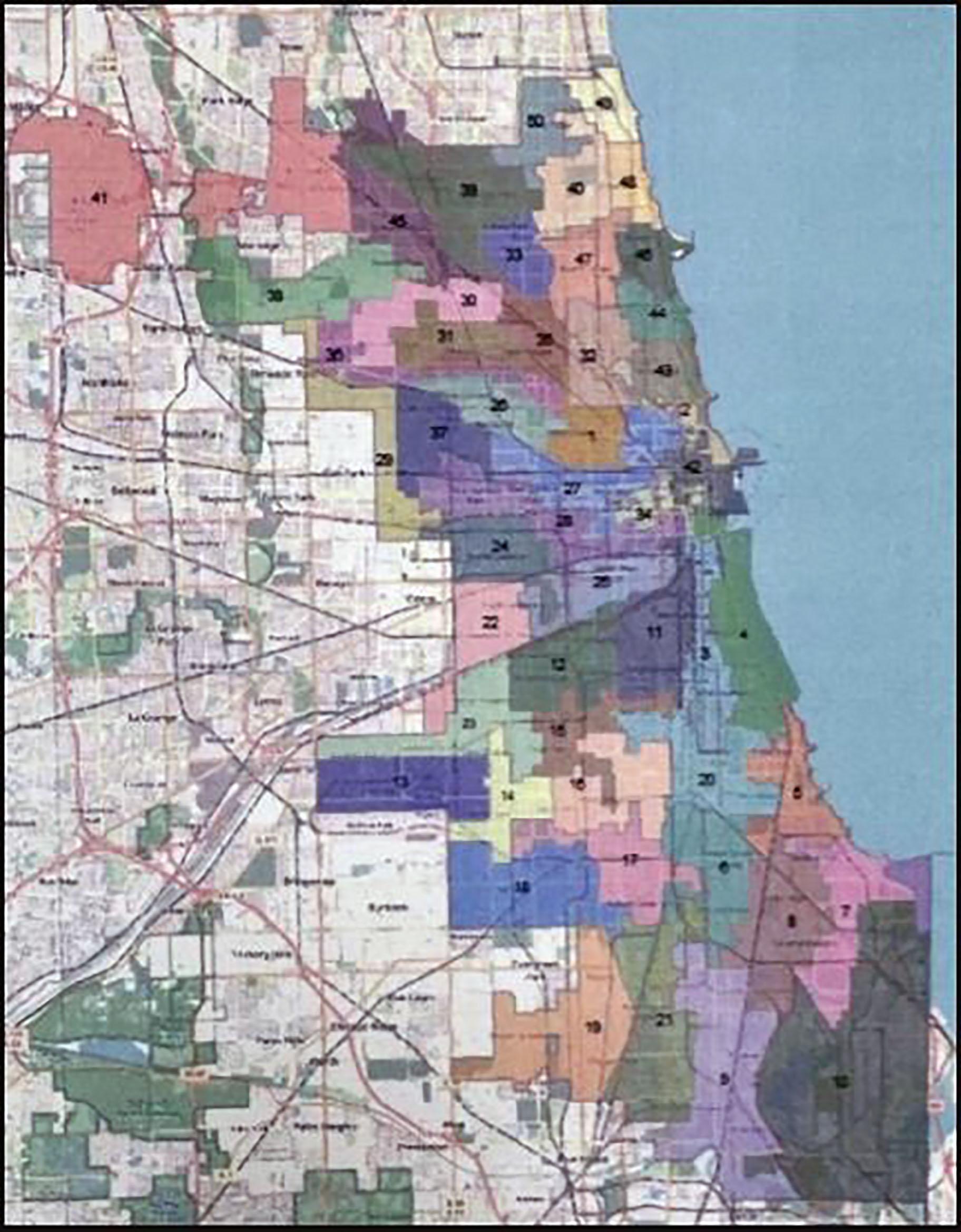 A proposed Chicago Ward Map supported by the Chicago City Council's Black Caucus.(Provided)
Villegas called that a "Trump tactic" that flew in the face of Chicago's status as a sanctuary city that resisted efforts by former President Donald Trump to add a question to the 2020 census about whether respondents were United States citizens as part of a crackdown on undocumented immigrants.
The map backed by the Black Caucus crafts 14 wards with a majority of Latino voters and 16 wards with a majority of Black voters.
However, members of the Latino Caucus have repeatedly said they will not support a map with fewer than 15 wards with a majority of Latino voters. While Chicago's Black population dropped 10%, its Latino population jumped 5% and its Asian American population surged 30%, according to the 2020 census.
Unless 41 alderpeople can agree on a map no later than May 19, the June 28 primary election ballot will ask voters to decide what the ward map should look like for the first time in 30 years.
The map supported by the Black Caucus has 33 co-sponsors, eight short of what it needs to become law. The Latino Caucus' map is supported by 15 alderpeople.
A proposed Chicago Ward Map from the Chicago City Council's Latino Caucus. [Provided]
Alds. Ed Burke (14th Ward) and Patrick Daley Thompson (11th Ward) have not signed on to either map. Burke and Daley Thompson have been indicted and are awaiting trial after having pleaded not guilty.
State law requires Chicago wards to be "nearly equal as practicable" while being as "contiguous" and "compact" as possible.
Since Chicago's population in 2020 was 2,746,388 residents, each ward should have 54,928 residents, according to data presented to the Chicago City Council. 
Contact Heather Cherone: @HeatherCherone | (773) 569-1863 | [email protected]
---