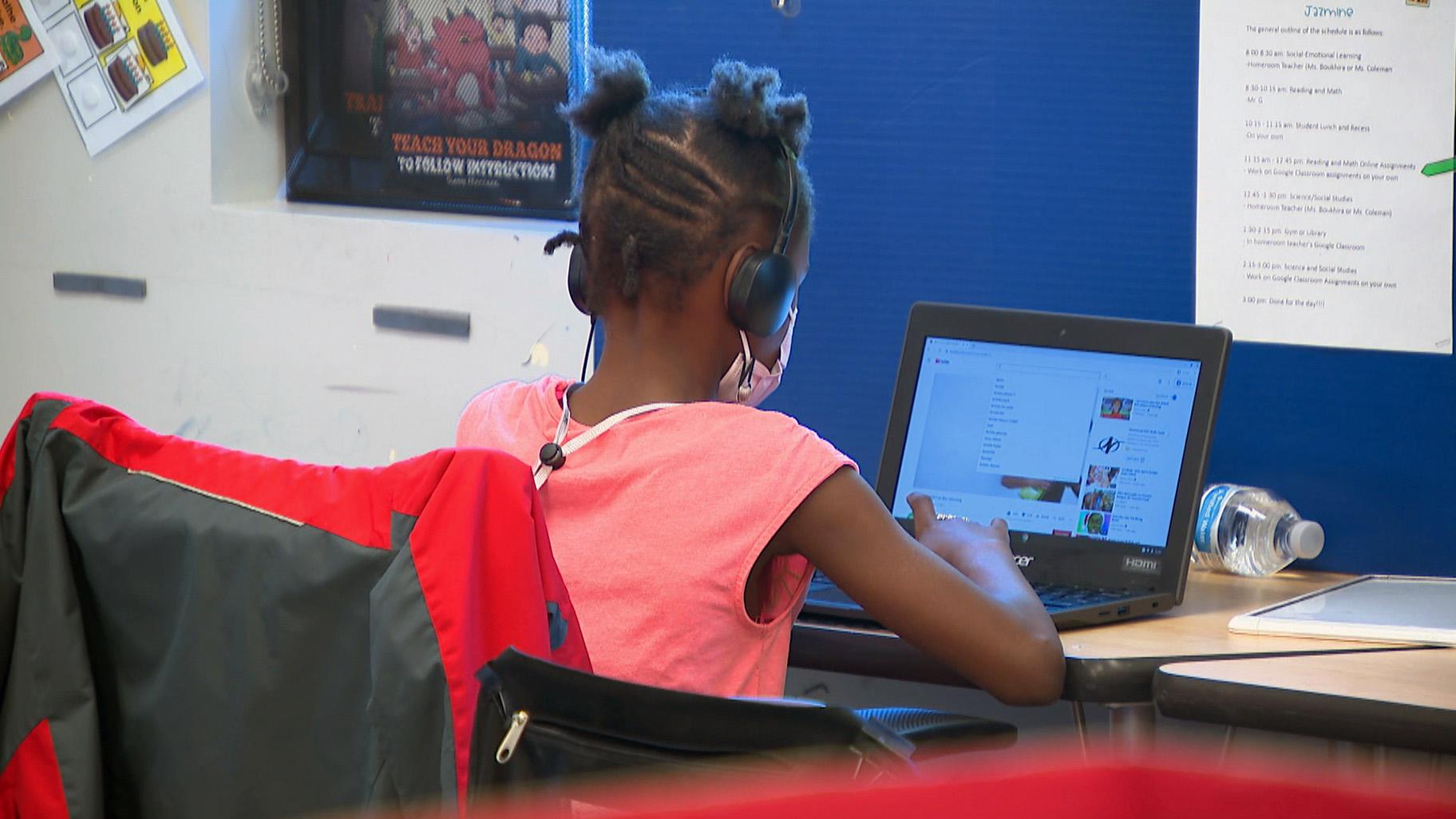 (WTTW News)
Chicago students are set to return to their classrooms this week after several days at home as the city and Chicago Teachers Union have reached a compromise on new COVID-19 mitigations inside schools.
The union's elected delegates approved a proposal from Chicago Public Schools and city leaders Monday evening, nearly a week after they began a labor action that saw teachers and staff refusing to work in person as COVID-19 cases spiked across the city.
Those delegates voted to suspend that labor action, meaning they will return to schools Tuesday, although classes will once again be canceled. CPS students will then return to their classrooms Wednesday.
"We know this has been very difficult for students and families," Mayor Lori Lightfoot said Monday night. "Our goal throughout this entire process was to both get our students back to in-person learning as quickly as possible and prevent work disruptions for the rest of the school year."
The union's rank-and-file membership must still approve the deal.
Video: Before news of a return to in-person classes, Chicago Public Schools parents share their thoughts on the impact of school cancellations and the debate over safety measures.  (Produced by Amanda Vinicky)
City officials would not discuss specifics of the agreement until CTU members officially approve the deal, though they said agreements had been made on expanded contact tracing, COVID-19 testing and additional KN95 masks for students and staff.
In a separate press conference late Monday, CTU officials said CPS will conduct screening testing in which at least 10% of students will be tested each week going forward.
The sides also reached a deal on a metric that can be used to decide when individual schools should flip to remote learning. According to the CTU, schools would cut off in-person learning in the event 40% of students are in isolation or quarantine, or 30% of school staff are absent due to COVID-19 for two straight days.
CPS last week had proposed that schools could go remote if certain thresholds of students or staff — about 40% of teachers or 50% of students  — were forced into isolation or quarantine due to a COVID-19 outbreak. The CTU had sought to lower that metric, getting it closer to 25-30% of students or staff.
CTU President Jesse Sharkey said this is not a perfect agreement, but union members can "hold our heads up about." Vice President Stacy Davis Gates took aim at Lightfoot, saying she is "unfit to lead this city."
"She is on a one-woman kamikaze mission to destroy our public schools," she said. "She has not taken good care over the safety of the workers and the students that attend them."
Before the standoff ended, Sharkey on Monday morning accused Lightfoot of being "relentlessly stupid" in the city's bargining tactics.
He criticized Lightfoot during a press conference Monday morning at Spry Elementary, saying the mayor is acting like a prosecutor trying a case instead of a mayor trying to get students back into their classrooms.
"The mayor is being relentless, but she's being relentlessly stupid, she's being relentlessly stubborn," Sharkey said. "She's relentlessly refusing to seek accommodation and we're trying to find a way to get people back in school."
Negotiations between the sides resumed Monday morning, which also marked the fourth straight day CPS classes had been canceled following a CTU labor action that has seen its 25,000 members refuse to work inside schools amid a spike in COVID-19 cases.
Video: Keyonna Payton, a Chicago Teachers Union member and teacher at Park Manor Elementary School, discussed the latest proposal the union received from Chicago Public Schools before union members voted to approve a return to in-person learning. (Produced by Marissa Nelson)
In its latest offer, the CTU called for a period of citywide remote learning beginning Wednesday and lasting until Tuesday, Jan. 18.
The mayor and CPS CEO Pedro Martinez have been adamant that Chicago will not return to remote learning at a district level, and claim the CTU has "abandoned their posts and they abandoned kids and their families."
"No one wins when our students are out of the place where they can learn the best and where they're the safest," Lightfoot said.
Lightfoot has repeatedly accused the union of engaging in an illegal strike. Both the CTU and city filed complaints against each other with the Illinois Educational Labor Relations Board, alleging unfair labor practices. That is also the first step necessary in filing a potential lawsuit to end this standoff.
A CPS spokesperson Monday said the city is "grateful" for an offer from Gov. J.B. Pritzker to sell the district 350,000 rapid antigen tests and is "working to finalize the purchase."
The cost of that purchase has not yet been finalized, but CPS said it will use a "variety" of funds to cover the purchase.
Cheri Warner joined other parents at a news event Monday calling for the district and teachers to focus on getting students back into classrooms. The mother of 15-year-old twins said the sudden loss of in-person learning has taken a toll on her family.
One of her daughters has depression and anxiety, and winter always is a difficult time. Losing touch with her friends and teachers just adds to that burden, Warner said.
The girls "missed their whole eighth grade year and it felt like they weren't really prepared for high school," Warner said. "They're all trying to figure out how to catch up and it's a really stressful situation."
The Associated Press contributed to this report.
Contact Matt Masterson: @ByMattMasterson | [email protected] | (773) 509-5431
---