Swiping through black and white photos on her iPad, local television producer and writer Joan Tortorici Ruppert stops at a picture of a shirtless young man reclining on grass.
"This one is my dad too. Who took it, I have no idea," she said. "But I know this is prewar because he didn't have all the shrapnel scars on his belly he got during the war."
Ruppert barely had time to know her father, Joe Tortorici before his sudden death in 1963. He was 43 years old, and she was just eight.
"I remember that he was very tall and very broad, and I was little," she recalls. "He went very gray early, and I remember hearing all the adults at the funeral whispering, you know, 'he was so young.' It never dawned on me as a little kid that he was so incredibly young when he died. He was so gray, I thought he was as old as Santa Claus."
Joe Tortorici never got to grow old. But nearly 60 years after he died, his youngest daughter has watched him grow young through the photos he took in 1930s Chicago.
"He wasn't the guy who always had a camera in his hand. So that's one of the reasons why I was so surprised when my mom handed me the shoe box and said, 'oh your dad was a very avid photographer.'"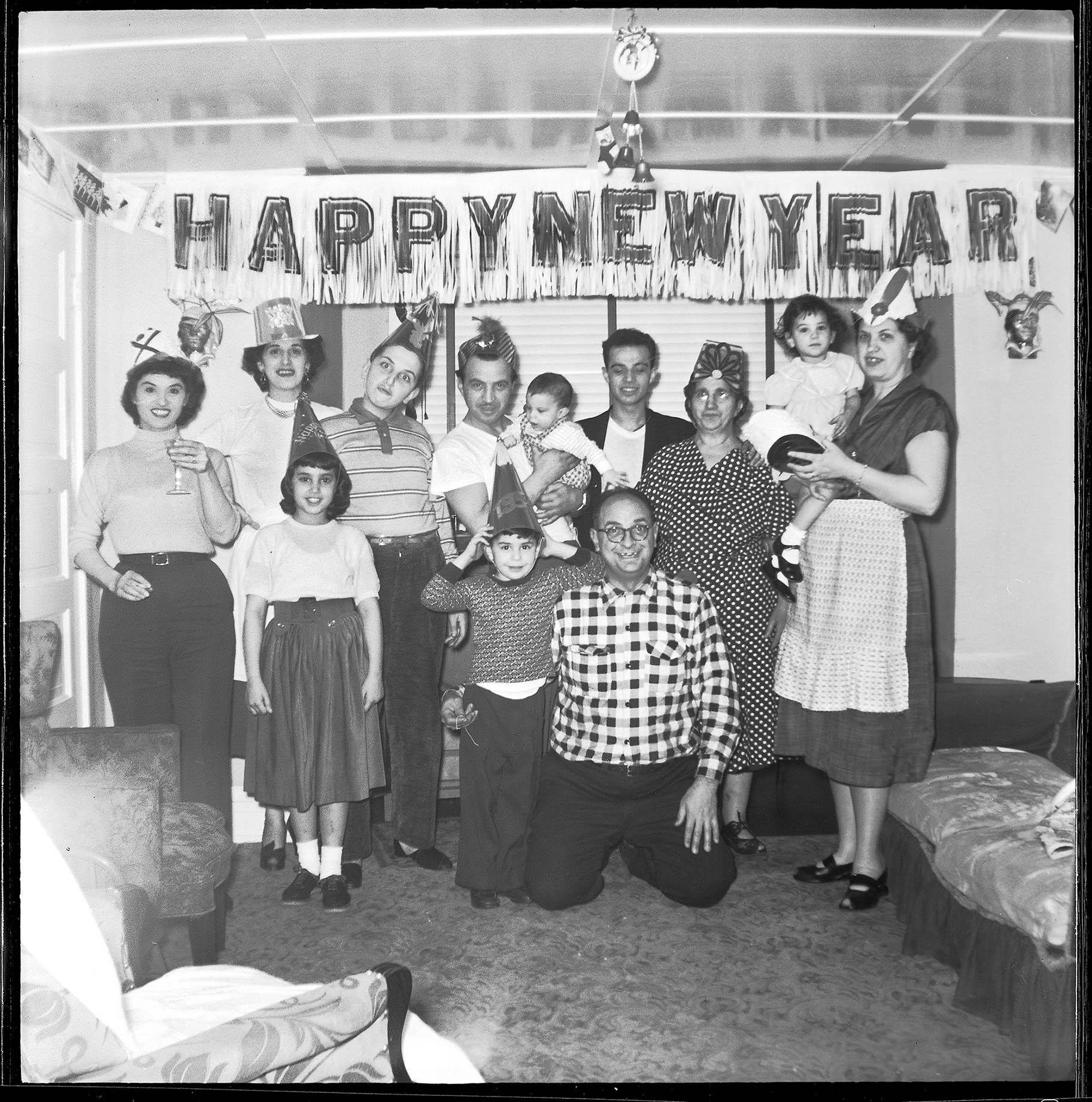 Joe Tortorici never got to grow old. But nearly 60 years after he died, his youngest daughter has watched him grow young through the photos he took in 1930s Chicago. (Courtesy Joan Tortorici Ruppert)
Ruppert's mother Nancy presented her with a shoebox full of photo negatives – some bent or curled, in varying sizes, roughly cut – in the late '90s after Ruppert mentioned she was taking a darkroom class. At that point, Ruppert had only basic knowledge of how to process photo negatives, so the negatives sat in a closet for more than two decades. She had one scare when her basement flooded and she had to act fast to rescue them, but once they were safe, they went back into the closet.
Ruppert says she finally felt ready to tackle the project in early 2020 – and then: "Well, COVID hit. And a lot of us had a lot of time on our hands. So I was able to just completely immerse myself in the research and trial and error of getting as much detail out of the negatives and the internet helped me learn how to do that."
Soon, Ruppert was watching a new image of her father develop before her eyes, answering questions she never had the opportunity to ask.
"Hanging out with friends being at the school yard, mugging for the camera, posing with cool cars that you likely don't own," Ruppert says. "They did goofy things, they climbed up on billboards. I was like, you mean my dad was a teenager? He went to high school, he had friends, he had blonde girlfriends who weren't my mom and things like that? That really surprised me – intellectually, I knew he had a youth, but to actually see it for the first time, it was really amazing."
Some of the people in the pictures Ruppert recognized as family. But even when she didn't recognize the photo subjects, Ruppert says the quality of the photos drew her in.
"I would put something up on the scanner and my heart would just be beating out of my chest," she says. "Because I'm thinking, this is a really good picture. And then there'd be another one, and another one."
The photos stopped around 1943, when Tortorici left for naval duty in World War II, Ruppert thought that was the extent of the collection until her older sister unearthed a second batch while preparing for a garage sale.
"In this second batch were pictures of us as tiny little kids, the empty lot in the suburbs where our house was going to be," Ruppert said. "So I saw him go from a child to a man with the gap in the middle of the war years."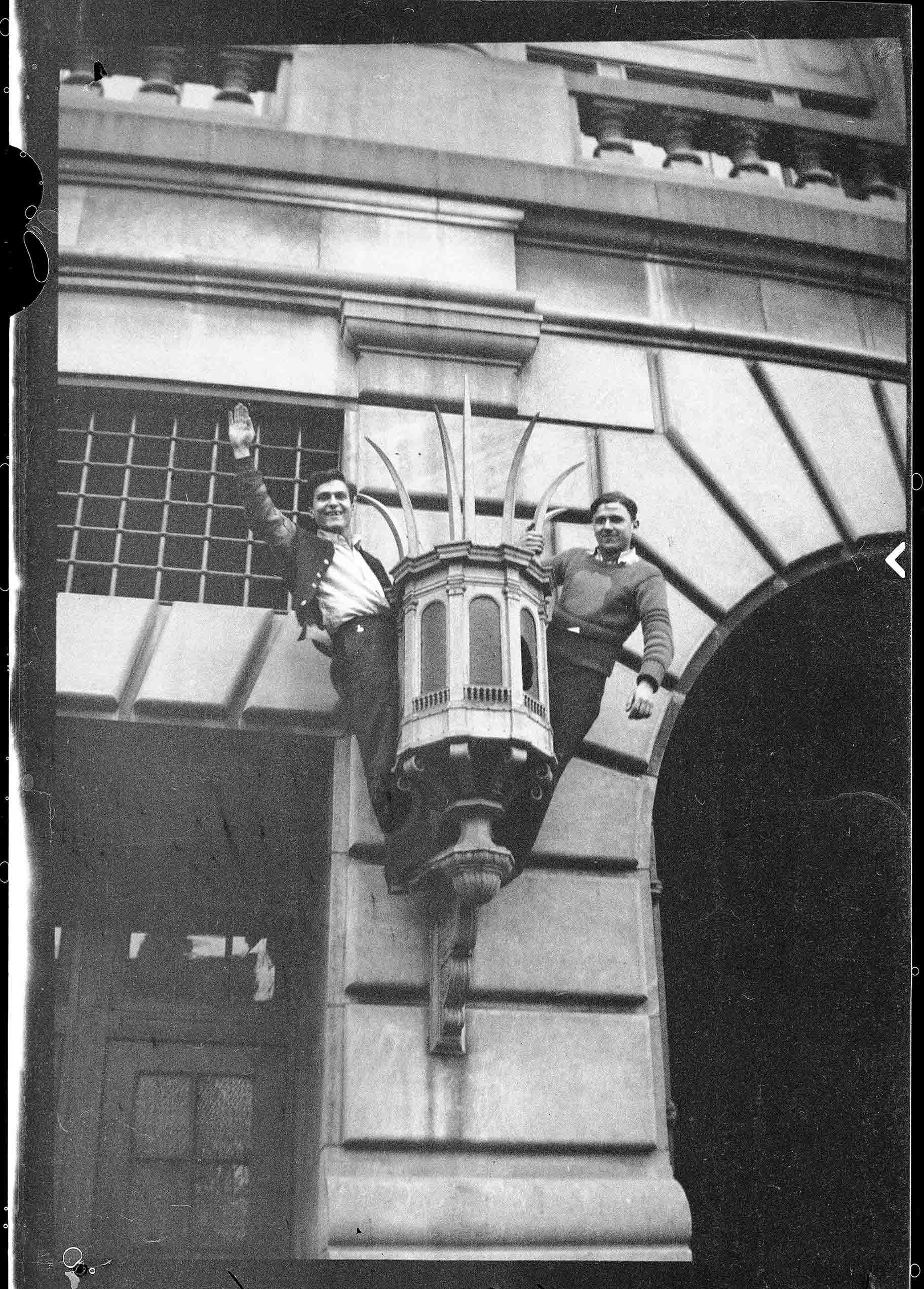 Facebookers helped identify Crane Tech High School thanks to its massive sconces. (Courtesy Joan Tortorici Ruppert)
While Tortorici was rarely in his own photos, his work extravagantly captured the character of the then-deeply Italian Near West Side. Ruppert created the Shoebox Negatives website featuring a selection of the photos and turned to Chicago history social media groups for help identifying the places in them. One such location was Crane Tech High School, which Facebookers recognized thanks to its massive sconces. We joined Ruppert on her first visit ever to her father's alma mater, where she was delighted to learn recently that he was a member of the camera club.
Ruppert says that if she met her father as a teenager there, she'd have a lot to tell him.
"I would want to tell him that I see him. I would want to tell him I'm glad he kept the negatives. I would want to know if he was happy, you know, if that was a happy time in his life," Ruppert says. "But first I would tell him thanks."
---