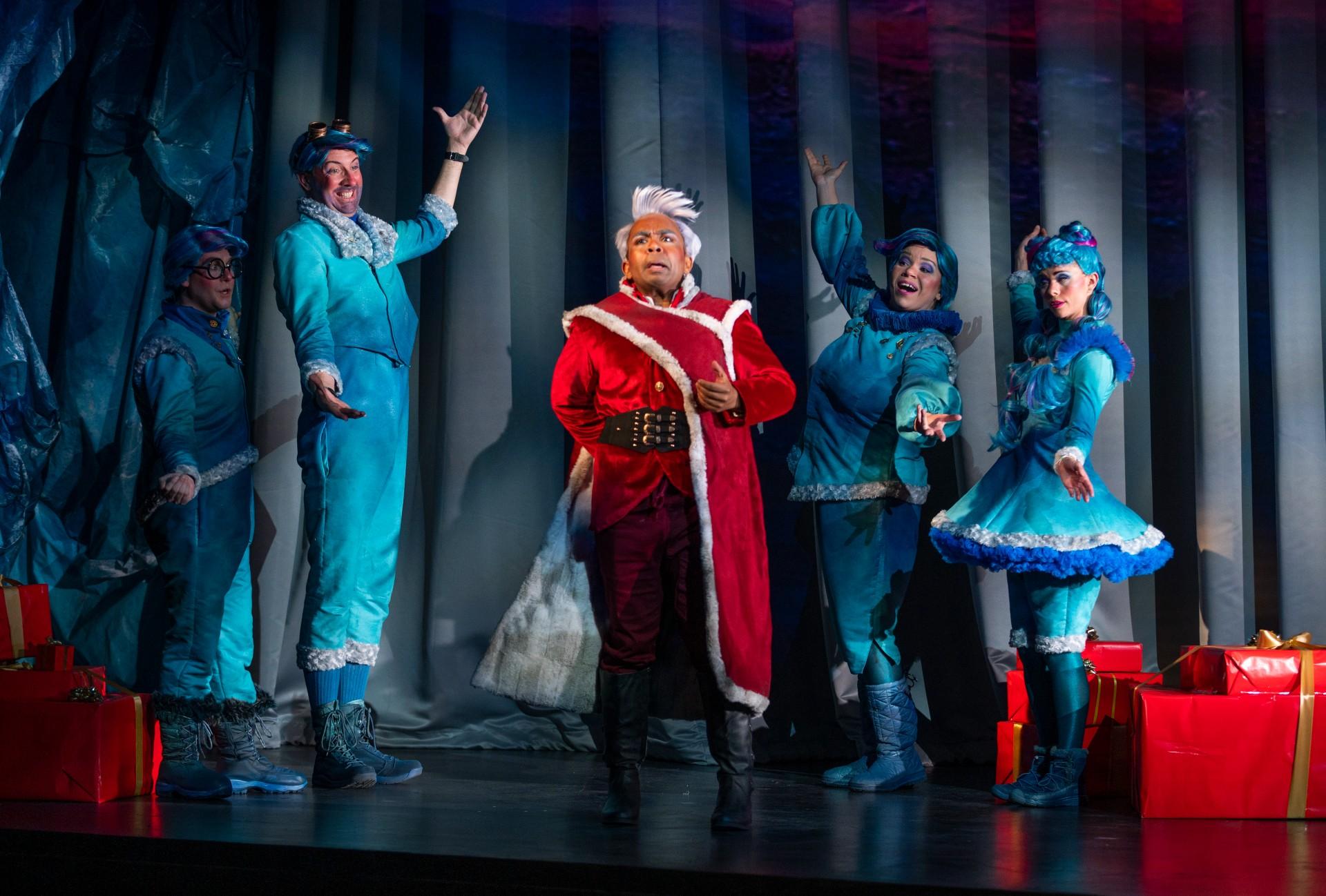 Justin Berkowitz (left to right), Matt Boehler, Martin Bakari, Leah Dexter and Amy Owens perform in "Becoming Santa Claus." (Photo by Michael Brosilow)
You might think we know everything possible about Santa Claus, that hefty, bearded guy with the "Ho, Ho, Ho," laugh who dons a red suit, takes flight in a reindeer-driven sleigh every Christmas Eve, manages to slide down countless chimneys with sacks of gifts, and happily fuels up on the milk and cookies that are left for him. And, of course, he has been the star of countless musicals, plays, and movies, can be found dressed up in department stores to receive kids' gift lists, and even found in the role of busker and bell-ringer trying to amass charitable donations on wintry street corners.
But have you ever stopped to think about what kind of childhood and early family life Claus might have had, or why he has been so driven to take off from the North Pole for an arduous worldwide trip each night before Christmas? The answers to those questions can now be found in "Becoming Santa Claus," which (of all things) happens to come in the form of an opera.
The 90-minute work by composer/librettist Mark Adamo (which debuted at the Dallas Opera in 2015), is now receiving its Chicago premiere at the Studebaker Theater in a fanciful, elaborately imagined production directed and choreographed by Kyle Lang (marred only by a somewhat too campy opening scene), and produced by the ever-enterprising Chicago Opera Theater (COT). And in very different ways it should appeal to adults and kids alike.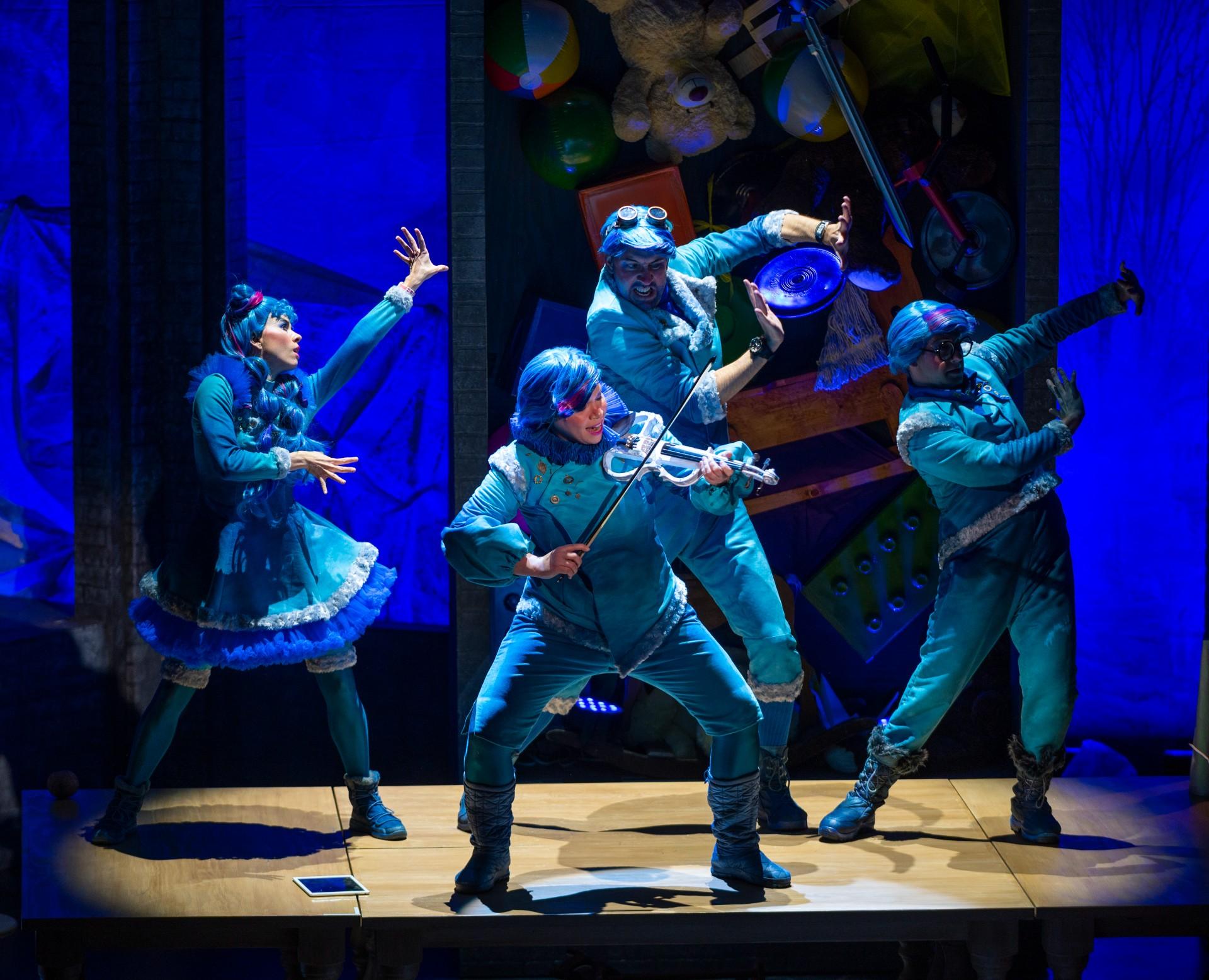 Amy Owens, Matt Boehler, Justin Berkowitz and Leah Dexter perform in"Becoming Santa Claus." (Photo by Michael Brosilow)
It all begins as a quartet of elves – played by mezzo-soprano Leah Dexter as Ib, their overseer; soprano Amy Owens as Yan; tenor Justin Berkowitz as Yab, and bass-baritone Matt Boehler as Ob – gather in the elegant dining room of their prickly, obsessively detail-oriented boss, Queen Sophine (power-voiced mezzo-soprano Nina Yoshida Nelsen), who they claim has kept them overworked, underpaid and in need of time off for years.
The Queen, who also happens to be a sorceress, has made elaborate plans to celebrate the eighth birthday of her unhappy and precocious son, Prince Claus (an altogether ideal performance by tenor Martin Bakari), who is excitedly expecting the arrival of his long absent father, the King, as well as several prestigious royal uncles from kingdoms far and wide. But much to the disappointment of Prince Claus, neither his father, nor those other men, arrive for his eighth birthday celebration, and history sadly repeats itself for several years, with the deeply crushing news delivered each time by a donkey-eared messenger (winningly played by bass David Salsbery Fry). Invariably, the substitute for their absence is a slew of elaborate gifts. But for Claus, an only child in a clearly dysfunctional family, toys sent from afar are no substitute for a father's love and attention.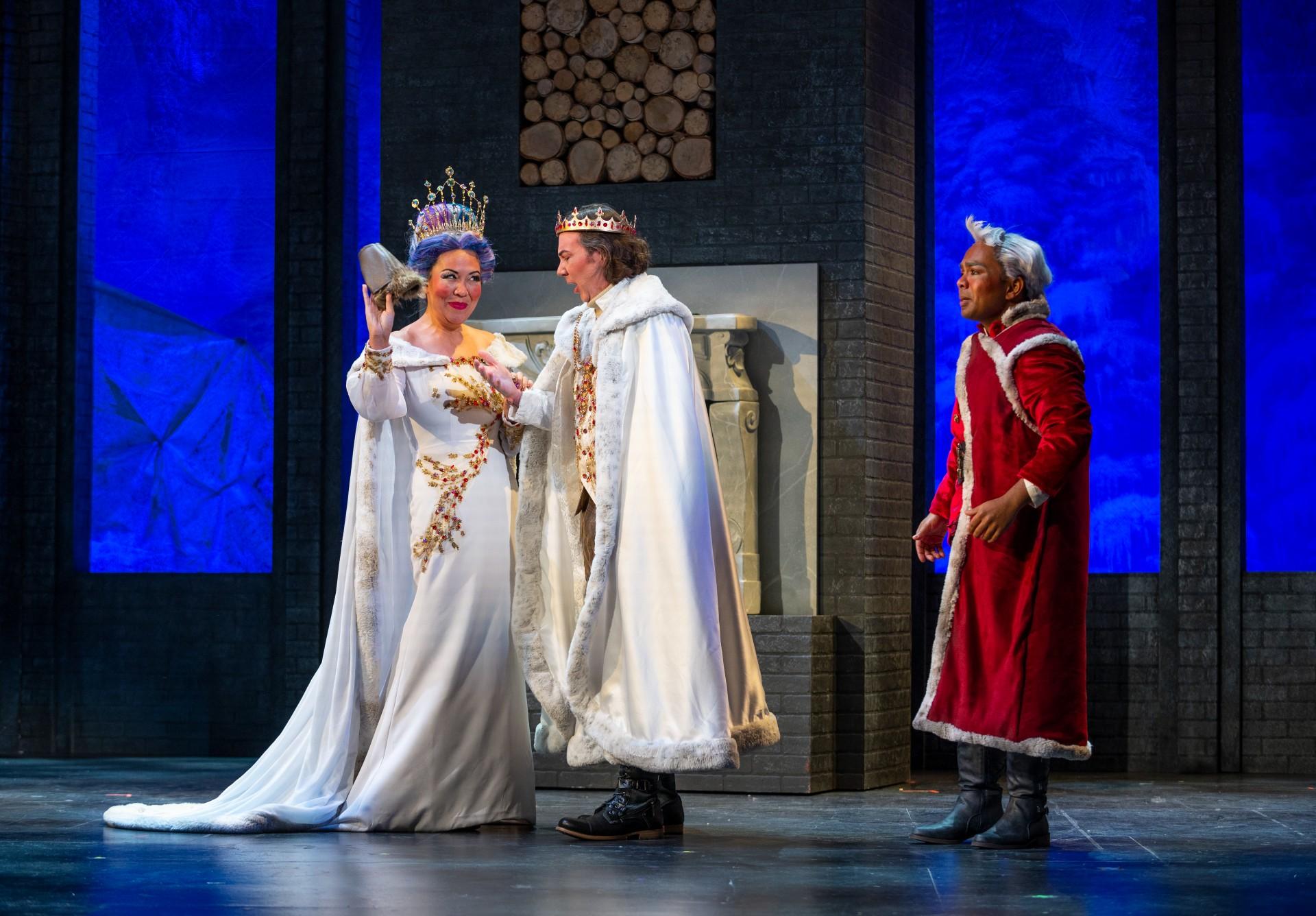 Nina Yoshida Nelson, David Fry and Martin Bakari perform in "Becoming Santa Claus." (Photo by Michael Brosilow)
And then, at one point, the messenger arrives with the news that Claus' father and uncles have been distracted by the birth of a mysterious child in the desert who holds the promise of showing mankind a better way to live. And Claus' father and uncles are determined to visit this strange baby boy and bring him gifts. This information drives Claus to try to outdo his father by working with his elves to create the most fantastic "new" toys imaginable for that baby – a plot twist that inspires a wonderfully amusing scene that involves brief bits of whimsical animation (keep your eye on the reindeer), and the many talents of scenic designer Steven C. Kemp, lighting and projection designer Driscoll Otto and prop designer Mitchell Ransdell. And, of course, Claus rushes out in a sleigh to deliver the toys he has devised to that special newborn. Anything more I will not divulge here, although suffice it to say the delivery of toys becomes an enduring habit.
As ever, Lidiya Yankovskaya, COT's music director, oversees the fine work of a large orchestra that expertly renders Adamo's score and supports the singers. And in a brief but charming moment near the very end of the performance a bell choir that includes several children ringing their bells from balcony boxes leaves you with the sense that there is no gift greater than music.
The remaining performances of "Becoming Santa Claus" are 7:30 p.m. Friday and 3 p.m. Sunday at the Studebaker Theater, in the Fine Arts Building at Michigan. For tickets visit chicagooperatheater.org or call (312) 704-8414.
Note: Future COT performances, also at the Studebaker, include: "The Beekeeper" (7:30 p.m. March 4), an hourlong concert premiere developed under the Vanguard Initiative, COT's "emerging opera composer program," and the world premiere of "Quamino's Map" (7:30 p.m. April 23 and 29, and 3 p.m. May 1), a work with music by Errollyn Wallen and libretto by Deborah Brevoort that is set in 18th century London, where a freed slave from America meets a woman from the British Black gentry.
Follow Hedy Weiss on Twitter: @HedyWeissCritic
---