CSO Artist-in-Residence Hilary Hahn performs Dvorak's Violin Concerto with the Chicago Symphony Orchestra led by guest conductor Andrés Orozco-Estrada. (Credit: Anne Ryan)
Two different concerts by the ever-remarkable Chicago Symphony Orchestra arrived on the Orchestra Hall stage during the past week. And each of them came with a fascinating CSO-commissioned new work, a superb visiting conductor, and breathtaking performances by the phenomenal virtuoso violinists Ray Chen and Hilary Hahn.
First, last week's concert. Led by Hannu Lintu, currently chief conductor of the Finnish National Opera and Ballet, a tall, lanky man, who moves in what might best be described as a Cubist style, it opened with the world premiere of Finnish composer Magnus Lindberg's fiercely dynamic 15-minute piece, "Serenades." Then moving on to French composer Edouard Lalo's 1875 "Symphonie espagnole for Violin and Orchestra," with a fiery, impossibly seductive performance by Chen that had the audience bursting into applause between movement. It concluded with a grand rendering of Brahms' rapturous "Symphony No. 4 in E Minor," dating from 1885.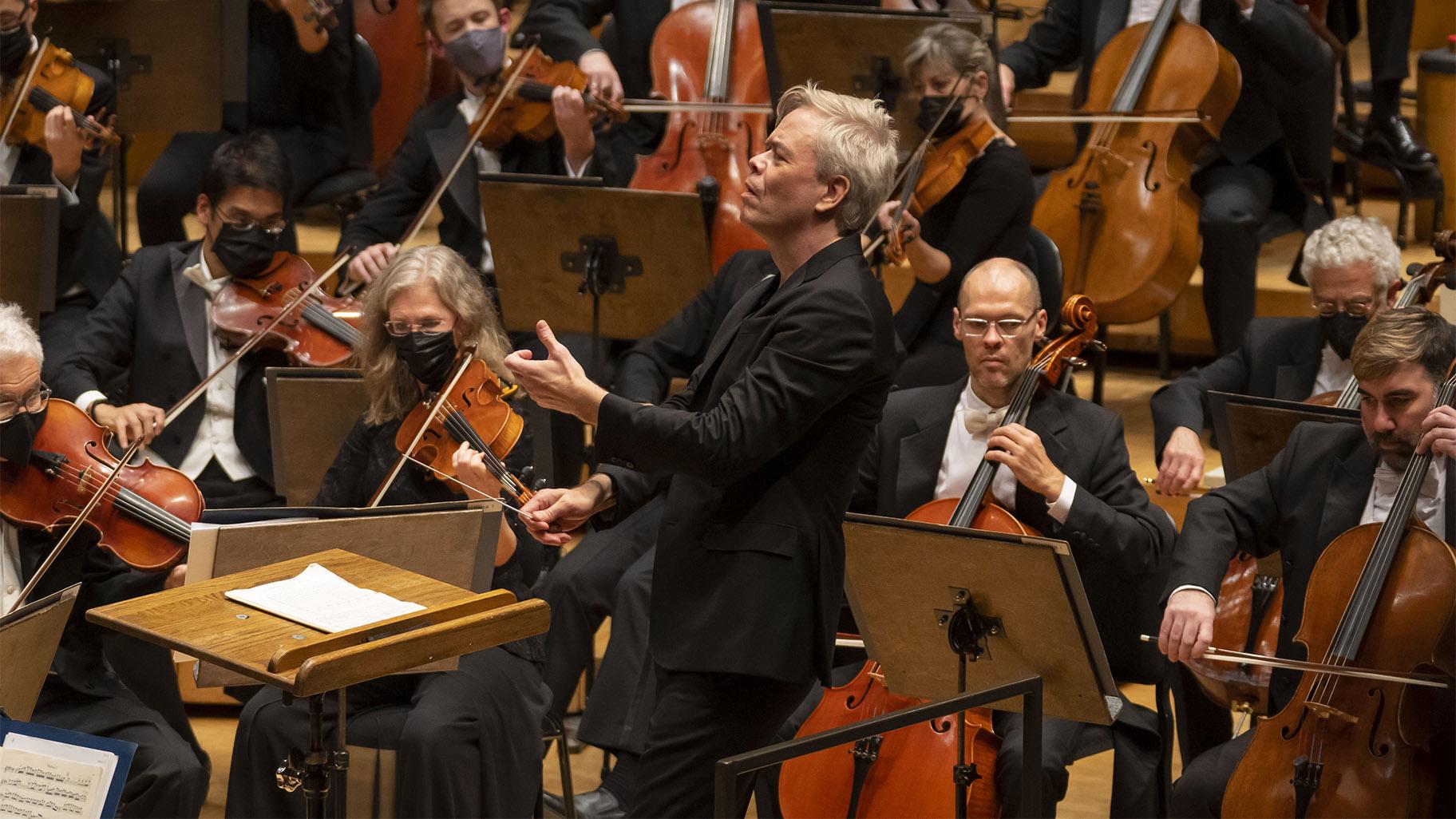 Guest conductor Hannu Lintu leads the Chicago Symphony Orchestra in program featuring works by Lindberg, Lalo and Brahms. (Credit: Todd Rosenberg Photography)
As with most new works, I would have liked to have heard Lindberg's piece a second time, ideally as a repeat at the very end of the program. But suffice it to say that the composer succeeded in his goal, which, as was quoted in the program, was "to write music that featured the CSO's shimmering virtuosity," and with the resulting serenade "a wild one."
And wild it was, from the edgy strings and winds opening the work, to the horns and timpani that generated a great storm, and then, in one of many mood shifts, to a passage of tense lyricism. Deploying a large part of the orchestra, Lindberg conjured a state of agitation and upheaval with the sounding of horns and bells and other percussion and used strongly plucked cellos to generate a notably interesting effect. A mix of booming frenzy and blissful lightness drove it to the end of a boisterous, unpredictable 15 minutes.
Lalo's five-part "Symphonie espagnole," with Spanish themes infused with a bit of French sensibility, is a ravishingly beautiful work with a ferocious test of the violinist. And Chen, playing on a golden-voiced Strad, easily captured both the emotional singing quality of the piece and — not entirely unlike the Lindberg — made radical emotional shifts, even though they came with a very different connective tissue and Romantic spirit. The work's second movement captures the seductive dance rhythms of Spain. The third movement even has a subtle tango-like quality. And the speed, clarity and sheer virtuosity of Chen's playing had the audience erupt into unabashed applause by its end. The brass and low strings set the fourth movement in motion with Chen making the most of the violin's ravishing riffs before launching into the final movement in which the flute suggested a forest full of birds before building to a grand finale. Breathtaking. And so was Chen's bravura encore, a Paganini "Caprice."
Soloist Ray Chen performs Lalo's Symphonie espagnole with the Chicago Symphony Orchestra. (Credit: Todd Rosenberg Photography)
Finally, it was on to Brahms, with his fourth symphony's familiar, easily rapturous start, the feverish sound of French horns, and an overall sense of heat. In the second movement the plucking of strings, along with the beautiful playing of the winds and horns, brought forth Brahms' lush, melodic gifts. A big, triumphal burst of sound drove the third movement's opening, and with great speed and storminess it surged ahead to a thrilling climax, with the feverish beauty and passionate force that is this composer's enduring signature. And, as always, the CSO musicians soared throughout.
---
And now, on to Thursday evening's magnificent concert which was led with great verve and expressiveness by the young Colombian-born Andrés Orozco-Estrada, currently the principal conductor of the Vienna Symphony Orchestra.
The evening began with the premiere of Gabriela Lena Frank's "Haillí-Serenata," an utterly hypnotic eight-minute work for string orchestra. "Haillí" is the word for "prayer" in Quechua, the indigenous language of Peru's Incas. And Frank, herself the daughter of an American father of Lithuanian Jewish descent, and a mother of Peruvian and Chinese ancestry, has created an exquisite hybrid piece that seamlessly weaves together ancient and classical musical threads to magical effect.
Throughout, Frank — who, quite remarkably, also has a hearing disability — utilizes the plucking of the string instruments to splendid effect. And she has created a quiet, spellbinding fade-out finale that leaves you wishing for more, or at least a complete replay.
Guest conductor Andrés Orozco-Estrada leads the Chicago Symphony Orchestra in Tchaikovsky's Symphony No. 5 (Credit: Anne Ryan)
Then came Hahn, almost floating onto the stage in a beautiful gown with a long, rainbow-hued tulle skirt, to play Dvorak's "Violin Concerto in A Minor." A work infused with Bohemian/Czech folk dance themes, it received its U.S. premiere by the CSO in 1891, just two weeks after the orchestra itself gave its inaugural concert at the Auditorium Theatre.
Hahn is a three-time Grammy Award-winning artist of extraordinary virtuosity who radiates joy as she plays and has a palpable connection with the orchestra. She has just begun her two-year tenure as the CSO's first Artist-in-Residence. And she is already set to return to Orchestra Hall in mid-March for concerts with the CSO, and with a chamber music performance on April 1.
The Dvorak concerto begins with a great blast of sound and then quickly welcomes the solo violin that engages in a back-and forth with the full orchestra. Hahn's beautifully played passages set the overall tone, moving from the vigorously passionate and urgent, to quietly aching, intimate sequences, with her velvety sound shifting easily from one to the other. Her mood shifts are seamless, as are the orchestra's. And their alternating conversations - from the declarative to the heartbreakingly gentle, often finessed at high speed - brought smiles to Hahn's face. Alternately commanding and playful, Dvorak's music, heightened by the superb playing of the winds and brass easily swept the audience away. And after many bows Hahn returned to the stage for a beautiful, more mournful, and fiendishly difficult encore from Bach's "Sonata for Violin Solo No. 3 in C Major."
Guest conductor Andrés Orozco-Estrada leads the Chicago Symphony Orchestra in Tchaikovsky's Symphony No. 5 (Credit: Anne Ryan)
As it happens, Dvorak was a fan of Tchaikovsky's music, so it is probably no accident that the Russian composer's highly theatrical "Symphony No. 5 in E Minor" was chosen to close the program. The orchestra was in thrilling full force, with Orozco-Estrada supplying meticulous signaling. And together they found a way to put a remarkably fresh spin on this widely familiar masterwork — from the funereal opening march to a formidable triumphal sound — with a rapturous fluidity and grandeur in every movement. The brass and wind sections were in terrific form, as was timpanist Vadim Karpinos and the string section which were the orchestra's workhorses. All in all, it was a thrillingly emotional roller coaster ride.
The final performance of this concert is Sat. Nov. 11 at 8 p.m.
For tickets visit cso.org or call (312) 294-3000.
---
Follow Hedy Weiss on Twitter: @HedyWeissCritic
---