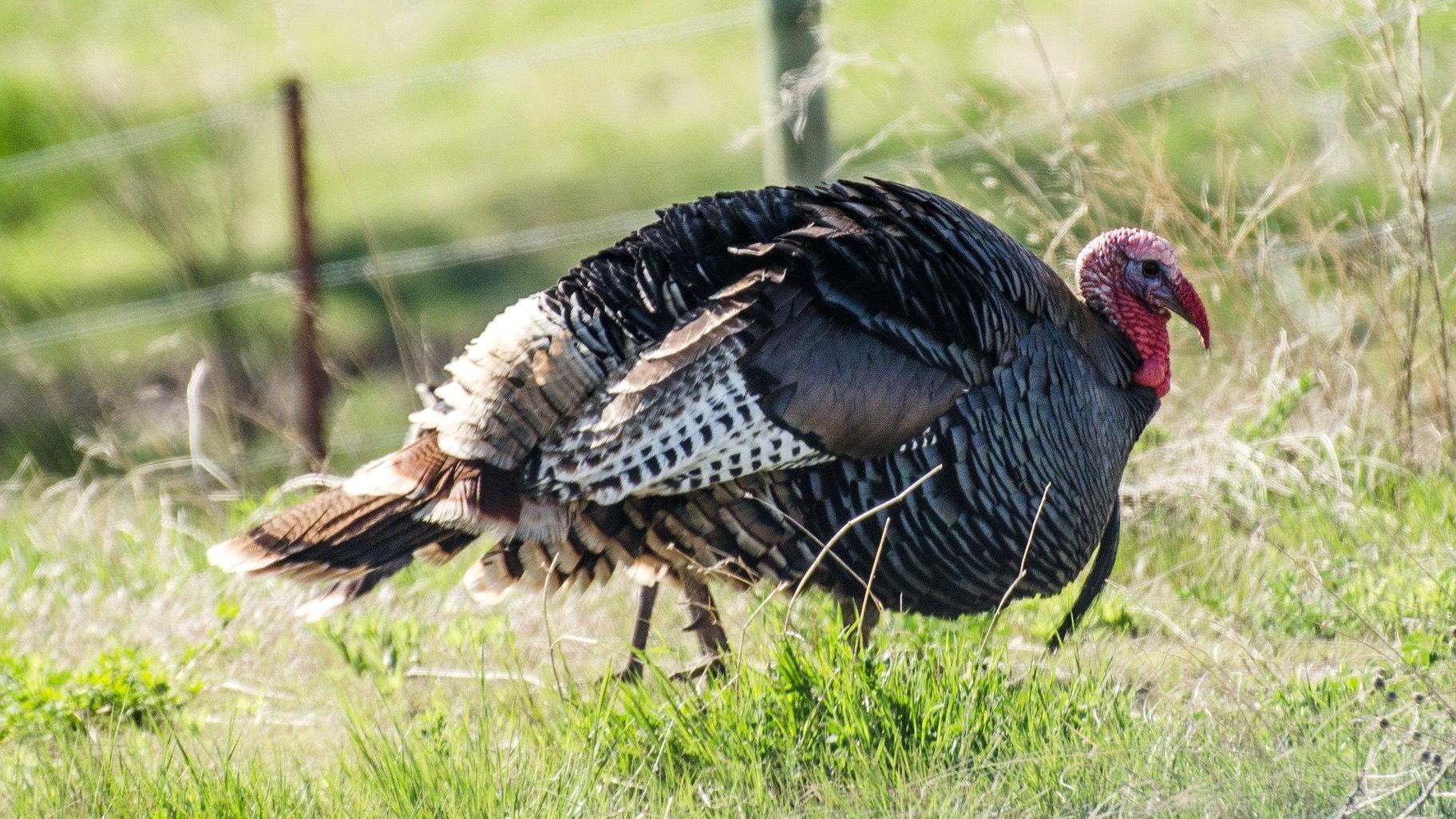 The wild turkey is a North American original. (Elljay / Pixabay)
Turkeys will be the centerpiece of most American's Thanksgiving meal: first in the kitchen as they're stuffed, trussed and basted, then at the table as they're carved and plated.
But when's the last time you thought about a turkey as something other than breast, thigh or wing, white or dark meat? When's the last time you thought about the turkey as a bird? Not the domesticated version, bred and farmed for consumption, but its wild counterpart?
Let's get to know the OG variety of this quintessentially American creature.
1. Comeback kid
Overhunting and habitat loss once had the wild turkey on the ropes, to the point where it was completely wiped out in Illinois by 1910. The bird was  reintroduced by the Illinois Department of Natural Resources between 1959 and 1967 through a trap-and-release program that started by bringing in wild turkeys from Mississippi, Arkansas and West Virginia. Released in small groups at five locations in southern Illinois, these birds successfully began breeding.
Today wild turkeys, which are nonmigratory, are found in every county in Illinois and have become numerous enough to allow limited hunting. According to the U.S. Fish and Wildlife Service, turkeys are the second most sought-after game next to deer. 
---
2. Myth busting
Ben Franklin never lobbied for the turkey over the eagle as the national bird, per the folks at the Franklin Institute. Franklin did, however, write a letter to his daughter wherein he called the eagle "lazy" and morally bankrupt, while praising the turkey as respectable and a "bird of courage."
---
3. Sprawling family
There are two species of wild turkey: North American and ocellated. The North American species has five subspecies, all of which have staked out different geographic regions. The kind found in Illinois is the eastern wild turkey, which is the most abundant overall, as well as the most widely distributed subspecies east of the Mississippi River. The ocellated sticks to parts of Mexico, Belize and Guatemala.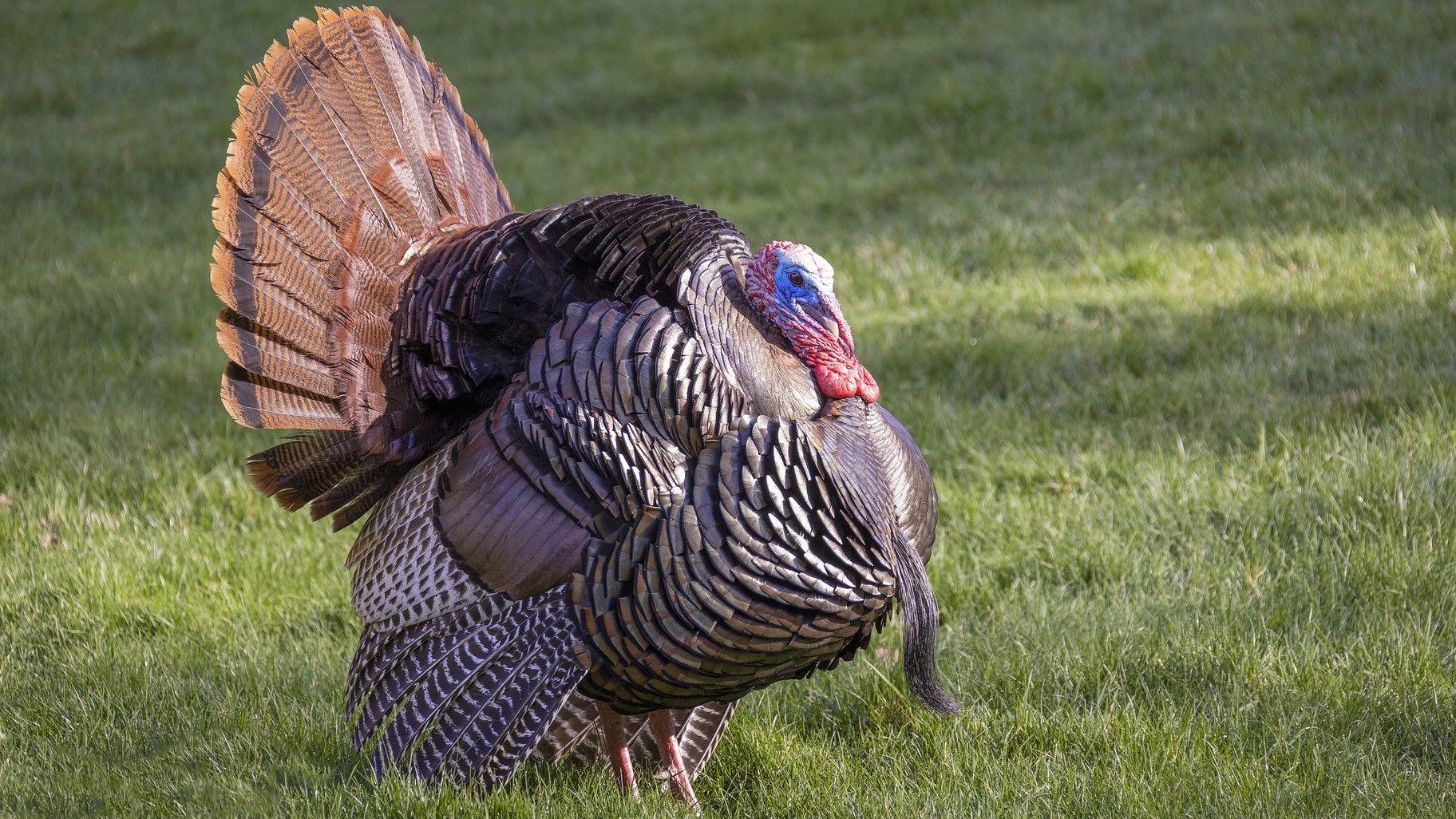 There are five subspecies of North American wild turkeys. The eastern wild turkey is the only one found in Illinois. (Mohann / Pixabay)
4. Turkey trot
While domesticated turkeys are usually sluggish due to their bulk, wild turkeys are surprisingly fast, capable of reaching speeds of 12 miles per hour.
---
5. Flight or fight
Those wings aren't just for decoration, wild turkeys actually fly. It's not necessarily their preferred mode of transportation, and they usually only do it to reach a roost, but they'll go airborne if threatened. Their wings also come in handy during slap fights, which is one way they establish their pecking order, according to scientists.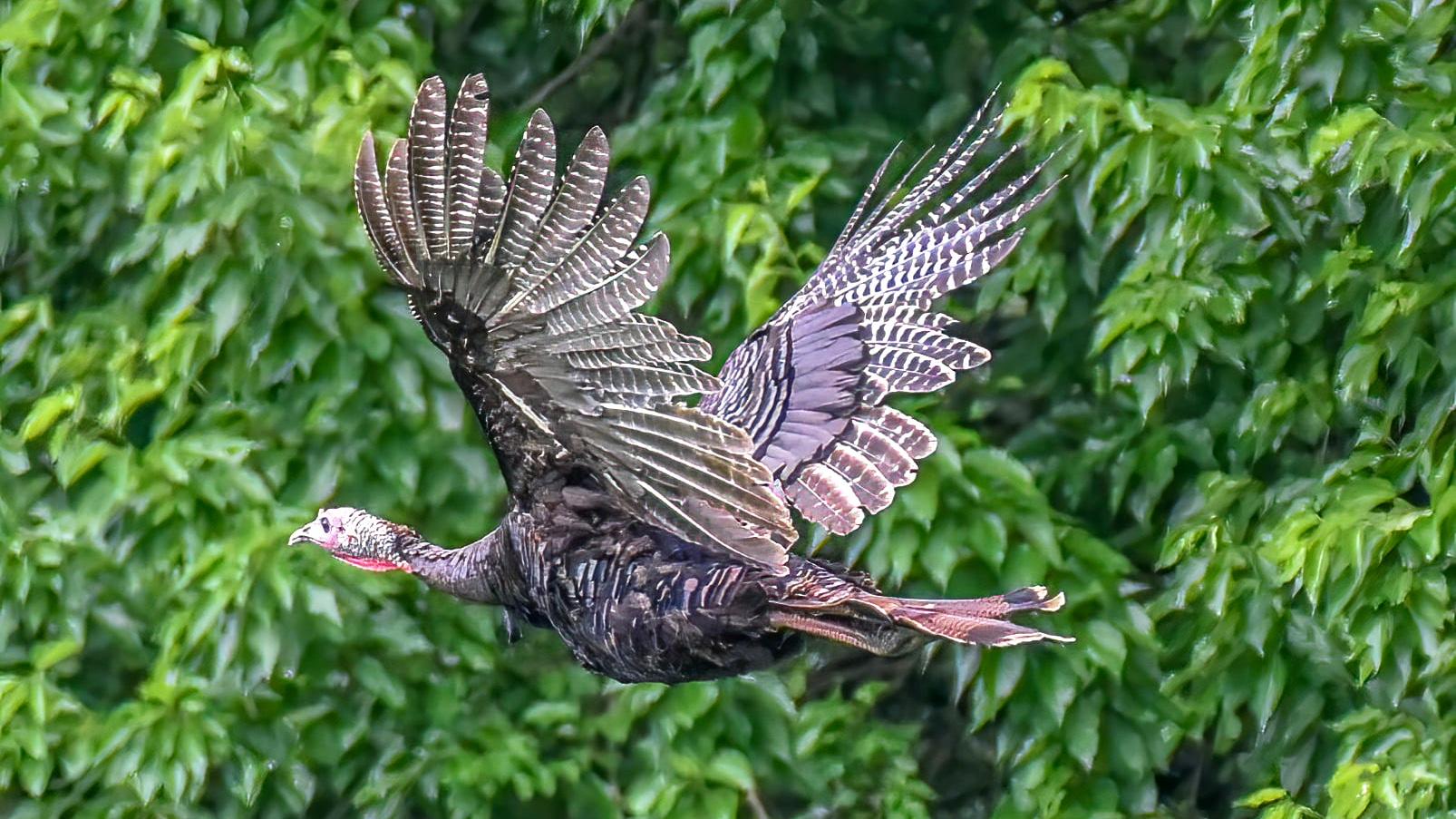 A wild turkey takes flight at Midewin National Tallgrass Prairie. (Veronica Hinke / USDA)
6. You are what you eat
A wild turkey's diet sounds a lot like a recipe for stuffing (or dressing). They dine out on nuts, acorns, berries, seeds, wild grapes and black cherries, and grasses — that's why they taste so good. 
---
7. No sweat
Turkeys don't sweat and would easily overheat under that coat of 5,000 to 6,000 iridescent feathers if it weren't for their wattle. The skin on the wattle, that jiggly mass of neck flesh, helps turkeys release heat.
---
8. Mood swings
A wattle's color is affected by blood flow, which makes it something of a mood indicator. During mating season, extra blood flows to a male tom's wattle, turning it bright scarlet. When a turkey is ill, its wattle can appear nearly white, and when it's scared, say by a predator, the wattle looks blue.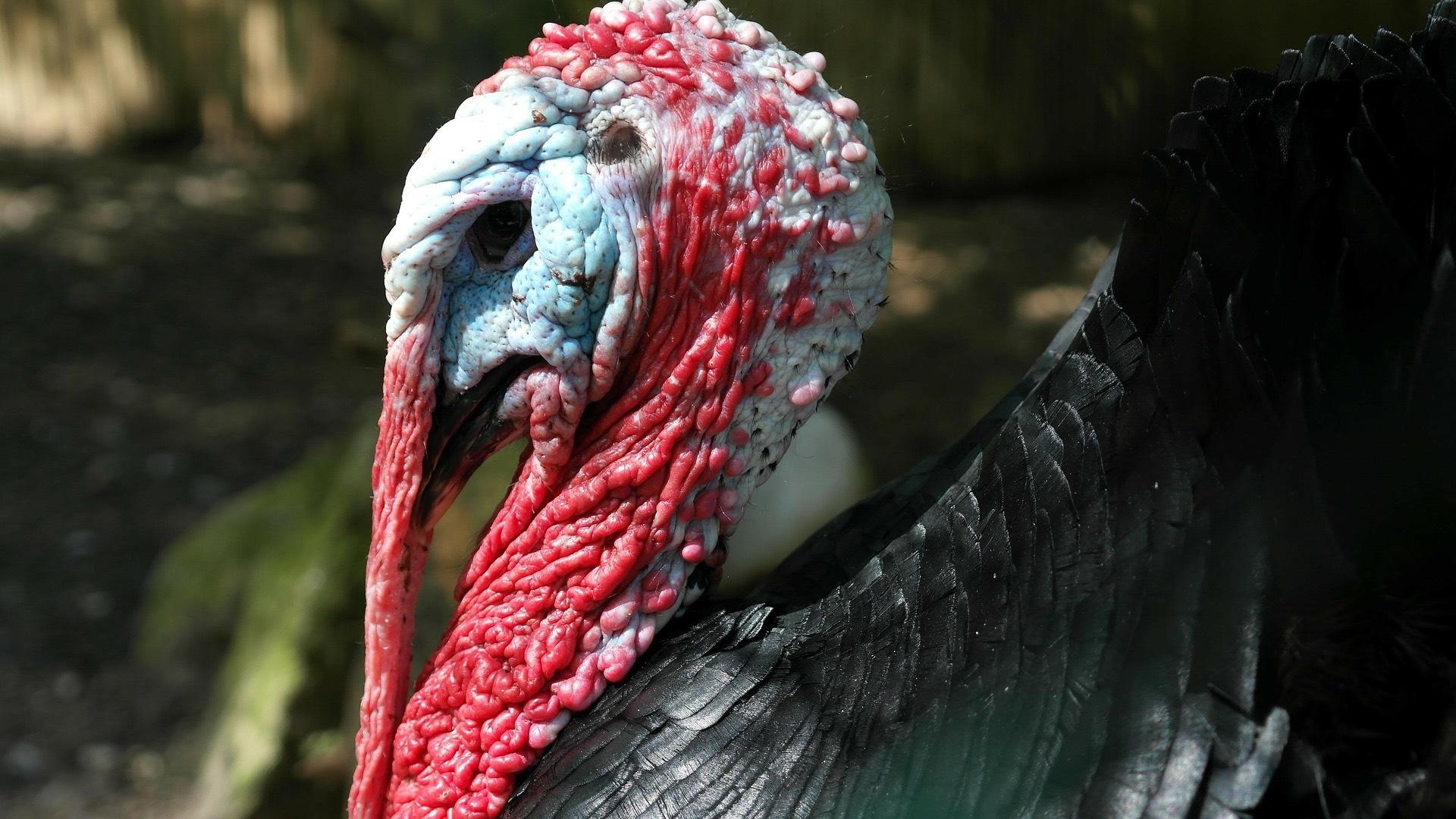 A wild turkey's wattle serves a number of purposes, from releasing heat to attracting a mate. (Rita E / Pixabay)
9. Gobbledygook
Though "gobble, gobble" is how most humans imitate a turkey, the birds have a more expansive set of sounds, including cackle, kee kee and yelp. 
---
10. Leftovers
According to the Cornell Lab of Ornithology, turkey fossils dating back more than 5 million years have been found in the U.S. and Mexico.
---
Contact Patty Wetli: @pattywetli | (773) 509-5623 |  [email protected]
---