Articles of colorful clothing and ornaments tell the story of the person who wears them. The whole ensemble is called regalia, and it helps preserve the heritage of an entire community. A local photographer with roots in the Potawatomi Nation documents her people and their legacy.
TRANSCRIPT    
Marc Vitali: From children to elders and all ages in between, a photographer has captured images of her tribe – and explored the bonds of community.
Sharon Hoogstraten, Artist: I started in 2010. I'm a citizen of Potawatomi Nation, enrolled member, and so I had access. They asked me if I would come down and show some of my artwork because they knew I was a photographer, and I said how about we create some new artwork.     
Vitali: She traveled to Kansas, Oklahoma, Nebraska – and other places where the Midwest Potawatomi were forced to relocate in the 1820s and '30s.
She aimed her camera at people and their unique regalia.
Hoogstraten:  Maybe the best way to talk about regalia is what it's not. It's not a reenactment. Most importantly it's not a costume. A costume is something you put on to be something you're not, and regalia is all about who you are. Your story is woven into your regalia. It might be about your birth order. It might be about an important event in your life or gifts from other tribal members that you know or in respect to your ancestors, maybe your clan colors. So your regalia is never finished. It's always evolving, and it tells your story.         
Vitali: Her large-format photographs printed on fabric preserve those stories. They are featured in a new book that is currently only being distributed to Potawatomi Nations.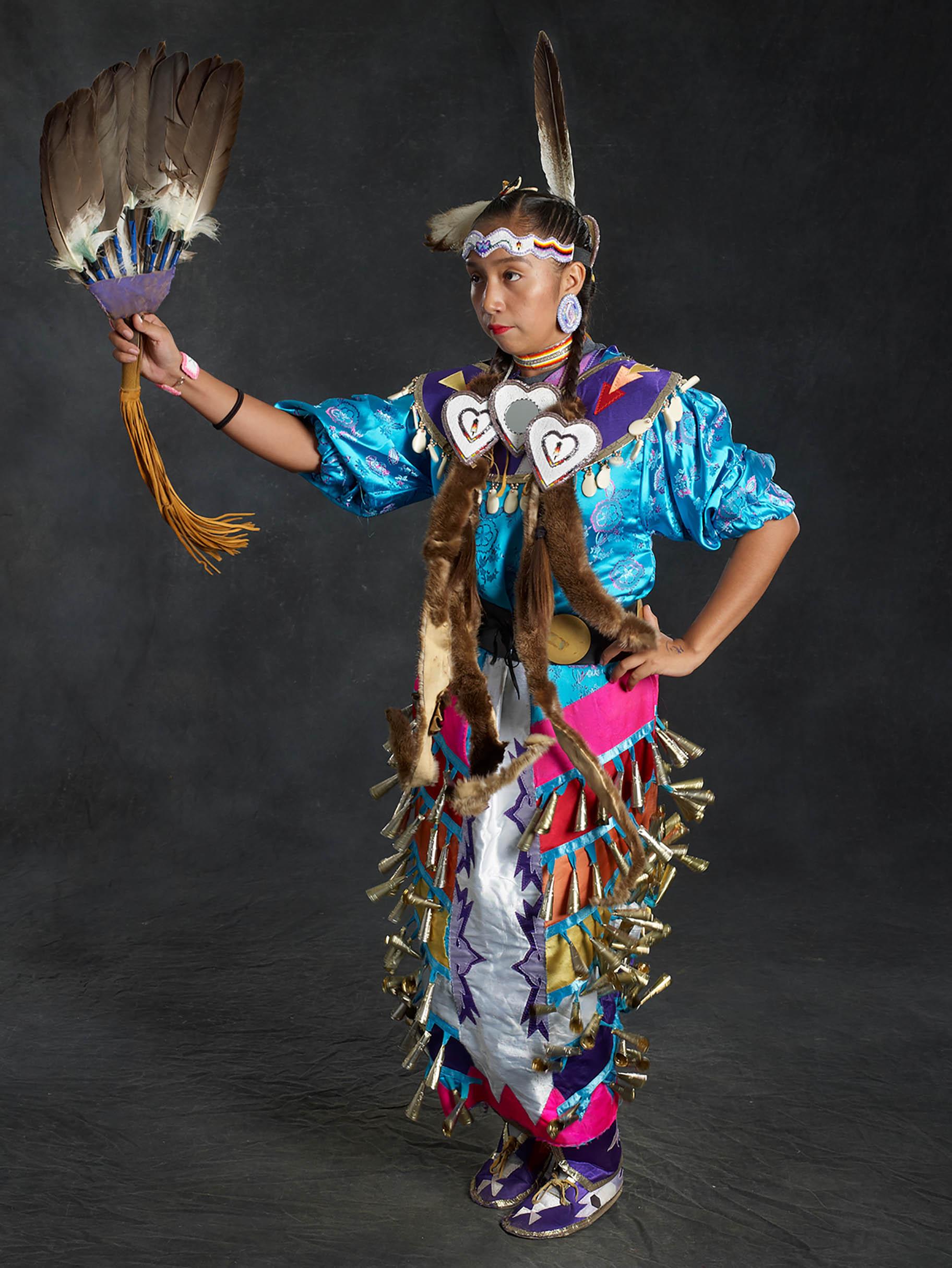 (Copyright Sharon Hoogstraten from her book "Dancing for Our Tribe.")
Sharon Hoogstraten also worked at WTTW in the 1980s. She won an Emmy Award for the opening graphics of "Chicago Tonight" and for the original "Chicago Week in Review."
Even recently some of her photos of Chicago were featured on the Chicago Tonight set.
But these days, she focuses on personal projects.
Hoogstraten:  These are just regular folks. They work in factories, or they go to Stanford or, you know, all across the scale. And they just came in to be part of this project. They weren't nervous or modest. I didn't have to coax them. They just came in and did it. It was really amazing. It was a gift.
Vitali: The pictures also spotlight many veterans of the United States Armed Forces.      
Hoogstraten:  Native Americans volunteer at a higher percentage than any other ethnic group. Why would they do that with all of these troubles with their past? One, they do it to honor the ancestors. Two, this has always been their land and they will always defend it, so that starts to make some sense.
There's a very positive mindset amongst our people that you stay on the Red Road. The Red Road is the good road. You are grateful for the things that you have from Mother Earth.
What I love about regalia is it's just proof that we are still here. You see kids and older men and grandmothers and storytellers all taking such pride in their regalia and all the storytelling that's in each piece of regalia. There's no question – we are still here.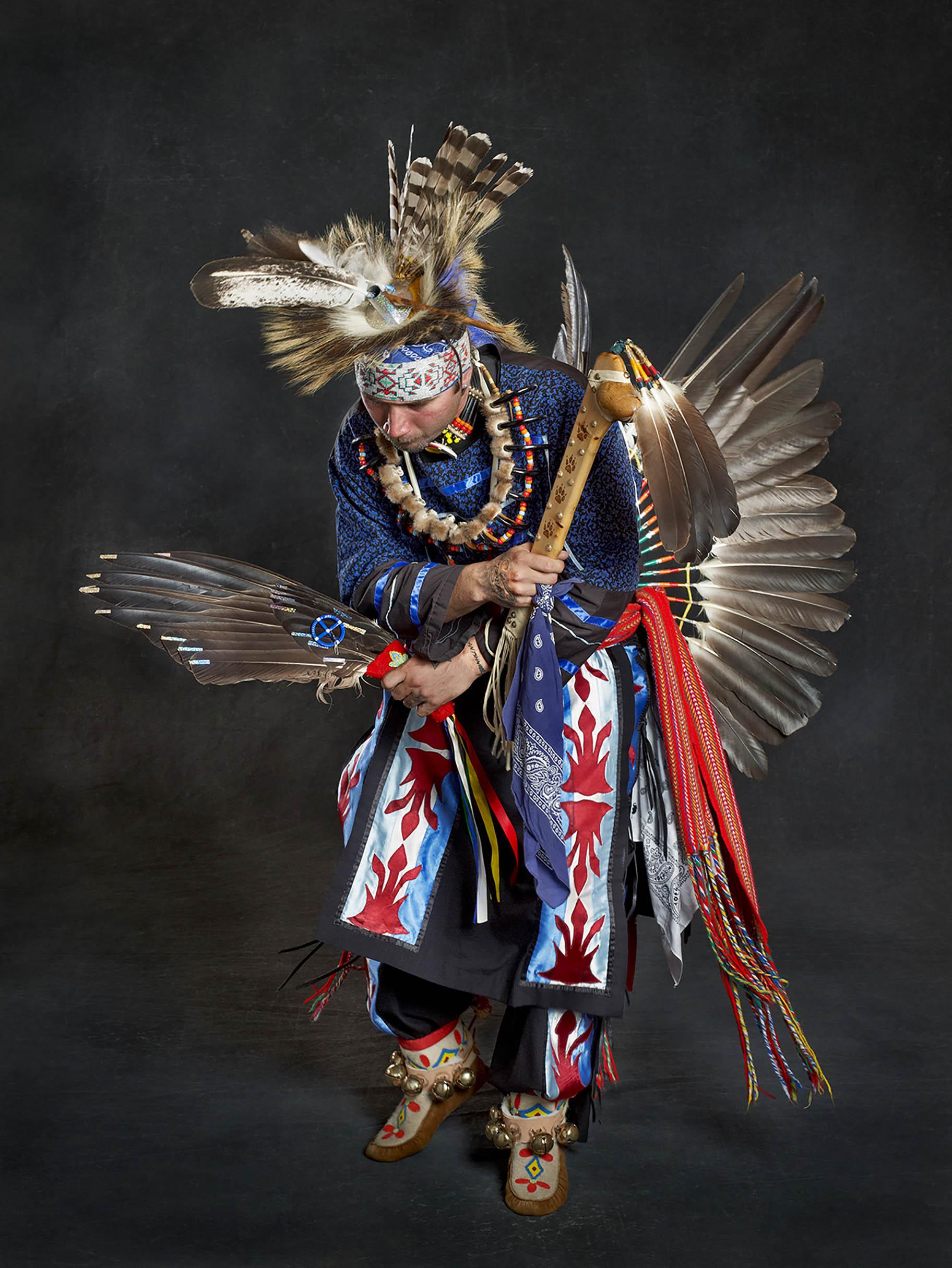 (Copyright Sharon Hoogstraten from her book "Dancing for Our Tribe.")
More on this story
The book is titled "Dancing for Our Tribe." So far, just 25 copies have been printed, and they went to the Potawatomi Nations for posterity. There are plans for a wider publication of the book in the New Year. To see more of Sharon's work, visit www.HoogstratenPhotography.com.
---