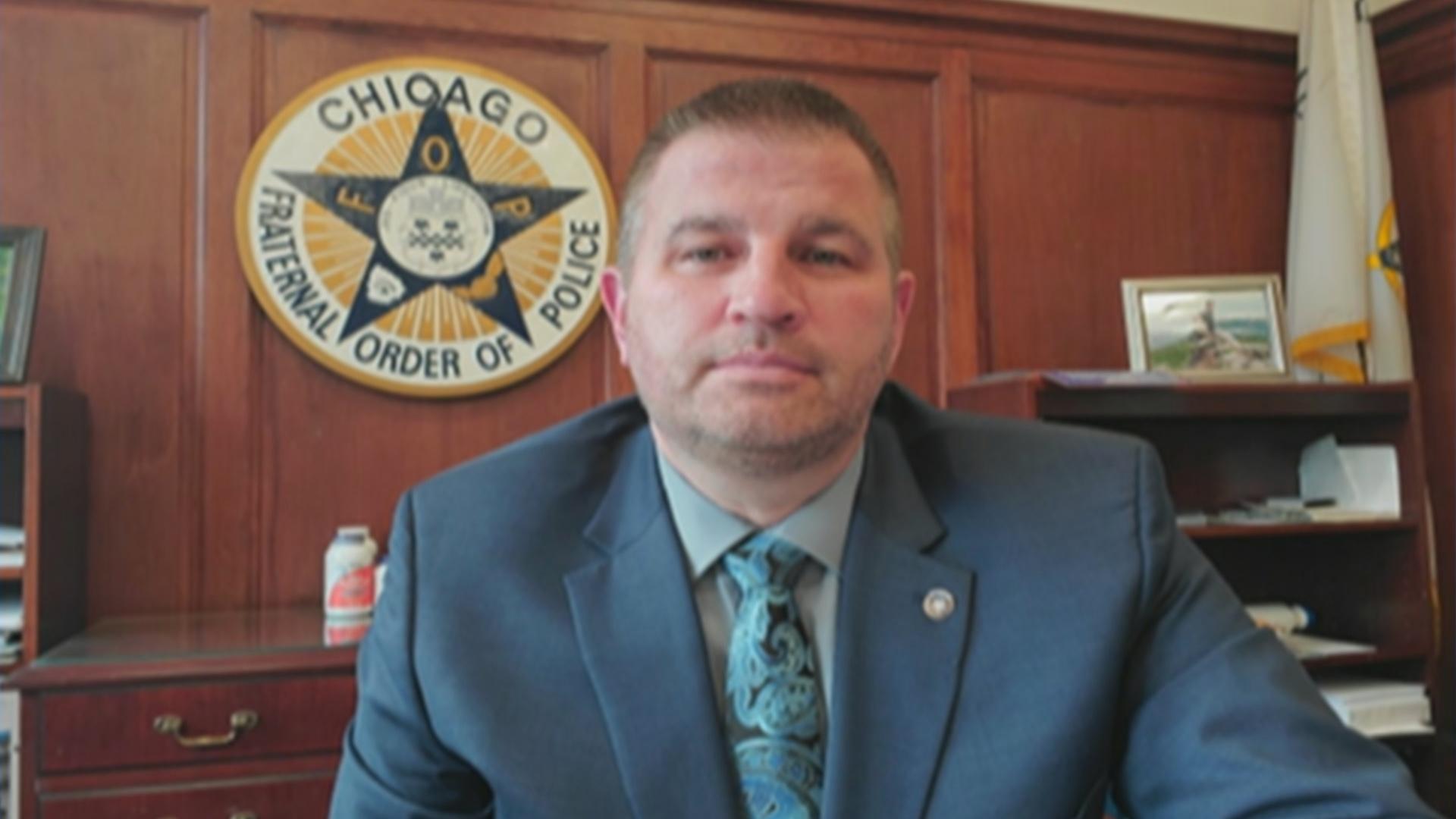 Fraternal Order of Police Lodge 7 President John Catanzara appears on "Chicago Tonight" via Zoom on Thursday, May 14, 2020. (WTTW News)
The Chicago Police Board on Monday will hold the first in a series of hearings that could lead to the termination of Chicago police officer John Catanzara for defying the department's brass and ignoring its rules — marking the third time the board will weigh nearly a dozen charges against the officer who has been a lightning rod for controversy for more than a decade.
But when he goes before the nine-member board this time around, Catanzara will appear not only as an officer who is accused of 11 charges that could lead to his termination, but also as the president of the city's largest police union — and the public face of opposition to Mayor Lori Lightfoot's requirement that all city employees be vaccinated against COVID-19 and a vocal supporter of former President Donald Trump.
Catanzara is charged with filing a false police report against former Superintendent Eddie Johnson, accusing the now-disgraced former top cop with "criminal trespass to state supported land" by allowing anti-violence protestors onto the Dan Ryan Expressway in July 2018. 
Other charges accuse Catanzara of making "obscene" and inflammatory social media posts on Facebook between 2016 and 2018, before he was elected union president. 
According to those charges, in November 2016, Catanzara posted on Facebook: "Wtf its (sic) seriously time to kill these m-----f-----s," after a Wayne State University police officer had been shot by a then-unknown suspect. In January 2017, he wrote of Muslims: "Savages they all deserve a bullet." 
Other posts were deemed to be "disrespectful to CPD management" and in one instance, Catanzara posted a picture of himself in uniform making a political statement, in violation of department rules. 
In all, Catanzara has been accused of repeatedly violating 11 CPD rules, including insubordination, incompetency, disobedience, participating in partisan political activities and making a false report.
Catanzara v. Lightfoot
Catanzara was elected to lead the Fraternal Order of Police Lodge 7 in May 2020 — even though he had been stripped of his badge and gun months before. During that campaign, he promised to oppose Lightfoot at every turn — and push back against the consent decree, a court order that requires the Chicago Police Department to change the way it operates to ensure that officers do not violate the constitutional rights of Black and Latino Chicagoans.
Catanzara fulfilled his promise to fight Lightfoot with a flourish, urging Trump to send federal troops to Chicago during the summer of 2020 to crackdown on crime and protests in the weeks after George Floyd was murdered by a Minneapolis police officer, prompting the mayor to call him a "clown," "fraud," "cartoon character" and "liar" in a series of text messages.
In January, Catanzara echoed false statements made by Trump that the 2020 election was stolen and downplayed the Jan. 6 insurrection at the U.S. Capitol. Lightfoot wasted no time in blasting his remarks, and Catanzara apologized.
The animosity between Lightfoot and Catanzara reached new heights in August after Lightfoot announced all police officers would have to be vaccinated against COVID-19 and Catanzara compared the mandate to Nazi Germany. 
"We're in America, G-ddamnit. We don't want to be forced to do anything. Period. This ain't Nazi f---ing Germany, [where they say], 'Step into the f---ing showers. The pills won't hurt you.' What the f--k?" Catanzara said. He later apologized after his remarks were widely condemned.
Even after Lightfoot weakened the mandate just before it was scheduled to go into effect by allowing city employees who were not vaccinated to test twice a week until the end of the year, Catanzara shifted focus and urged his members to refuse to even disclose whether or not they had been vaccinated.
That prompted a flurry of dueling lawsuits that resulted in a Cook County judge halting Lightfoot's Dec. 31 deadline for all city employees to be fully vaccinated. During a court hearing, an attorney for the union told a judge that Catanzara had been fully vaccinated, despite his vehement objections to the mandate.
Catanzara's history of complaints
Since Catanzara joined the Chicago Police Department in 1995, he has faced 50 complaints from members of the public — more than 96% of other officers. Ten of those complaints were sustained, and he was disciplined nine times, city records obtained by the nonprofit Invisible Institute show.
Former Supt. Jody Weis sought to fire Catanzara in 2008, charging him with failing to follow orders to complete a psychological exam, according to Police Board records. However, the Police Board cleared Catanzara with a 5-3 vote in February 2009, returning him to duty.
Catanzara once again faced termination hearings before the police board in 2012, after former Supt. Garry McCarthy urged them to fire Catanzara for violating the department's rules on secondary employment and for lying about his work outside the department. The board cleared him on a 7-2 vote, according to records.
One of the two Police Board members who voted to fire Catanzara in 2012 was Ghian Foreman, who is now president of the Police Board.
In the case set to go before the Police Board Monday, the former head of the Civilian Office of Police Accountability urged Police Superintendent David Brown to fire Catanzara for his incendiary social media postings. But Brown rejected that recommendation and hit Catanzara with a one-year suspension.
However, Police Board member Andrea Zopp, appointed by former Mayor Rahm Emanuel, who was randomly charged with resolving the split between COPA and Brown, sent the matter to the full board for a decision, which could lead to Catanzara's firing.
The latest hearings, which are open to the public, will begin Monday morning at the Police Board's offices at 2 N. LaSalle St.
The process for the hearings themselves will largely resemble that of a criminal trial. Attorneys representing the superintendent, COPA and Catanzara will lay out their cases in both opening and closing statements and witnesses will be called to give sworn testimony under direct and cross-examination.
A hearing officer — in this case Lauren Freeman, one of four private practice attorneys retained to oversee these hearings — acts as the "judge" in the matter, ruling on objections and deciding legal issues between the sides. After the hearings are over, that officer must compile a written report on the proceedings and later give an oral report to the board.
The full nine-member board then will ultimately act as a jury to decide the matter and determine if Catanzara is guilty of any of the offenses he's charged with, via majority vote. If he's found guilty, the board must then settle on an appropriate penalty, which could range from suspension without pay up to a discharge from the CPD.
If he's found not guilty of the allegations, Catanzara would be immediately restored to active duty and receive back pay for the time missed during his suspension.
That decision is not expected to be made until early next year, and both sides would have the ability to appeal the findings and challenge them in court.
Contact Matt Masterson: @ByMattMasterson | [email protected] | (773) 509-5431
Contact Heather Cherone: @HeatherCherone | [email protected] | (773) 569-1863
---