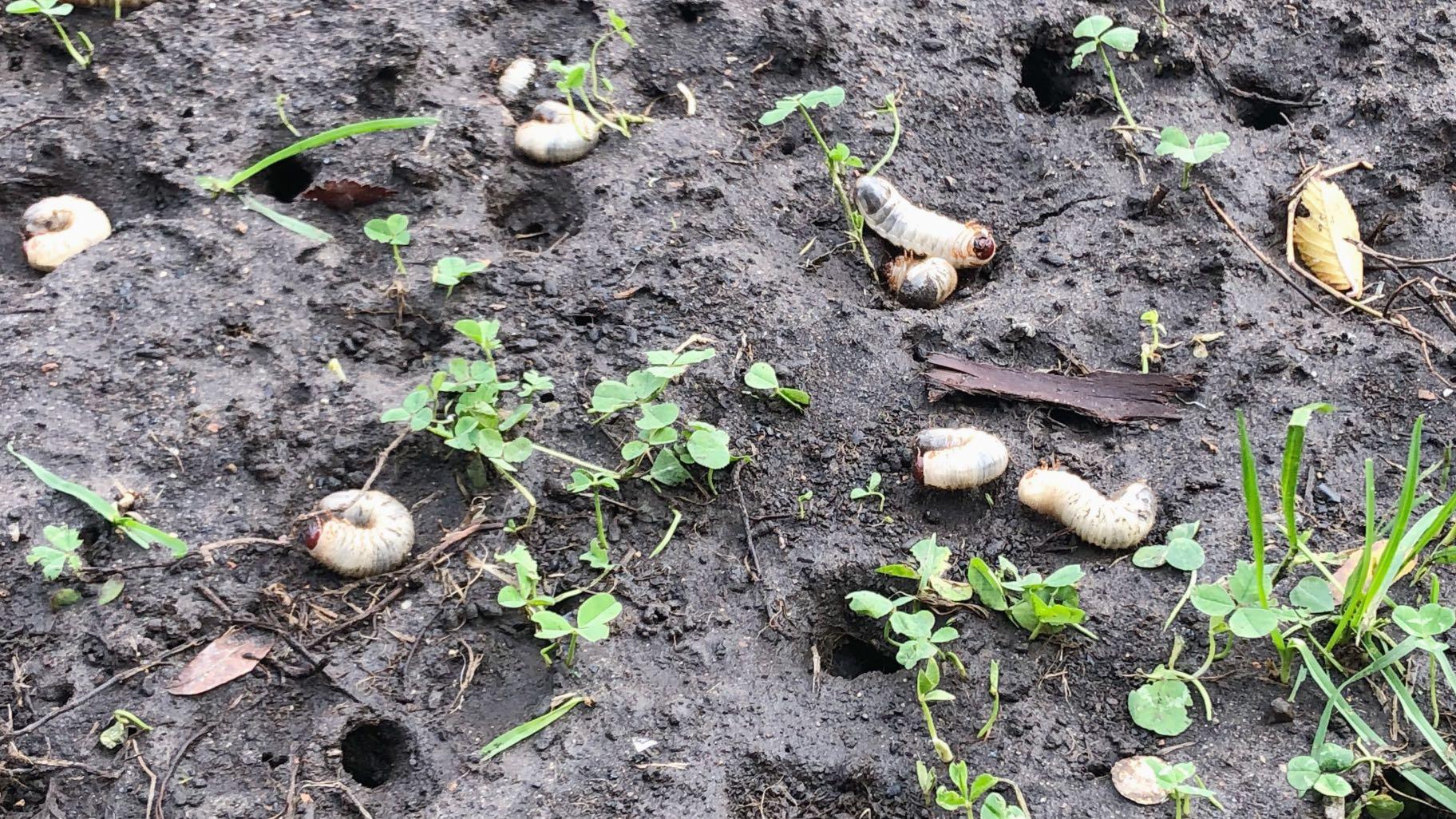 The beetle grubs that ate Welles Park have been dispatched with insecticidal efficiency. (Patty Wetli / WTTW News)
The beetle grubs that ate Welles Park on Chicago's North Side have now been dispatched with insecticidal efficiency.
An application of dylox drew tens of thousands of larvae to the surface, exposing the massive population that had lurked below ground, and killed them on contact or ingestion. The treatment is safe for people and pets to walk on, though the minefield of grubs scattered on the field requires the tippiest of tip-toes.
The use of chemicals led some people to question whether there weren't other ways to deal with the infestation. Among the suggestions proposed via social media or direct message: Why not let skunks take care of the problem? How about setting loose a flock of backyard chickens?
WTTW News asked the experts to weigh in the alternatives.
The most tried and true natural solutions are milky spore disease and beneficial nematodes, said Nancy Kreith, a horticulture educator with the University of Illinois Extension program.
Milky spore is a bacteria that turns a grub's bodily fluids into a milky liquid. But it only affects Japanese beetle larva, so it wasn't applicable at Welles, where June beetles were the problem. Nematodes are microscopic worms that release a type of bacteria inside grubs, poisoning their blood. They work best on small, newly hatched larvae, which wasn't the case at Welles, and are more complicated to apply, requiring certain weather conditions, among other specifications.
Neither of these biological controls is necessarily kinder or gentler to the grubs — the larvae are still dead whether a treatment is organic or not — but milky spore and nematodes do create fewer concerns in terms of potential toxicity to humans or chemical run-off.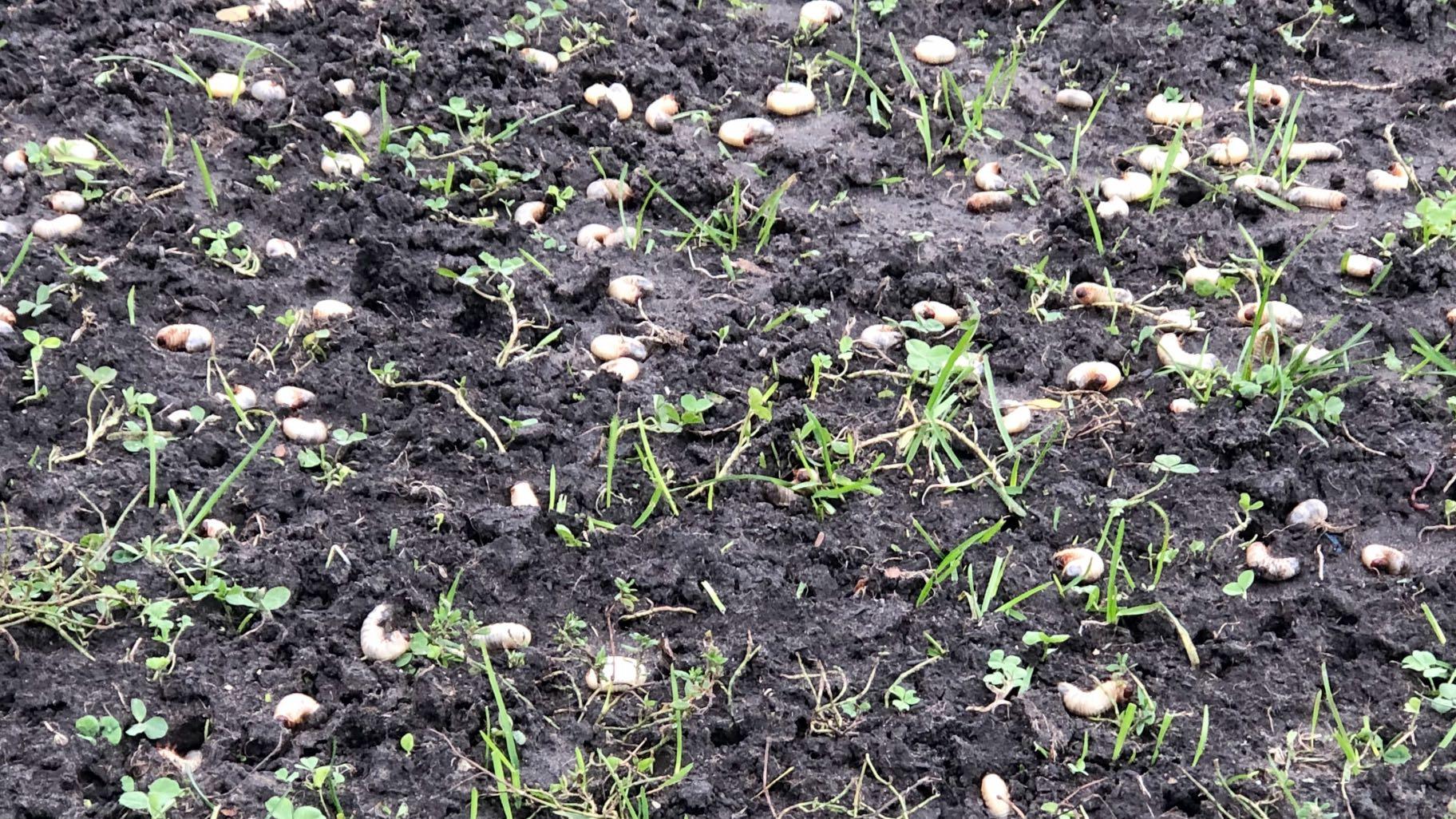 The extent of the infestation at Welles Park became apparent once grubs were brought to the surface by a chemical treatment. (Patty Wetli / WTTW News)
What about letting nature take its course? Wouldn't the neighborhood's skunks, raccoons and birds make quick work of the grub buffet?
"Given time, natural enemies like birds and small mammals will eat the grubs," said Christopher Deitrich, Illinois' official state entomologist. "Unfortunately, when there's a huge population increase in a short period of time, there are never enough predators around to eat all the grubs."
What about beefing up the neighborhood's ranks of grub-eating critters with recruits from elsewhere in the city?
Deitrich expressed reservations.
"Augmentation of local predator populations could certainly help keep the (grub) population down," he said. "But once the grubs are gone, those same predators would need another source of food, and I doubt locals would be cool with more skunks or raccoons wandering around the neighborhood."
(Animals digging for grubs in lawns can be as damaging to turf as the larvae themselves.)
The backyard chicken idea was deemed a more plausible option, though Kreith questioned how they would be contained or corralled on such a large site. She also cautioned against deploying chickens in situations where the exact species of grub is unknown. The larvae of rose chafer beetles can be toxic to birds and chickens when ingested, she said.
"Turkeys might be even better. And just in time to fatten them up for Thanksgiving," Detrich joked. "Whether that's a viable option presumably depends on local ordinances, politics, etc."
Contact Patty Wetli: @pattywetli | (773) 509-5623 |  [email protected]
---