Most weekday mornings, Amy Urbanowski walks her dog in Lincoln Square's Welles Park before she heads to work. It's a routine she's had to rethink after a recent encounter left her shaken.
It happened at 6:30 a.m. on a Tuesday in early October, Urbanowski recalled. She and her pooch were making their way along the path that bisects the park when she felt something wet underfoot.
At first she thought maybe she'd stepped in some berries, but then Urbanowski noticed that the squishy blobs below were alive. She was standing on a roiling carpet of writhing grubs.
"They were all over the sidewalk, the ground was moving with them," Urbanowski said. "I screamed really loud, it was so disgusting."
Her instinct was to bolt, but she was surrounded — no matter which direction she stepped, she squashed more grubs into pulp.
"You look down and you have to smash them because there's nowhere to go," Urbanowski said.
Then there was the smell. As the creatures baked to death on the pavement, they gave off a powerful stench of putrefaction, the sort of olfactory assault that reaches to the back of the throat and leaves a person's nostrils in need of a scrubbing.
"All my senses came alive. It was a nightmare," said Urbanowski, who's still so grossed out by her grub walk, she's changed parks. "I know it's nature, but is it normal?"
No, it's not.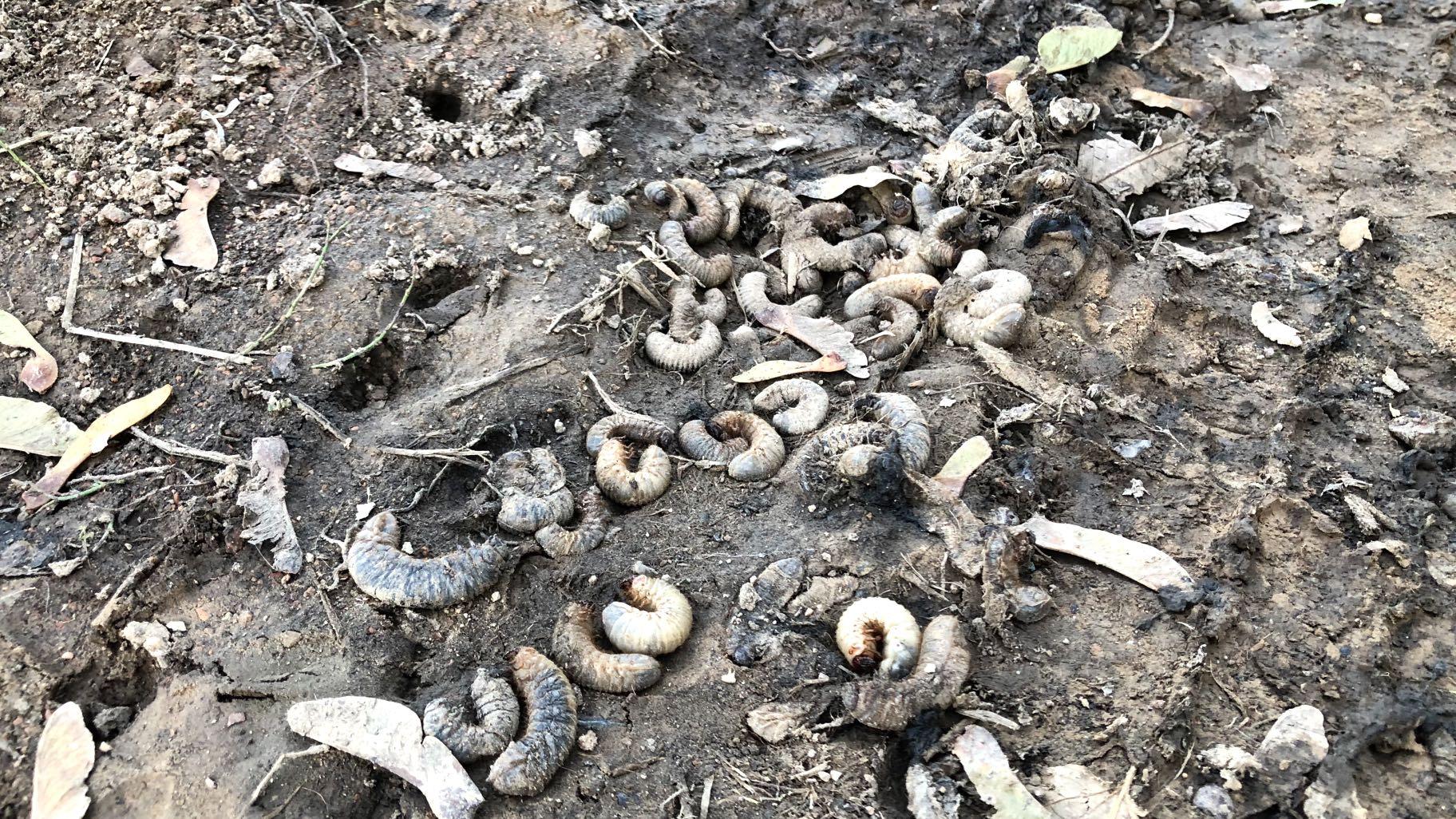 Grubs usually burrow underground during the fall and winter. Why these emerged at Welles Park is a mystery. (Patty Wetli / WTTW News)
What Urbanowski had the misfortune of unwittingly stumbling upon was a freak grub infestation that's laid waste to roughly one-third of Welles Park's 15 acres. The scope of the destruction — which the Chicago Park District is working to address — is so out of the ordinary, even the experts admit to being stunned.
Christopher Deitrich is Illinois' official state entomologist — this is a guy who knows his insects — and after being emailed images of the barren landscape at Welles, he responded: "I don't recall ever seeing an area devastated as badly."
In the absence of having a sample of the Welles grubs to peer at under a microscope, entomologists contacted by WTTW News could only hazard a guess, based on photos taken at the scene, of which species caused the devastation. The larva of the green June beetle is a strong front-runner, Deitrich said, but the Japanese beetle or masked chafer are contenders, too. Or it could be a mix, said Sarah Hughson, an entomologist at the University of Illinois at Urbana-Champaign. 
An exact ID (made possible by distinctive spine patterns on different grub species) will help the Park District determine how to treat the infestation and how to remedy the problem going forward. What it won't explain is how and why things went so haywire at Welles, other than a perfect storm of unfortunate conditions.
The barren landscape at Lincoln Square's Welles Park following a severe infestation of beetle grubs. (Patty Wetli / WTTW News)
Here's how the lifecycle of scarab beetles usually plays out: Adult beetles mate in early to midsummer; females lay eggs in a nice grassy area; grubs hatch and burrow underground feeding on turf roots or decaying organic matter; and then after burrowing down even further to survive the winter, eventually emerge as adult beetles in spring to start the process all over again.
"Normally they would dive down and stay down," said Nancy Kreith, a horticulture educator with the University of Illinois Extension program. 
So what brought the grubs to the surface so far ahead of schedule to terrorize poor Amy Urbanowski?
Survival instinct. Sometimes the larva will come up for air after a heavy rain to avoid drowning in super saturated soil, Hughson said. 
Deitrich had a different theory: The population underground was so dense, and, by the looks of the denuded Welles wasteland, food had become so scarce, the grubs made a break in search of something to eat.  
OK, but that just raises more questions, like why did the population of grubs explode in the first place? 
Populations of insects tends to fluctuate wildly from year to year, Deitrich said. Again, he's just hypothesizing, but Deitrich noted that 2021 was a good year for insects in general in Illinois. The winter was comparatively mild — so plenty of larva survived — spring was pleasant and June was fairly wet. That would translate into a larger number of beetles mating, and the section of Welles in question, with its broad expanse of sun-kissed grass in the midst of an urban environment, would have beckoned to egg-laying females.
A lot of other animals, including skunks and possums, feed on grubs — the role of such larva in the food chain is their main benefit to an ecosystem — and certain wasps found in natural areas prey on grubs. But "when you get a huge infestation, there's never enough predators," Deitrich said. 
A rule of thumb is that grass can tolerate roughly 10 grubs per square foot, and a healthy lawn can withstand light feeding, said Kreith. But combine heavy feeding with grass under stress, say from the sort of drought that hit Chicago midsummer, and turf will take a hit.
Add up all these factors together, and you get a park that looks like someone peeled off its surface.
"This is an extreme occurrence. When I saw those images, they blew me away," Kreith said. "In this situation, it's kind of 'start over.'"
That's essentially the plan: confirm the ID of the grub species, treat the area (there are organic options, according to Kreith) and re-seed, said Michael Sewall, a member of Ald. Matt Martin's staff, whose ward includes Welles Park.
There's no way of knowing what will happen at Welles next year, or if a completely different sort of calamity could strike a different park. Any sort of monoculture — be it acres of grass in parks or golf courses, or swaths of unbroken farmland — begs to be exploited by insects, Deitrich said.
"We set up these unnatural situations ... these highly modified ecosystems," he said, "and weird things happen."
Contact Patty Wetli: @pattywetli | (773) 509-5623 |  [email protected]
---