It was the longest intermission in Steppenwolf Theatre's 46-year history. But the celebrated theater is coming back bigger than ever. There was a ribbon cutting and dedication Tuesday morning at Steppenwolf headquarters on N. Halsted Street for a new wing that includes a state-of-the-art stage – and a tribute to the late artistic director Martha Lavey in the form of mural by Chicago artist Tony Fitzpatrick.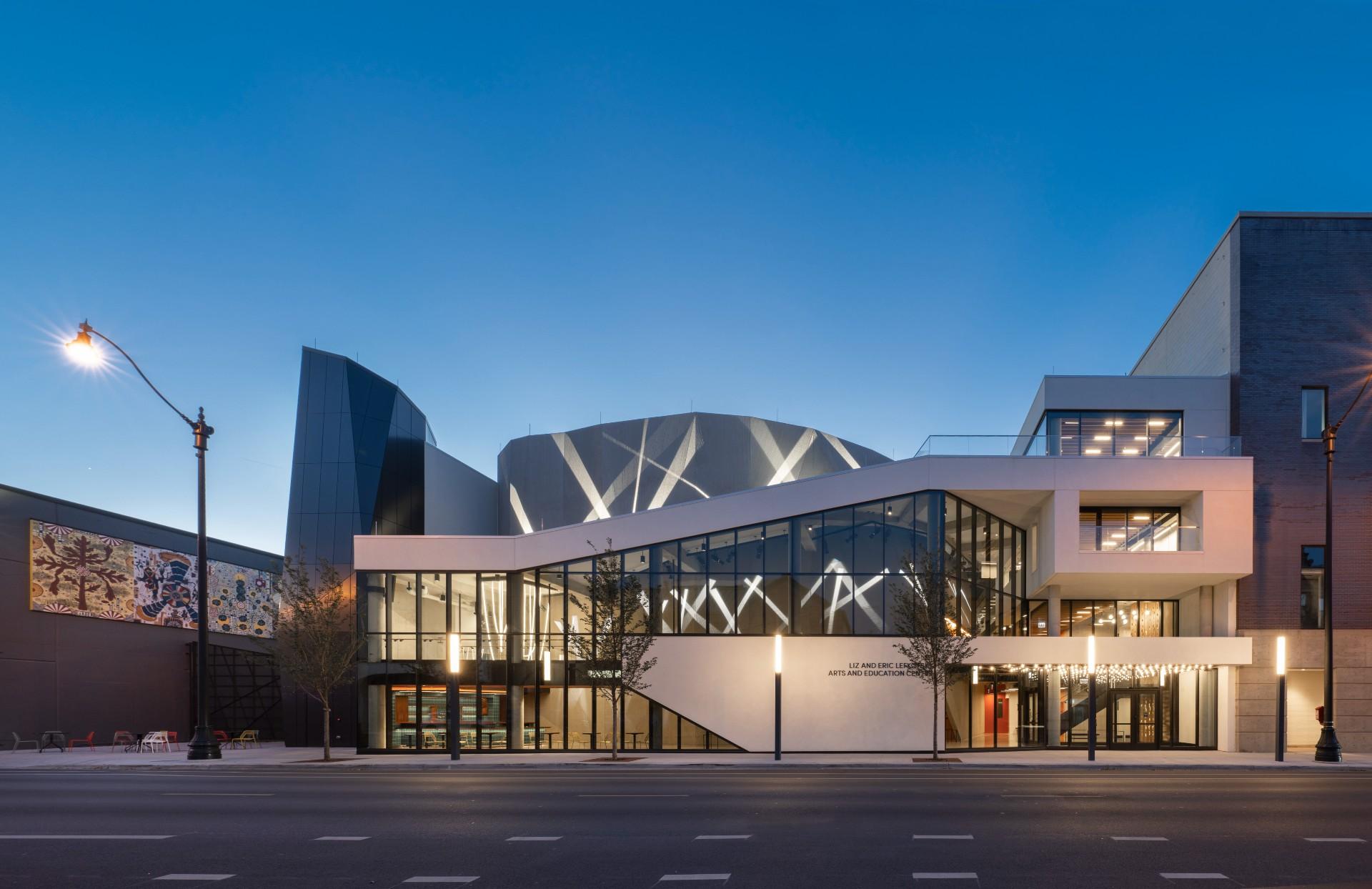 Steppenwolf Theatre Company's new Liz and Eric Lefkofsky Arts and Education Center, designed by architect Gordon Gill FAIA of Adrian Smith + Gordon Gill Architecture. (Credit James Steinkamp Photography.)
TRANSCRIPT
Marc Vitali: Steppenwolf Theatre has expanded its footprint with the Liz and Eric Lefkofsky Arts and Education Center. The $54 million addition was designed by Gordon Gill of Chicago's Adrian Smith and Gordon Gill Architecture.
At its heart, the new building has an additional theater – an intimate space with seating on four sides of the stage.
It's topped off by The Loft – an arts and education center for young people. Years in the planning, the opening follows a 20-month intermission at Steppenwolf.
Brooke Flanagan, executive director at Steppenwolf Theatre: It's been hard. Our industry was very hard hit by the pandemic. The performing arts were among the first to close, and we're now the last to reopen. But we're thrilled that during that time construction was declared an essential service by the governor and we were able to literally see this building rise, as a commitment not only that Steppenwolf will be back but that arts and culture would remain at the center of this beautiful city we call home.
The Ensemble Theater in Honor of Helen Zell, designed by Charcoalblue, is the centerpiece of Steppenwolf Theatre Company's new Liz and Eric Lefkofsky Arts and Education Center, designed by architect Gordon Gill FAIA of Adrian Smith + Gordon Gill Architecture. The intimate 400-seat theater in the round is one of its kind in Chicago. (Credit James Steinkamp Photography)
Vitali: Also new – two artistic directors. We spoke with them about the opportunities the space brings.
Glenn Davis, co-artistic director: This for us is a crown jewel. For myself, growing up on the South Side, I wasn't aware of arts in the same way, wasn't aware of theater or actors or a life in the theater. And I think that we'll now have a wonderful entry point for students in their teenage years to come here and say 'Oh, this is available to me.'
Audrey Francis, co-artistic director: I think that we're going to do a better job because there's two of us with two different experiences and perspectives. And there is going to be collision, and I think it is only through those kind of collisions and staying open and listening and being actively willing to change that we can actually collaborate with compassion.
Vitali: Both new artistic directors are actors in the ensemble – this is Audrey Francis with Rainn Wilson in the political farce "The Doppelganger."
And here's Glenn Davis in the acclaimed production of "Downstate." Glenn Davis also appeared on Broadway with Robin Williams in "Bengal Tiger at the Baghdad Zoo."
Video: Glenn Davis talks about working with Robin Williams.
First up at Steppenwolf – continuing the revival of Tracy Letts' "Bug," which had its run cut short in 2020. Upcoming shows include an adaptation of Eve Ewing's "1919" and "King James" about the influence of LeBron James on two lifelong friends.
Davis: As artistic director you're the artistic leader of the theater, so in many ways you're the face of the organization but also you're making decisions on programming and which artists you engage with from top to bottom.
The ensemble is so vast now. We're almost 50 company members. At any particular time you have a third of the company in Chicago, a third in New York and a third in LA, so it's a lot to bring together.
Francis: You know the American theater is in a moment of incredible reckoning right now. Who gets to tell what stories, and who are we serving, and how? And I can say that right now I think the things that we're working on the most are having an equitable environment for everyone – artists, staff and audiences, and the way that we need to do that is across every department, including the staff, the board, and the ensemble. 
Flanagan: I think the beautiful thing about Steppenwolf from our founding days is that commitment of ensemble means shared leadership and collaboration. We have a model of running an arts organization where there really isn't meant to be a hierarchy. Everyone brings to the table their best selves and their best ideas.
For Steppenwolf, we have had an intentional commitment to evolution, to not resting on our laurels, to looking forward.
---