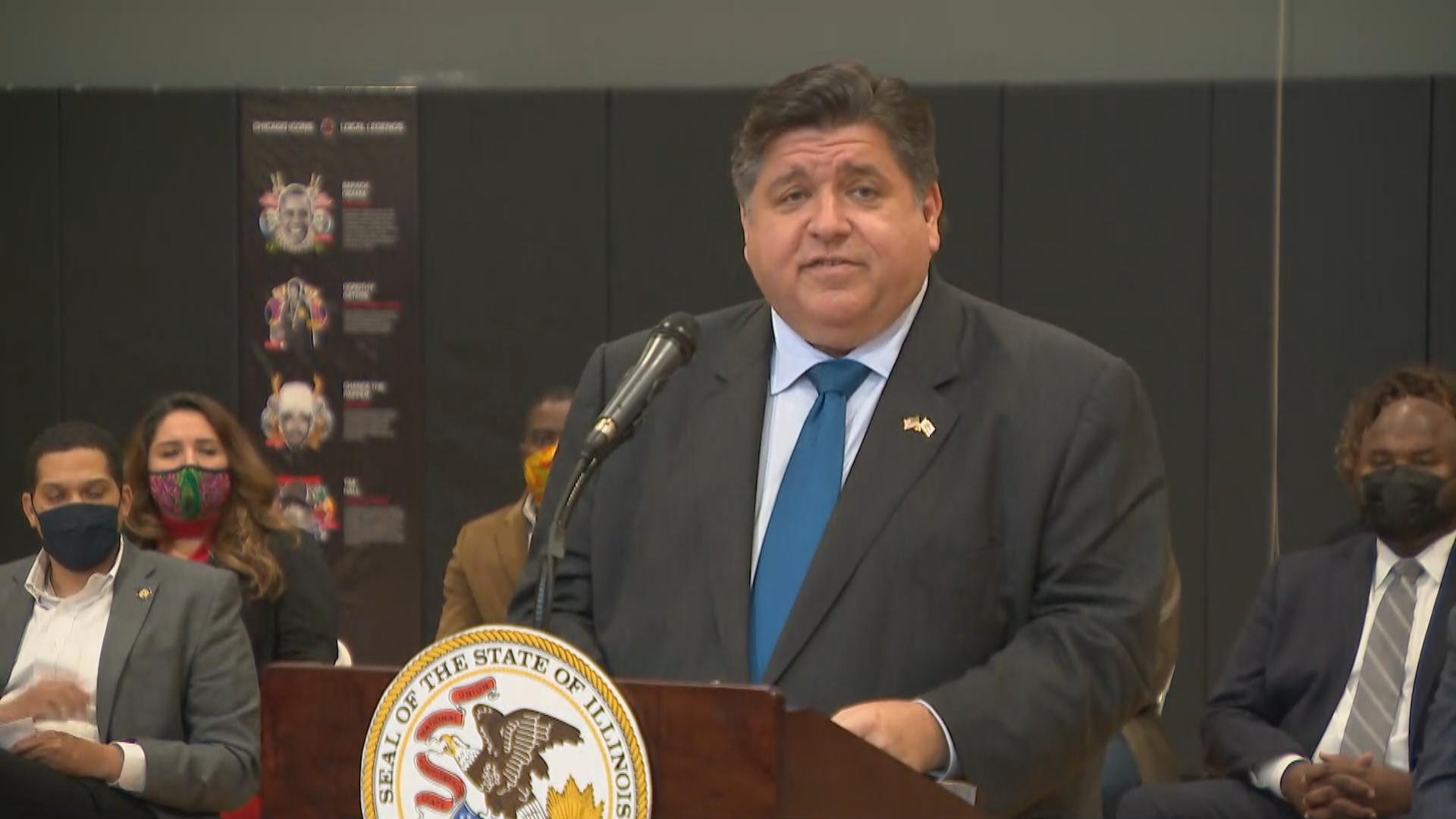 Gov. J.B. Pritzker speaks Monday, Nov. 1, 2021 at a press conference. (WTTW News)
As Chicago remains on pace for one of its deadliest years of the past two decades, Gov. J.B. Pritzker on Monday declared gun violence a public health crisis and committed $250 million to "directly reduce and interrupt violence in our neighborhoods."
Pritzker signed an executive order making that declaration and announced state support over the next three years to further fund the Reimagine Public Safety plan, a data-driven and community-based violence prevention strategy that he says will focus on the areas hardest hit by gun violence.
"We are united in our commitment to end gun violence in Illinois," Pritzker said during an event Monday at Breakthrough Urban Ministries FamilyPlex in Chicago. "We will do what it takes, individually and collectively, to address the immediate violence on our streets and invest in fighting the underlying causes that cause too much despair, too much addiction, too little mental health treatment and too few opportunities."
The new resources will come from both state and federal funding, according to Pritzker's administration, including $50 million this fiscal year. The administration will also work with the General Assembly to secure additional $100 million appropriations in the budgets for fiscal years 2023 and 2024.
Through the Reimagine Public Safety plan, the state is also creating a new Office of Firearm Violence Prevention, which Pritzker said will give technical assistance, training and policy recommendations to Illinois communities with the highest rates of gun violence.
In the coming weeks, that office will announce funding opportunities for grants focused on violence prevention and youth development and intervention, with a goal of enabling work to be underway before next summer.
Monthly crime statistics published Monday by the Chicago Police Department show that the city in 2021 continues to outpace last year's shooting and homicide numbers through the end of October.
According to the CPD, there were 59 homicides in the month of October, bringing the year-to-date total up to 678. That's a 3% increase over the same time in 2020, and and while there's still two months left in 2021, this year's homicide total already makes 2021 the third-deadliest year in Chicago since 2000. 
There have also been 3,030 shootings thus far in 2021, a 10% increase over the first 10 months of 2020, and 3,766 total shooting victims.
Last year, the Cook County Hospital System treated more than 1,100 patients for gunshot wounds, County President Toni Preckwinkle said, which marked a 40% increase over 2019.
According to Preckwinkle, there were 882 gun homicides across the county in 2020, and this year's pace is even higher.
"This ongoing epidemic of gun violence is heartbreaking," Emmanuel "Chris" Welch, speaker of the Illinois House of Representatives, said Monday. "It is forcing us to say goodbye to loved ones far too soon. It's devastating our communities and it must stop. It must stop now."
Contact Matt Masterson: @ByMattMasterson | [email protected] | (773) 509-5431
---