On a stormy Friday morning in Evanston, Northwestern University's Indigenous artist-in-residence Wayne Valliere said it's been centuries since a birchbark canoe set off from the Chicago area shores of Lake Michigan.
"It's gonna probably mark, I don't know how long, at least maybe 400 years since birchbark has been put on this shore," Valliere said. "It's been put in other places north of here, but not in this place."
Shortly after, Valliere, a member of the Lac du Flambeau Band of Lake Superior Ojibwe in northern Wisconsin, and others placed the 16-foot canoe on the waves of Lake Michigan for a few minutes.
Valliere said he's one of only six birchbark canoe builders among the Anishinaabe, an Indigenous collective in the Great Lakes region which includes the Ojibwe.
With the help of students, he spent two weeks building the canoe with different types of wood harvested from northern Wisconsin year-round – from the canoe's spruce root stitching to its cedar interior ribs to its birchbark sides covered in pine pitch.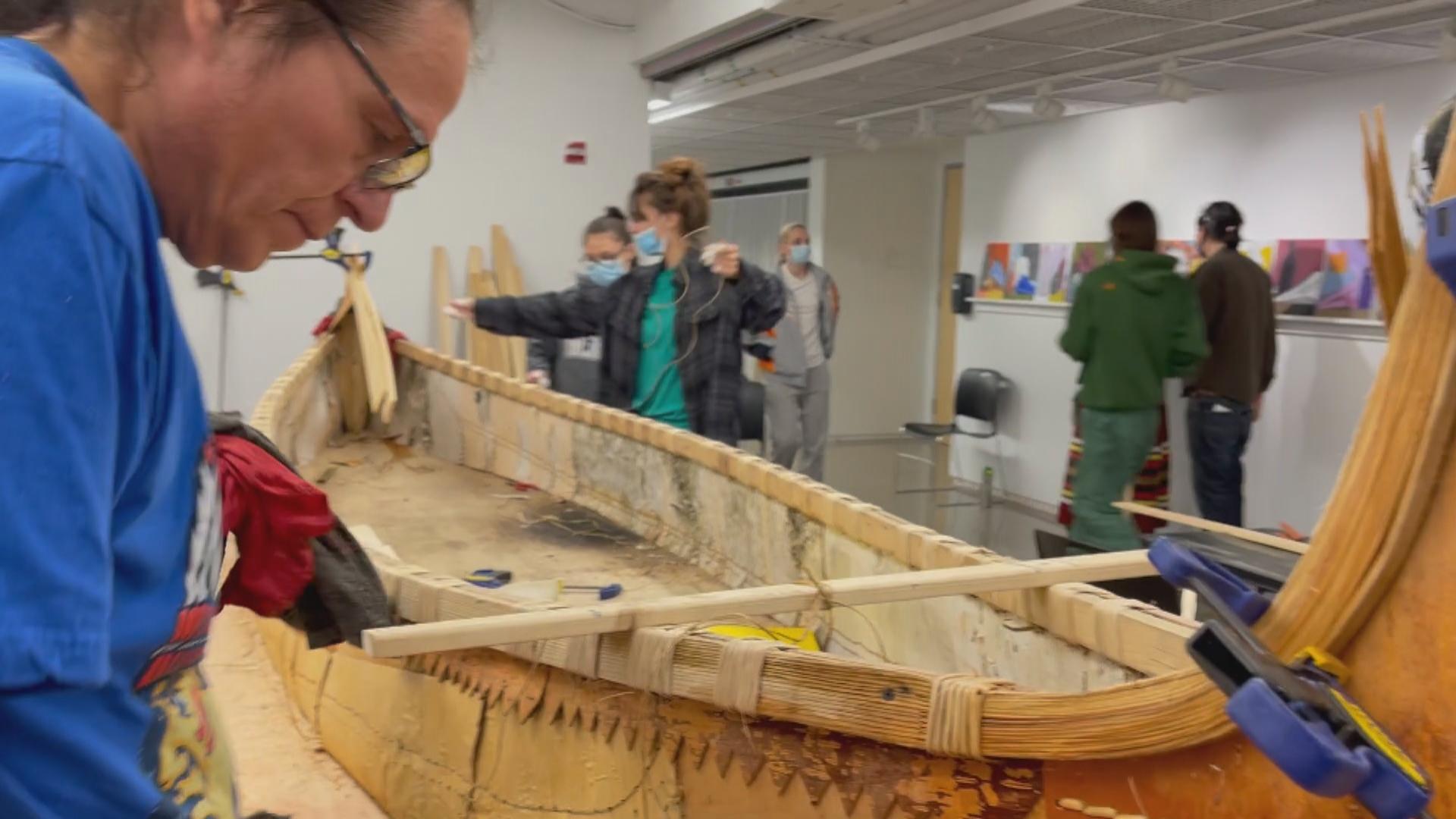 Wayne Valliere, a member of the Lac du Flambeau Band of Lake Superior Ojibwe, builds a 16-foot birchbark canoe at Northwestern University. (Courtesy: Northwestern University)
"They're made by hand, so we have the benefit of a few two-by-four jigs and some electric cordless drills, but other than that, all the work is still there," Valliere said. "To be a canoe builder, it's a great privilege because you get to go into so many different environments on our grandmother – our grandmother is the Earth."
When he's not building birchbark canoes, which were a popular means of transportation for Indigenous people of the Eastern Woodlands, Valliere is teaching Ojibwe language and culture at Lac du Flambeau Public School.
November marks Native American Heritage Month, a month commemorating the culture and legacy of Native Americans declared by President George H.W. Bush in 1990.
Northwestern's Indigenous artist-in-residence program is part of the university's Center for Native American and Indigenous Research.
Follow Evan Garcia on Twitter: @EvanRGarcia
---