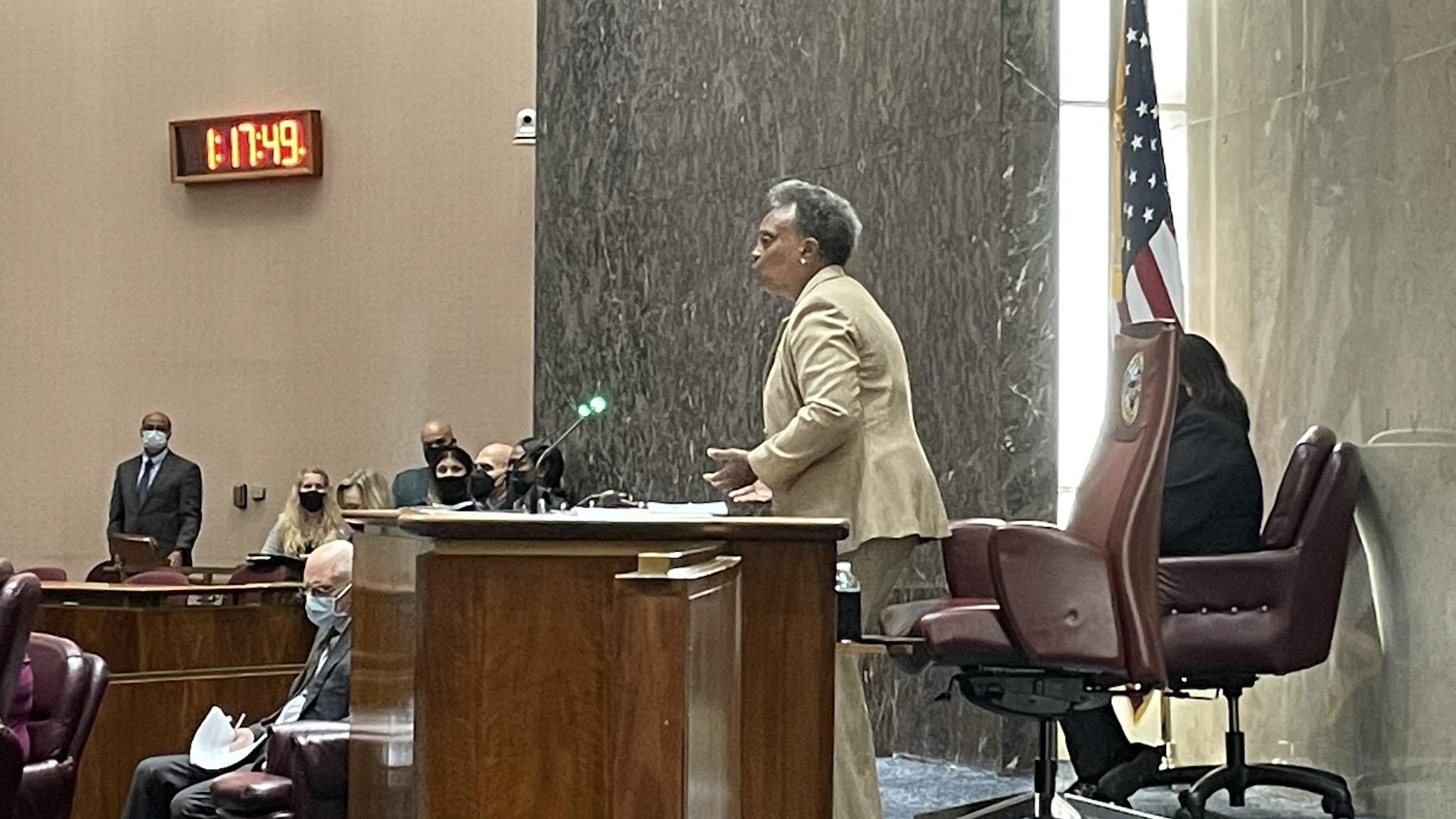 Mayor Lori Lightfoot delivers an impassioned defense of her requirement that city workers be vaccinated against COVID-19 on Friday, Oct. 29, 2021. (Heather Cherone/WTTW News)
The Chicago City Council voted 13-30 Friday to reject a push to reverse Mayor Lori Lightfoot's order that all city employees disclose whether they have been vaccinated against COVID-19 — and get fully vaccinated by Dec. 31.
Supporters of the measure called the special City Council meeting after an attempt to ratchet up the pressure on the mayor, showcasing what they said was the threat posed by the vaccine mandate to public safety in Chicago, which is struggling amid a continuing surge in gang and gun violence.
Before the lopsided vote, Mayor Lori Lightfoot delivered an impassioned defense of her requirement that city workers be vaccinated against COVID-19, and accused her opponents of "fear mongering."
"Just stop it!" Lightfoot told alderpeople, calling it "shameful" that members of the Chicago City Council have "trivialized and politicized" the city's public safety challenges.
However, Lightfoot said the measure's real aim had nothing to do with COVID-19 vaccines or even violence in Chicago, but was an attempt to scale back her power.
Lightfoot said something similar happened to former Mayor Harold Washington, the city's first Black mayor who found his powers under attack from the first day he took office from a group of white alderpeople led by Ald. Ed Burke (14th Ward).
"It has happened before … 30 years before ... and some members of this City Council were there and some were perpetrators," Lightfoot said.
Lightfoot on Wednesday celebrated the approval of her $16.7 billion spending plan for 2022 by saying it "picked up the baton" from Washington, who died in 1987 while in office.
During the City Council debate that stretched more than two hours, Lightfoot's political operation released a poll showing that 69% of all Chicagoans favor requiring city workers to get vaccinated against COVID-19, which has killed 6,078 Chicagoans, nearly 75% of whom were Black or Latino.
Voting with Burke to roll back the vaccine mandate were Alds. Anthony Beale (9th Ward), Marty Quinn (13th Ward), Raymond Lopez (15th Ward), Matt O'Shea (19th Ward), Silvana Tabares (23rd Ward), Ariel Reboyras (30th Ward), Felix Cardona (31st Ward), Nicholas Sposato (38th Ward), Samantha Nugent (39th Ward), Anthony Napolitano (41st Ward), Brendan Reilly (42nd Ward) and Jim Gardiner (45th Ward).
The majority of those alderpeople represent wards where city workers have chosen to live, and are home to a majority of voters who are white.
With crime surging across the city, Chicago officials cannot afford to reduce the police and fire department's ability to respond to emergencies by thinning their ranks.
"It reinforces my concern the vaccine mandate may have created a public safety blind spot," Quinn said.
However, Lightfoot told alderpeople that was simply not happening.
Thirty members of the police department have been stripped of their police powers and put on leave for failing to comply with the order, Lightfoot said. Another 32 members of the fire department have also been disciplined, Lightfoot said.
That represents less than 1% of each department, Lightfoot said.
However, union leaders have said that is misleading because the city has been moving at a deliberately slow speed before demanding that employees comply with a direct order and disclose their vaccination status or face a loss of pay.
Lightfoot first ordered all 30,956 city employees to be fully vaccinated by Oct. 15 but announced Oct. 8 that employees who were not fully vaccinated could avoid discipline until Dec. 31 by testing twice weekly for COVID-19 on their own time at their own expense.
Approximately 72% of all Chicago Police Department employees have disclosed their vaccination status to city officials, and more than 87% of Chicago Fire Department employees have disclosed their vaccination status, according to city data released Friday.
Every other city department had more than 92% of their employees disclose their vaccination status to city officials, according to city data.
Lightfoot also dismissed complaints that the city failed to negotiate with the employee unions that represent police officers, paramedics and firefighters, saying four negotiating sessions took place between Aug. 16 and Oct. 15.
"The city bargained in good faith and endeavored to reach a reasonable agreement," Lightfoot said.
Ald. Susan Sadlowski Garza (10th Ward) said the vaccine mandate did not hinder the ability of the city's employee unions to represent their workers — but its repeal would inject politics into negotiations.
The daughter of labor icon "Oil Can" Ed Sadlowski, Sadlowski Garza is a member of the Chicago Teachers Union, the only employee union to readily agree to a vaccine mandate for its members.
Lightfoot has said that Chicago residents must be confident that they will not be exposed to COVID-19 while interacting with a city employee — and warned that the refusal of members of the Chicago Police Department to get vaccinated threatens the department's "legitimacy."
Ald. Daniel La Spata (1st Ward) said this was not a hard vote.
"When my residents call for a building inspection or a police officer, I want them to know the person coming to their door is not going to present a public health risk to them," La Spata said.
Contact Heather Cherone: @HeatherCherone | (773) 569-1863 | [email protected]
---