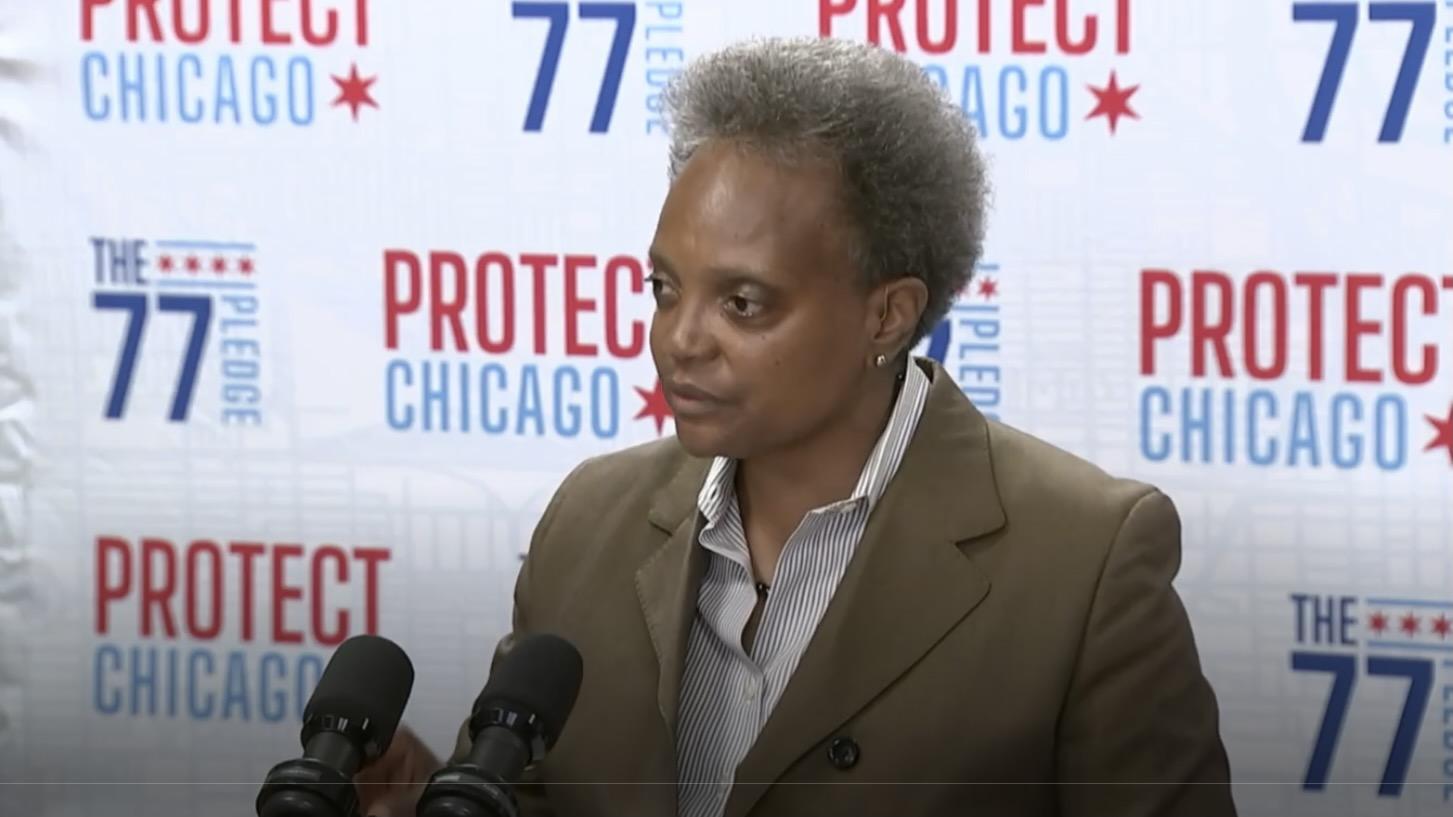 Mayor Lori Lightfoot addresses the news media Friday Oct. 15, 2021. (Chicago's Mayor's Office)
The refusal of Chicago's largest police union to comply with the city's vaccine mandate threatens the "legitimacy" of the Chicago Police Department, Mayor Lori Lightfoot said Friday.
Lightfoot campaigned for mayor in 2019 on a promise to restore the public's trust in the beleaguered Police Department, which has faced decades of scandals, misconduct and brutality. 
That effort is threatened by the union's call for officers to refuse to tell city officials whether they are fully vaccinated against COVID-19 by midnight Friday, Lightfoot said. Those who are not can avoid discipline by agreeing to be tested twice a week, on their own time and at their own expense, until Dec. 31.
"That's what at stake — the legitimacy of local policing," Lightfoot said.
Officers who refuse to get vaccinated should leave the Chicago Police Department, Lightfoot said.
"We're not having that," Lightfoot said. "If that's the police department they want to be in, they should walk to another police department. It is an honor to be a Chicago Police officer."
For too long, officers have been allowed to decide for themselves which rules to follow and which to ignore, Lightfoot said.
"That's why our residents don't trust the police," Lightfoot said. "That's why we are in a consent decree. That kind of mind set. We are not having that anymore. It is a new day in the city of Chicago. I expect the police officers to honor their oath, not tarnish their badge and to follow lawful orders and directives as have been given to them."
Police and other first responders — who come in close physical contact with Chicagoans — must be vaccinated to protect the health and safety of Chicagoans, Lightfoot said. 
"Those residents have a right to expect that those officers are not going to get them sick," Lightfoot said. "Residents have a right to know that city of Chicago employees take their health and their well-being as seriously as they take their own and that of their family."
Lightfoot asked a Cook County judge Friday morning to stop the Fraternal Order of Police Lodge 7 and President John Catanzara from blocking the city's vaccine mandate with illegal threats of a strike or work stoppage.
In a video posted after the lawsuit was filed on the union's Facebook page, Catanzara said that the union was not urging officers to engage in a work stoppage or strike.
"They can take us to court all they want," Catanzara said, calling the city's lawsuit a "silly motion."
The police union filed a lawsuit of their own, demanding that the city negotiate the rules for the vaccine mandate.
Lightfoot urged officers to ignore Catanzara's calls to defy the vaccine mandate.
"He is leading them literally over a cliff without a parachute," Lightfoot said.
The Chicago Police Board is weighing whether to fire Catanzara, who has been stripped of his badge and police powers. The police union president faces charges of misconduct, including making social media posts that disparaged Muslims.
Catanzara has lied to his members and spread disinformation about the vaccine mandate, Lightfoot said.
"He's putting lives at risk," Lightfoot said.
Lightfoot told reporters Thursday that it will take city officials several days after the vaccine mandate deadline passes to verify which employees have not yet been vaccinated but agreed to regular testing and those who have chosen not to comply.
First Deputy Superintendent Eric Carter said officers who don't comply with the mandate can face discipline "up to and including separation," or firing.
Contact Heather Cherone: @HeatherCherone | (773) 569-1863 | [email protected]
---