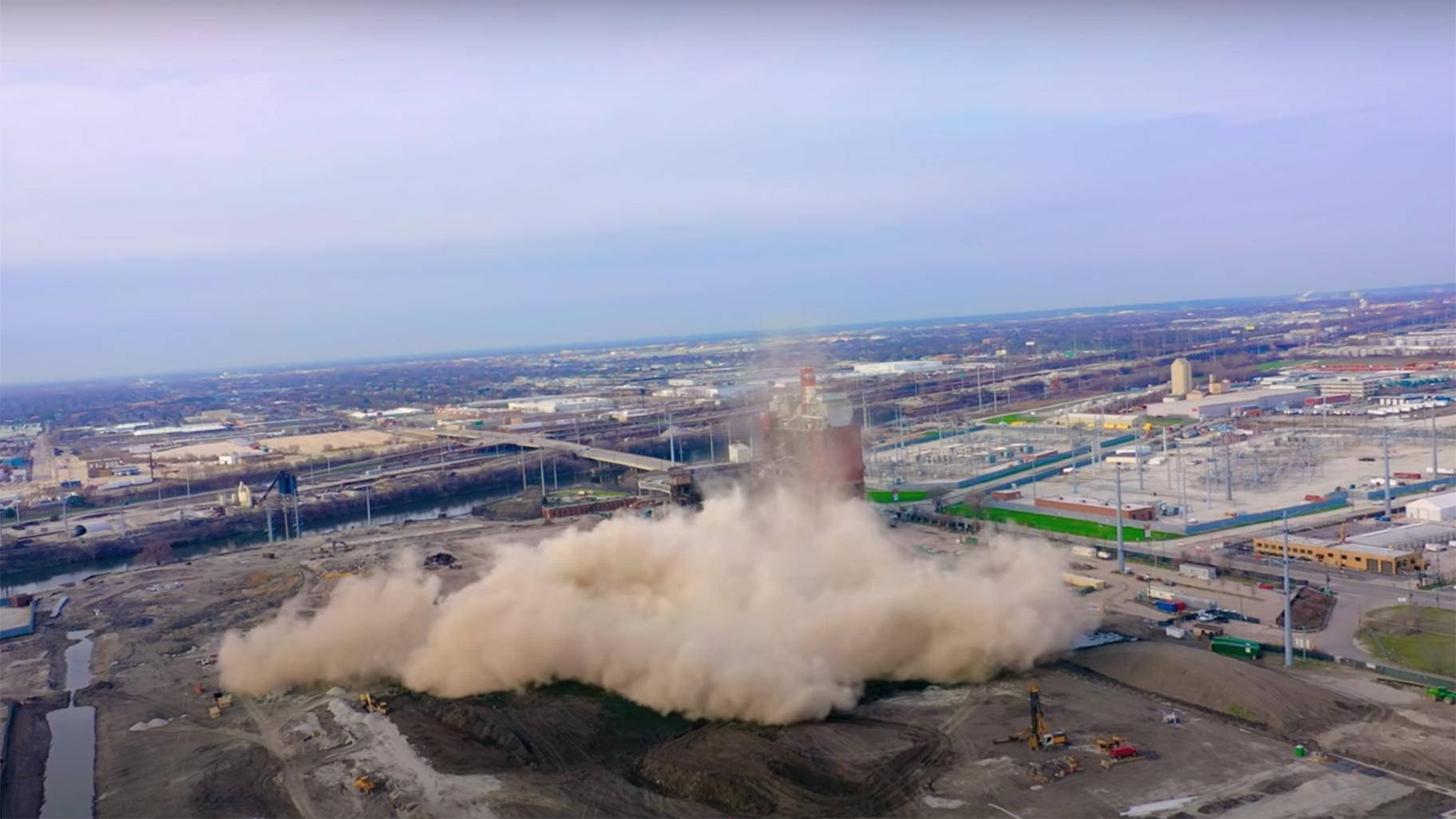 A still image from a video taken of the demolition of the Crawford Coal Plant smokestack, April 11, 2020. (Alejandro Reyes / YouTube)
An employee of the Chicago Department of the Public Health should be fired and two other employees of the Department of Buildings punished for their role in the botched demolition of the smokestack at the former Crawford coal power plant that sent a plume of over six blocks of homes in Little Village, according to a report from the city's watchdog.
The final report from former Inspector General Joseph Ferguson did not detail why he concluded that the three employees should be disciplined, or whether city leaders would follow his recommendations.
More information about the probe by the inspector general is expected to be released once Mayor Lori Lightfoot's administration either accepts or rejects its findings and decides whether to discipline any or all of the employees. The office is now led by interim Inspector General William Marback, who was tapped by Lightfoot to lead the office while a committee searches for a permanent replacement for Ferguson.
A spokesperson for the city said officials do not "comment on personnel matters and will respond to the Inspector General's report in the allotted time."
The Chicago Department of Public Health and the Department of Buildings were responsible for approving and overseeing the implosion of the smokestack.
The Department of Buildings is now led by Commissioner Matthew Beaudet, who was the department's No. 2 official when the implosion occurred. He replaced former Commissioner Judy Fryland in October 2020.
The implosion on April 11, 2020 came at the height of the COVID-19 pandemic, which hit Latino neighborhoods like Little Village especially hard during the first wave of the pandemic.
After the botched implosion, Lightfoot said Hilco Redevelopment Partners "utterly failed" to protect the community and called what happened "outrageous and unacceptable." Hilco officials apologized.
Three firms involved in the implosion of the smokestack at the former Crawford Power Plant paid $370,000 to settle a lawsuit filed by Illinois Attorney General Kwame Raoul. In addition, city officials hit Hilco with 16 citations, which came with $68,000 in fines.
After the incident, which touched off widespread outrage, Lightfoot crafted new rules governing the rarely used demolition method to require community meetings to take place before permits could be issued as well as increased monitoring during the work by a variety of city agencies.
Ald. Mike Rodriguez (22nd Ward) said those new regulations will prevent another implosion from catching Chicagoans off guard. Little Village residents had less than 24-hours' notice that the smokestack was being toppled — something Rodriguez has said he deeply regrets.
In addition, the City Council passed a measure in March designed to tighten regulations on recycling centers and industrial operations in an effort to reduce air pollution on the South and West sides.
The demolition of the former coal power plant allowed the construction of a new warehouse, now leased to Target.
Contact Heather Cherone: @HeatherCherone | (773) 569-1863 | [email protected]
---