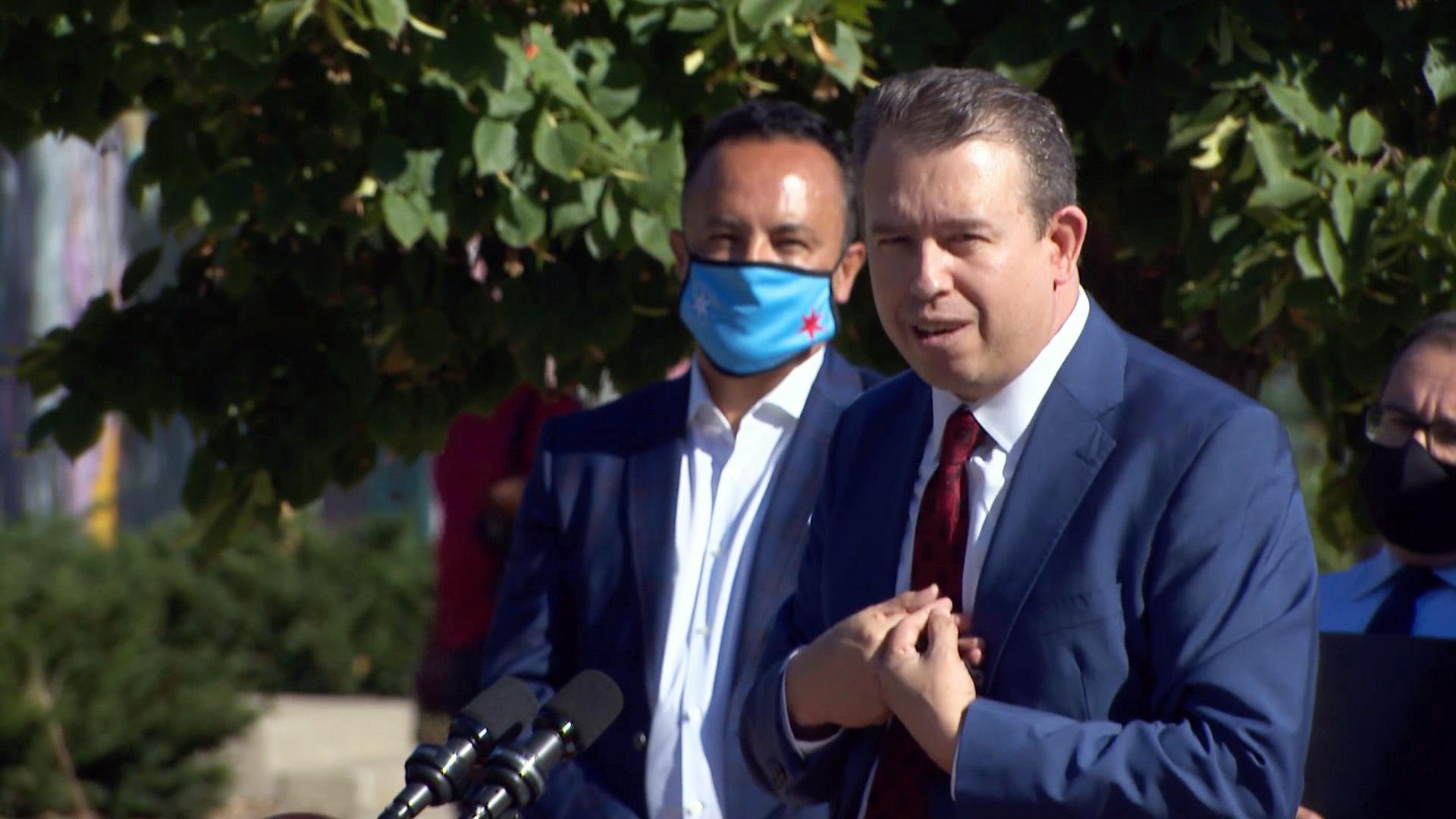 Pedro Martinez speaks Wednesday, Sept. 15, 2021 outside his alma mater, Benito Juarez High School in Pilsen. (WTTW News)
Chicago Public Schools students who are exposed to a confirmed case of COVID-19 will only have to quarantine for 10 days, not 14 days, under a new policy announced Tuesday by Chicago Public Schools CEO Pedro Martinez.
The policy change, which applies to unvaccinated students and takes effect Saturday, comes after more than 15,500 students were forced to quarantine during the first four weeks of the school year, but only 1.6% tested positive for COVID-19 after being exposed to the virus, said Dr. Allison Arwady, the commissioner of the Chicago Department of Public Health.
That should reassure parents that Chicago's schools are safe for their students, Arwady said.
Chicago is following the lead of New York City and Philadelphia, both of which have loosened the rules requiring students to quarantine amid criticism from parents who want their students to be back in class as soon as possible. 
However, other parents have demanded stricter rules designed to keep students — many of whom are not eligible for a vaccine — safe from COVID-19. Vaccines could be available to children ages 5 to 11 as soon as the first week of November, Arwady said.
"We hear families worrying schools are not safe," Martinez said. "We also hear the other side, with parents saying, 'My child has been quarantined. What do I need to do to get my child back in school?'"
While the new policy complies with rules set by the Illinois Department of Health, the Centers of Disease Control and Prevention recommends that students exposed to COVID-19 at their school quarantine for 14 days.
The length of time that students are required to quarantine can be reduced with ample testing of unvaccinated students, according to CDC guidance.
The new policy comes after Mayor Lori Lightfoot told WTTW News she was "disappointed" with the way the school district rolled out efforts to test every student once a week for COVID-19 and to investigate each infection to stop the virus from spreading. Lightfoot also told reporters she thought the school district's policy sent too many students for too long to quarantine, forcing them to learn remotely.
Both Martinez and Arwady — whom the mayor asked to help the school district ramp up testing and contact tracing efforts after the stumbles at the beginning of the school year — said only 1,167 students and 306 staff members have tested positive for COVID-19 since Aug. 30. The district has approximately 330,000 students, and the Chicago Teachers Union has nearly 20,000 members.
Despite the mayor's frustration and vows to improve, Martinez acknowledged to reporters on Tuesday that the school district does not yet have the capacity to test every student once a week, as officials had promised before the school year started.
Martinez' predecessor, interim CEO José Torres, pledged in a letter to families that the district would begin offering tests on all campuses during the first week of school. 
Martinez said that he was working diligently to "ramp up" testing at Chicago's schools, but acknowledged that no testing had taken place at a dozen schools. 
While less than 21,000 students have volunteered to be tested, Martinez said a staffing shortage meant that the district did not have the capacity to test all of them each week.
Martinez, who started as the top official at the Chicago Public Schools on Sept. 29, said he "wished" Chicago schools had as much testing as was available at San Antonio schools before he left that position.
CPS conducted approximately 20,000 tests this week, Martinez said.
"There's no point to go back and second guess the past," Martinez said, adding that other districts were more proactive this summer than Chicago Public Schools. "We're playing catch up."
It is not necessary to test every Chicago student every week to stop the spread of COVID-19, said Arwady, an epidemiologist, who acknowledged that plans developed before Martinez took over were insufficient to meet the demand for testing even though officials promised to have ample capacity. 
Instead, federal guidelines that recommend testing approximately 10% of unvaccinated students weekly are sufficient, Arwady said.
"We're going to keep working together to make progress," Arwady said.
Leaders of the Chicago Teachers Union have been highly critical of the department's efforts to stop the spread of COVID-19 in schools, and have yet to reach an agreement with district officials on a safety plan.
Union officials said district officials canceled a planned bargaining session on Tuesday about their demands, which include weekly testing, robust contact tracing, at least 100 vaccination events per week, increased staffing and clear guidelines for when a school must shift to remote learning.
Contact Heather Cherone: @HeatherCherone | (773) 569-1863 | [email protected]
---