This story is part of WTTW's Firsthand initiative exploring poverty in Chicago.
---
The city's budget proposal for the next fiscal year will include up to $214 million in housing assistance for Chicago's homeless population, with funding provided by the American Rescue Plan, also known as the federal stimulus package. The budget package will be the largest investment from the city to address homelessness.
The money will be used for various programs including $25 million to address gender-based violence in the city, $20 million in rental subsidies and $30 million in converting hotels into affordable housing. 
In addition to housing assistance, the city's $30 million universal basic income pilot program will provide $500 a month to 5,000 low-income families each year.
In her budget address last week, Mayor Lori Lightfoot emphasized the need to increase funding for the Chicago Police Department to $1.9 billion, providing officers with mental health services and additional training. At the same time, the mayor declaimed her views on homelessness and later spoke on investing in affordable housing.
"In addition to violence prevention, this budget also prioritizes homelessness, affordable housing, with new dollars to address the needs of Chicago's most vulnerable residents," Lightfoot said. "First, we will increase funding for homelessness prevention by 36%, infusing $5 million into our flexible housing pool to support the individuals who are frequent users of crisis systems, such as emergency rooms and shelters, so we can connect them with supportive housing."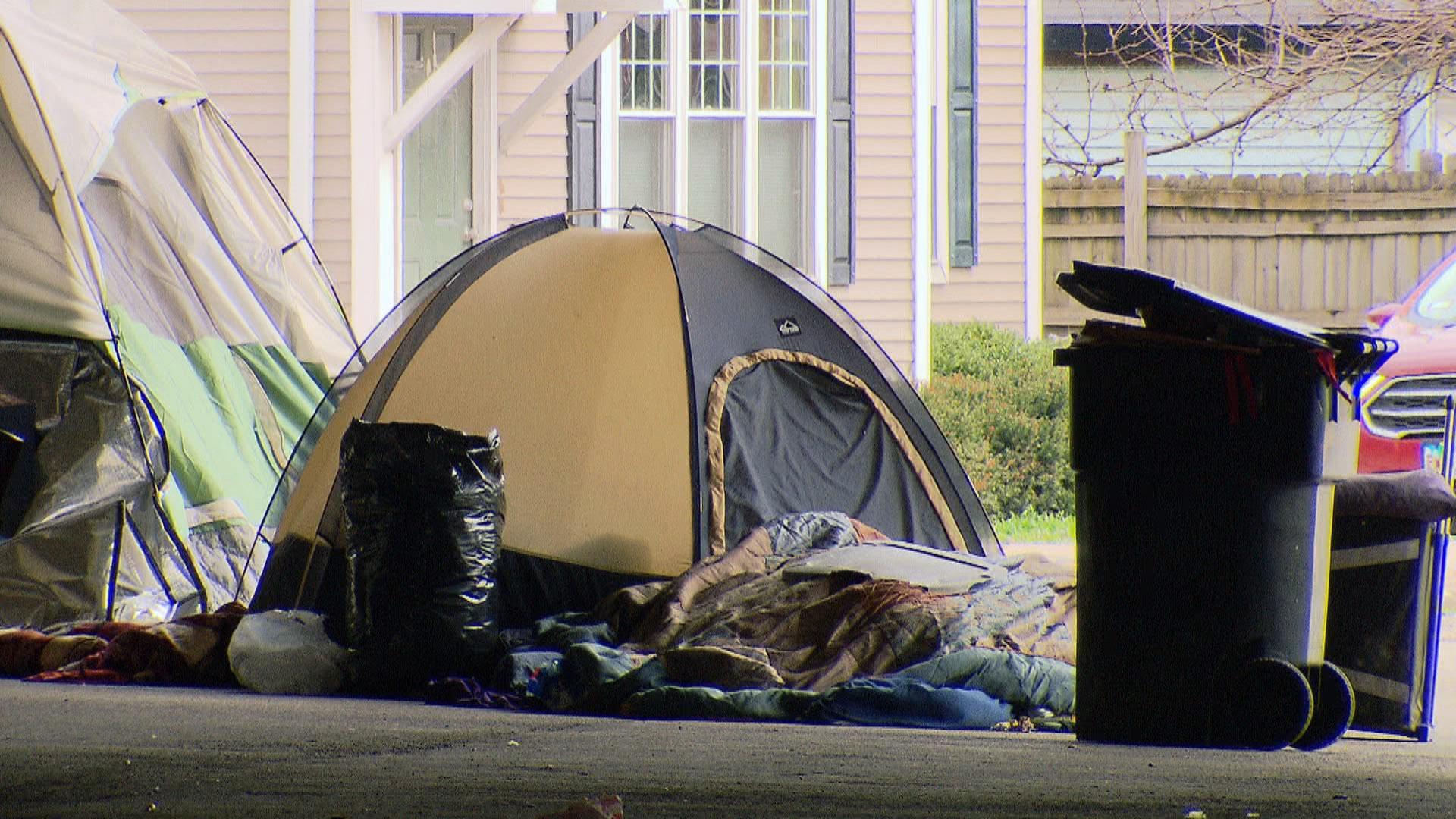 A homeless encampment in Chicago. (WTTW News)
Although advocacy groups that serve homeless individuals are pleased with the proposed boost in funding, they are asking for a long-term income source that supports those who need it most. 
Doug Schenkelberg, executive director of the Chicago Coalition for the Homeless, said the mayor's proposal was sufficient but simply "not enough" to end the fight against homelessness.
"We were happy to see that our mayor included significant money in the budget, even though it was not as much as we had advocated for," Schenkelberg said. "But [the funding] is the most we have ever received. Our concern, like many others, is that this is a one-time funding source. We'll only have a long-term impact If we have a long-term funding stream, which is something we've been advocating for a long time."
Yet Schenkelberg says the issue goes beyond providing housing aid -- there is also a strong need for mental health services.
"They're dealing with health issues," Schenkelberg said. "They're dealing with mental health issues. They're dealing with substance abuse issues. Many of those things can cause someone to enter homelessness, but the solution is really straightforward. We need a permanent housing project and support services that address the issues that are brought to them. This budget includes money to afford that type of permanent housing as well as other services, but we need to include mental health services."
He also offered another solution.
"The Real Property Transfer Tax, which is a one-time tax payment that people pay when buying or selling property, could generate up to a hundred million dollars in new revenue each year," Schenkelberg said. "That money can be dedicated to address affordable housing and homelessness and could house approximately 45,000 people experiencing homelessness over a multiyear period. It could be a real, tangible, workable solution for Chicago in a couple years."
---