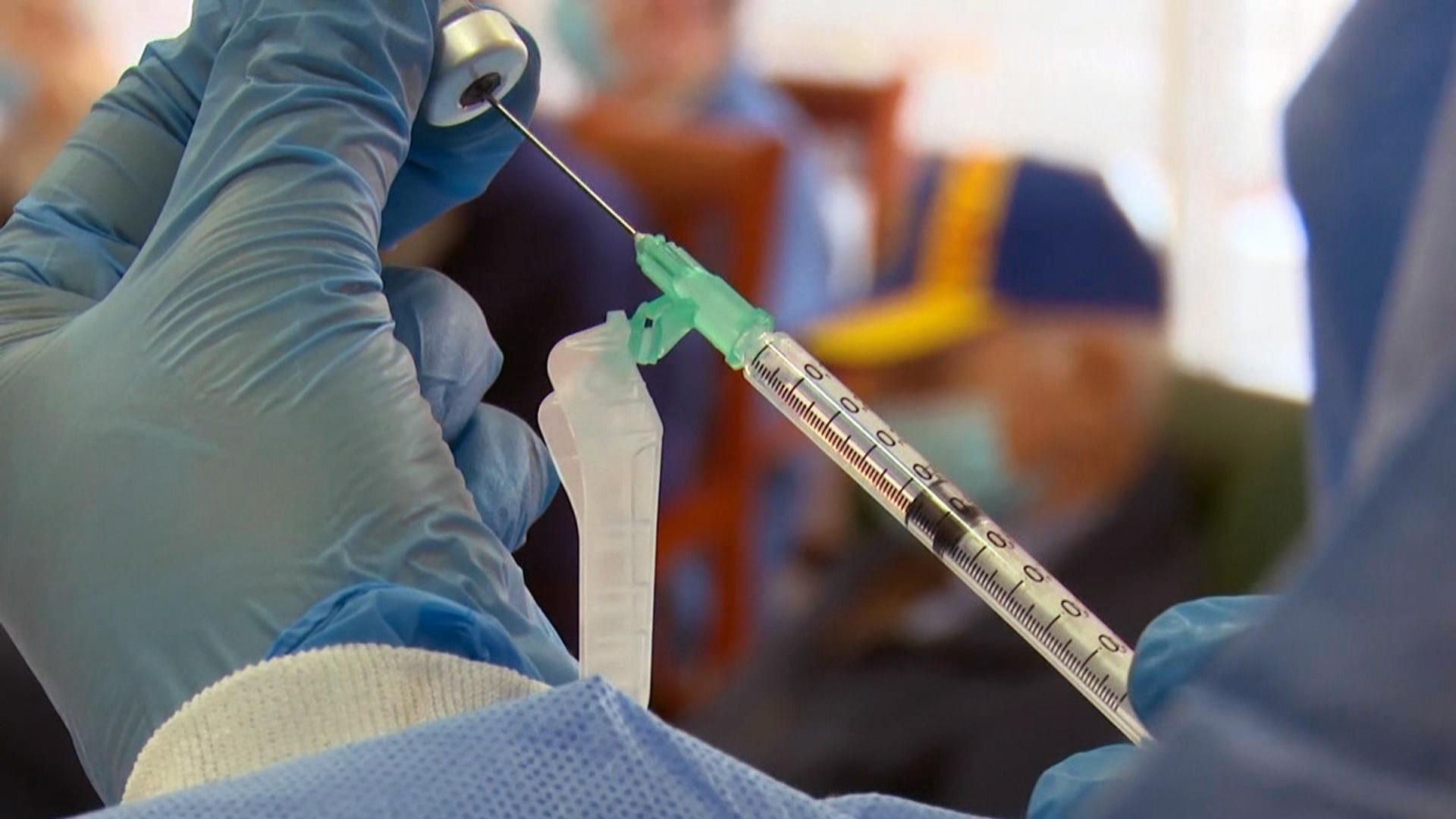 (WTTW News via CNN)
Mayor Lori Lightfoot on Thursday announced a new goal to administer at least one dose of a COVID-19 vaccine to 77% of Chicagoans older than age 12 by Dec. 31.
Lightfoot's latest push for vaccinations invokes the city's 77 community areas to encourage Chicagoans from all neighborhoods to get vaccinated — and to enlist those who have already been jabbed with the lifesaving vaccine to help others follow their lead.
With just 50% of people in some neighborhoods having gotten the first dose of a COVID-19 vaccine, the city's recovery from the pandemic is lagging, Lightfoot said. The neighborhoods with the lowest rates of vaccination are concentrated on the South and West sides, according to city data.
"From stopping the spread of vaccine misinformation, to supporting businesses in one's community that make vaccine safety a priority, or even talking to that reluctant family member about why it's so important to step up at this moment, every resident can do something meaningful to help us reach this vital vaccination milestone," Lightfoot said.
However, Dr. Allison Arwady, the commissioner of the Chicago Department of Public Health, acknowledged that even if 77% of Chicagoans get at least one dose of the COVID-19 vaccine by the end of 2021, the city will still fall short of reaching herd immunity.
Most experts believe that at least 80% of all residents would have to be fully vaccinated against the virus for that level of community protection to be reached.
Children younger than 12 are not expected to be eligible for the vaccine until later this fall, officials said.
Chicagoans interested in getting vaccinated against COVID-19 can find an appointment or walk-in opportunity on the city's calendar or by calling the city's vaccine hotline at 312-746-4835.
Anyone ages 12 and older can get vaccinated against COVID-19 in their home and get a $100 Visa gift card. 
More than 72.6% of Chicagoans ages 12 and older have gotten at least one dose of the COVID-19 vaccine — or 62.5% of the city's overall population, according to city data.
The effort, dubbed Protect Chicago 77, will include videos offering "tips to help individuals talk to their friends and family about the COVID-19 vaccine" as well as a marketing campaign that "calls on Chicagoans to harness their love for the city, love for family, and love for each other as a motivation to get vaccinated."  
At its peak in mid-April, the city administered more than 30,000 doses of one of the three approved COVID-19 vaccines per day on average, according to city data. 
This week, the city administered an average of 3,800 doses per day, the fewest since vaccines became available, according to city data.
Lightfoot and Arwady continue to rebuff calls to require businesses, including restaurants, to demand patrons show proof of vaccination before being allowed inside.
Eight members of the City Council have called for Chicago to follow the lead of New York City and Los Angeles and require proof of vaccination to enter bars, wineries, breweries, nightclubs and lounges. 
Instead, Chicago businesses that decide to impose a vaccine requirement on their customers can "self-certify" with the Chicago Department of Public Health and get a "badge" to display in their windows, officials said.
White Chicagoans are more likely to have been vaccinated against COVID-19 than Black or Latino Chicagoans, according to city data.
Approximately 64.7% of White Chicagoans have received at least one dose the COVID-19 vaccine while 67.9% of Asian Chicagoans have gotten one dose, outpacing Black and Latino Chicagoans who are significantly more likely to contract the virus and suffer severe illness or die, according to city data through Wednesday.
Approximately 46.4% of Black Chicagoans have gotten the first shot, while more than 55.1% of Latino Chicagoans have gotten at least one dose, according to the city's data.
Vaccines became available to all Chicagoans older than 12 on April 19. 
Since May 25 — given that it takes five weeks to become fully vaccinated against COVID-19 with two doses of the Pfizer vaccine — 359 Chicagoans have died from the virus, the vast majority of whom were not vaccinated against it.
Approximately 53% of those who died of COVID-19 in Chicago since May 25 are Black, according to city data. Black Chicagoans make up less than 29% of the city's population.
Contact Heather Cherone: @HeatherCherone | (773) 569-1863 | [email protected]
---