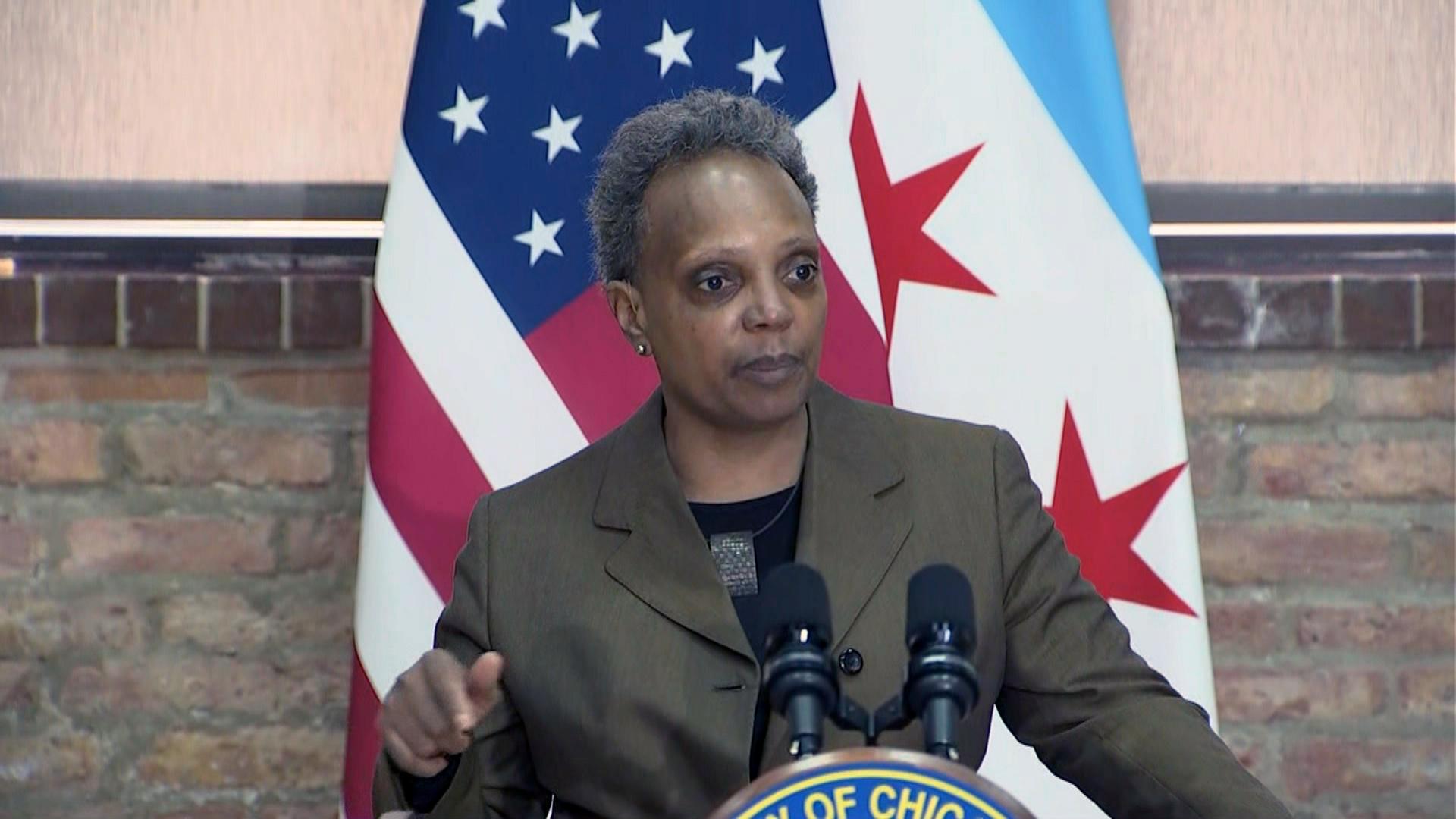 Mayor Lori Lightfoot speaks at the New Life Church on Monday, April 5, 2021. (WTTW News)
Mayor Lori Lightfoot said Wednesday she would not delay her order to require all city workers to be vaccinated against COVID-19 by Oct. 15 — despite pushback from the unions representing Chicago's 11,000 police officers.
While city officials have had "great conversations" with unions representing city workers and firefighters, leaders from the Fraternal Order of Police Lodge 7 as well as the union that represents Chicago Police Department sergeants, lieutenants and captains have declined to discuss the issue until Monday, less than three weeks before the deadline, Lightfoot said at an unrelated event Wednesday.
All employees and volunteers must get the final dose of any of the three federally approved vaccines by Oct. 1 to be fully vaccinated against COVID-19 by the Oct. 15 deadline. The mandate also applies to Chicago Public Schools faculty and staff members.
"The deadline is not going to be pushed back, I can tell you with 100% certainty," Lightfoot said. "We are not going to retreat from that."
While other employee unions have engaged city officials in "thoughtful dialogue," the police union has "been nowhere," Lightfoot said.
Lightfoot participated in a ceremony Monday to retire the stars of the four Chicago police officers who died after contracting COVID-19 during the pandemic. The leading cause of death for law enforcement officers is COVID-19, Lightfoot said.
"It is unconscionable — unconscionable — that the FOP is taking the position that they will not do the right thing by their members and get them vaccinated," Lightfoot said. "I don't even know what they are doing."
Representatives of the Chicago Federation of Labor did not respond Wednesday to a request for comment from WTTW News. When Lightfoot announced the mandate, President Bob Reiter Jr. said requiring vaccines for the city's 31,000 workers could harden opposition to the vaccine.
After Lightfoot announced the mandate, Fraternal Order of Police President John Catanzara compared it to Nazi Germany. 
"We're in America, G-ddamn it. We don't want to be forced to do anything. Period. This ain't Nazi f---ing Germany, [where they say], 'Step into the f---ing showers. The pills won't hurt you.' What the f--k?" Catanzara said. He later apologized after his remarks were widely condemned.
After Lightfoot's remarks, Catanzara posted a video on the union's Facebook page from a boat in the Gulf of Mexico and said the union was not dragging its feet but he was on vacation and not available until Monday. Catanzara, who is stripped of his badge, faces misconduct charges that could lead to his firing.
Catanzara accused Lightfoot of "playing games, as usual" and "slinging mud."
"We certainly are not going to kow down to this government that thinks it can do whatever it wants," Catanzara said. "We're going to defend our membership and all other city workers if needed. Someone needs to stand up to these bullies and push back."
Employees will submit their proof of vaccination via a "secure, online COVID-19 Vaccine Portal" administered by the city's Department of Human Resources, according to the mayor's office.
City workers can apply for medical or religious exemptions to the mandate, which will be reviewed by city officials "on a case-by-case basis," officials said.
Cardinal Blase Cupich has instructed pastors in the Archdiocese of Chicago not to grant religious exemptions to the vaccine, saying that is not supported by church teachings or law.
Cook County Board President Toni Preckwinkle announced Friday that all employees of the office of the president as well as those covered by Cook County Employment Plan have until Oct. 15 to be fully vaccinated.
Contact Heather Cherone: @HeatherCherone | (773) 569-1863 | [email protected]
---