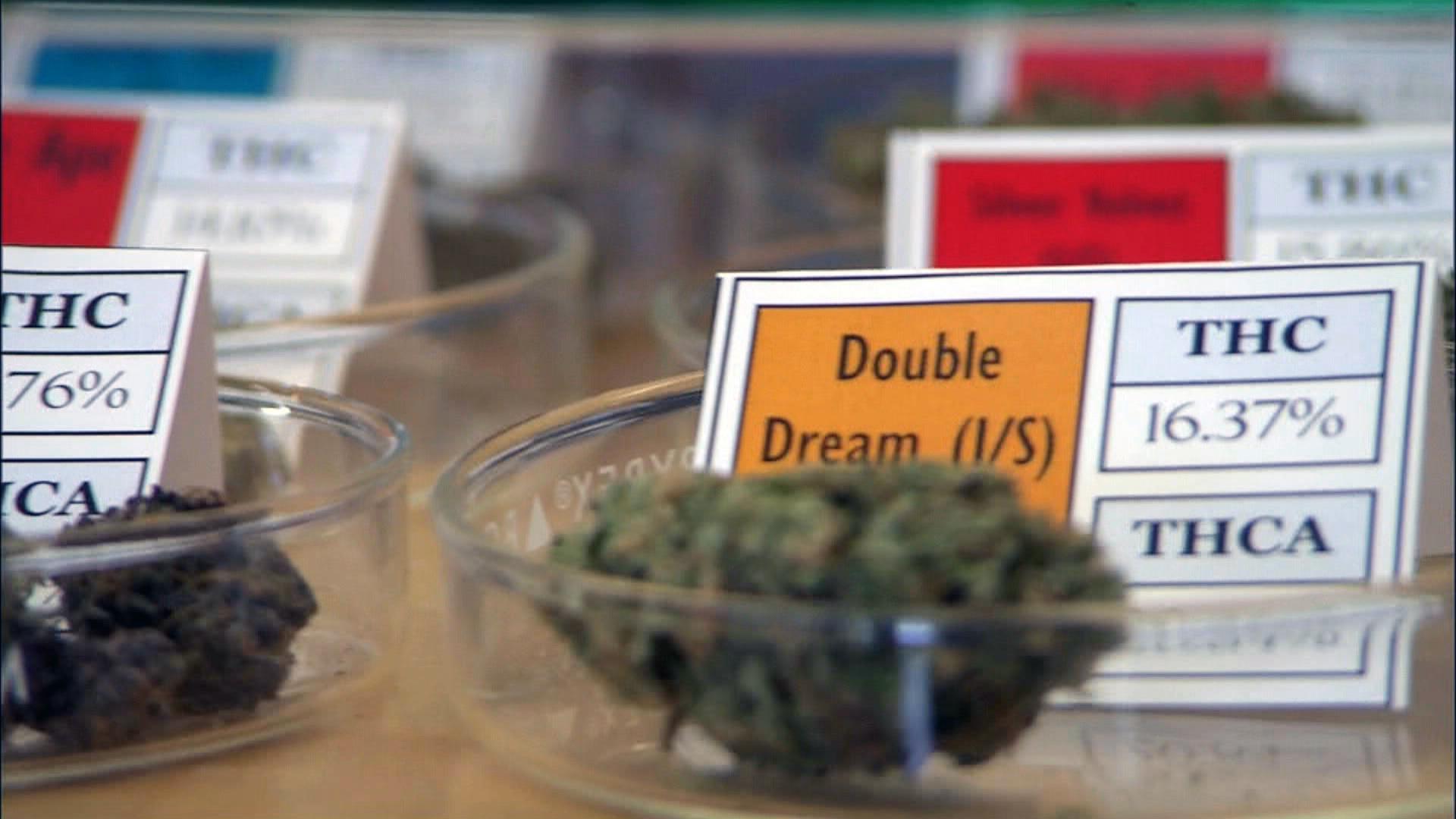 (WTTW News)
The Chicago City Council voted 33-13 Monday to allow cannabis to be sold legally downtown — while keeping rules in place to prevent Michigan Avenue from becoming a "pot paradise."
Backed by Mayor Lori Lightfoot, the loosened rules are designed to help Black and Latino residents of Illinois — as well as those who'd been punished or sent to prison for using and selling marijuana when it was a crime — to get a piece of the lucrative legal pot business.
"No one believes that Springfield has delivered a perfect statute. Far from it," Lightfoot said, pushing back on calls from several alderpeople to wait to change the rules until new restrictions are in place to ensure that Black and Latino entrepreneurs get their fair share.
Black Caucus Chair Ald. Jason Ervin (28th Ward) said the City Council should act quickly and loosen the rules because the legal sale of cannabis is "raining hundred-dollar bills" and those hurt by the war on drugs should be able to take advantage of the gold rush.
When the city allowed legal sales of cannabis to begin Jan. 1, 2020, pot shops were prohibited from opening anywhere in the city's central business district amid concerns it could make the area less attractive to deep-pocketed families and tourists looking for G-rated fun.
The new rules narrow those restrictions to include a strip between Michigan Avenue and State Street from Division Street on the north to Van Buren Street on the south, as well as from Michigan Avenue between Ohio and Illinois streets east to Navy Pier. In addition, dispensaries are banned from opening on south Michigan Avenue between Van Buren and 16th Street.
In January, Ald. Brendan Reilly, whose 42nd Ward includes most of downtown Chicago, introduced a proposal to allow cannabis sales on the Magnificent Mile — only to have Lightfoot declare: "We're not turning Michigan Avenue into the pot paradise."
"This is a responsible, good faith compromise," Reilly said.
In addition, the city is no longer divided into seven zones for cannabis sales, and Monday's vote lifts the cap of seven dispensaries in each zone, officials said. 
Cannabis dispensaries are now permitted to open without special permission from city officials in more parts of the city where businesses and commercial operations are allowed. Operations that grow, process or infuse cannabis are allowed in areas of the city where manufacturing operations are permitted — as long as any facility is at least 650 feet from any residences.
Of the 185 licenses awarded by the state to help those harmed by the war on drugs, 119 could open in Chicago — or its suburbs. The new rules are designed to attract entrepreneurs to Chicago.
The current rules allow a total of 34 dispensaries in Chicago, but the restrictions have meant that only 18 have opened their doors, officials said. None are owned by Black or Latino entrepreneurs. 
Ald. Anthony Beale (9th Ward) and Ald. Raymond Lopez (15th Ward) on Monday blocked a vote on the plan from the mayor, saying the new rules would not ensure that Black and Latino Chicagoans hurt by the war on drugs would benefit from the legalization of marijuana.
"Let's get this right," Lopez said.
Watchdog replacement
In other action, the City Council approved the appointment of Walter Katz and Cara Hendrickson to the search committee charged with recommending a replacement for Inspector General Joseph Ferguson, whose term is set to end Oct. 15.
Katz served as deputy chief of staff for public safety under former Mayor Rahm Emanuel and Hendrickson helped craft the consent decree that requires the Chicago Police Department to implement a series of reforms in her role as the head of the Public Interest Division in the Illinois attorney general's office. Hendrickson is now the executive director of Business and Professional People for the Public Interest, known as BPI.
Lightfoot's picks for the commission are Margaret "Peggy" Daley, a former member of the Cook County Board of Ethics; Rita Fry, who served on the Chicago Police Board and as the Cook County Public Defender and Jose Tirado, who now works in the cannabis industry after serving as one of the leaders of the Chicago Police Department, according to a letter sent by Lightfoot to Smith on Thursday that was obtained by WTTW News.
Contact Heather Cherone: @HeatherCherone | (773) 569-1863 | [email protected]
---