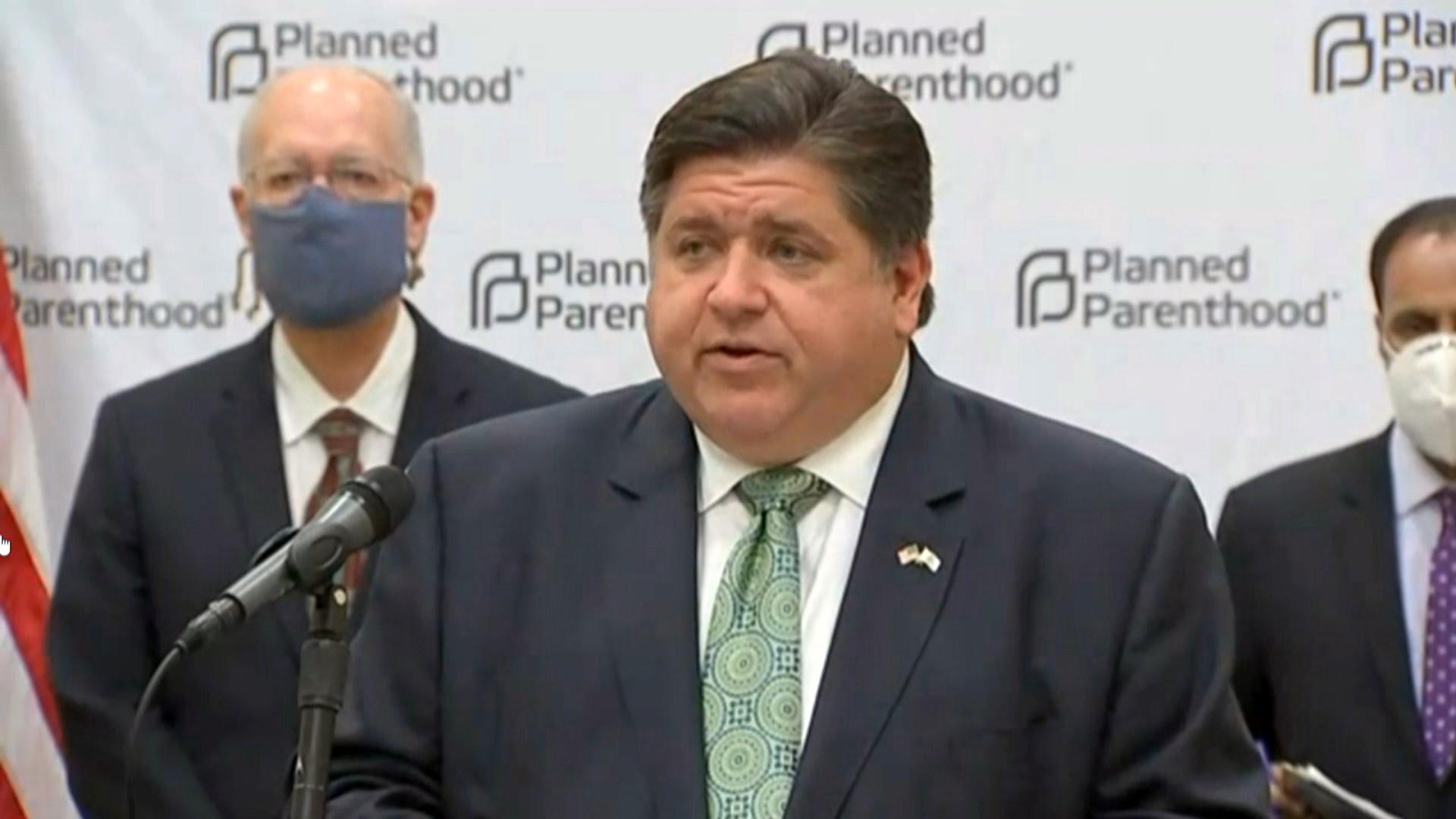 Gov. J.B. Pritzker speaks Tuesday, Sept. 14, 2021 about a controversial new Texas law banning nearly all abortions in that state. (WTTW News)
In the wake of a new Texas law banning nearly all abortions in that state, Illinois Gov. J.B. Pritzker and members of Illinois' congressional delegation vowed to protect women's rights while calling for a federal reproductive health law.
"Nobody should be forced to cross state lines to see a doctor," Pritzker said Tuesday. "The latest extremist attacks on reproductive health prove we need a federal law to protect a woman's right to control their own health care."
In 2019, Pritzker signed the Reproductive Health Act into law. In addition to codifying the right to abortions and birth control in Illinois, the act takes references to abortions out of Illinois' criminal code and requires insurers to cover the procedure.
"We stand together again today because the dystopian reality we feared in 2019 is closer to reality today as radical Republican legislators across the country seek to functionally eradicate their constituents' autonomy with no intervention from the nation's highest court to be found," Pritzker said.
READ: High Court Divides 5-4 To Leave Texas Abortion Law in Place
U.S. Rep. Lauren Underwood (IL-14th) condemned the Texas law and the U.S. Supreme Court's decision to allow it to remain in place, saying it puts the rights of millions at risk across the country.
She says Congress must take action to pass the Women's Health Protection Act, "a federal bill that will protect the freedom to make personal decisions about reproductive health care from politicians who wish to control it, so that nobody is denied access to basic health care just because of the state that they live in."
The act would also ensure that health care providers are allowed to provide abortion care and that patients would be able to receive it "free from medically unnecessary restrictions like waiting periods, bias counseling, two-trip requirements and mandatory ultrasounds," Underwood said. "Politicians should not be making deeply personal medical decisions for somebody else."
The U.S. House of Representatives is set to vote on the bill next week, according to U.S. Rep. Raja Krishnamoorthi (IL-8th), who called the Texas law an "abomination" that was unconstitutional.
"The truth is, SB8 is as unconstitutional as any state's attempts to deny citizens any of their clearly defined constitutional rights," he said. "The Constitution is not a buffet-style menu, where a state can pick and choose the rights it upholds and the ones that it denies. A woman's right to choose, like all constitutional rights, are inherent in every individual's rights regardless of where the live."
Krishnamoorthi also called on companies and corporations to take a stand against the Texas law, saying they have a "tremendous voice" in Texas.
"Some people and companies might think that Texas is pro-business. However, they are anti-people," he said. "There aren't blurry lines here, with regard to this radical, cruel, inhumane and unconstitutional law, SB8. You're either with us and women, or you're against us."
Just two days after the Texas law went into effect, two patients from that state arrived in Illinois seeking abortions, according to Jennifer Welch, president and CEO of Planned Parenthood of Illinois. "We've had patients from Texas every day since," she said. "It's been a steady stream of patients."
U.S. Rep. Bill Foster (IL-11th), who was an adolescent during the 1960s, said he knew women who had to fly across the country to access safe and legal abortion care. "This is reality, and we're returning to a barbaric time in our country's history," he said.
Contact Kristen Thometz: @kristenthometz | (773) 509-5452 |  [email protected]
---