Lincoln Park Zoo has named its next president and CEO.
Current zoo director Dr. Megan Ross, Ph.D., has been selected to lead the venerable institution when current president and CEO Kevin Bell steps down at the end of the year.
"Dr. Ross is committed to the very highest standards of animal care and to ensuring zoos continue to build a strong future as conservation organizations. Never complacent, Dr. Ross will ensure the zoo's culture of improvement makes us better and better every day," said Bell, in a statement announcing the transition.
Ross, an animal behavior specialist, joined the zoo as curator of birds in 2000 and will be the first woman to lead the zoo in its 153-year history.
She will also be the first practicing scientist to occupy the role and says that a science focus now informs the zoo's entire approach.
"From how we care for the animals here to how we can serve them in the wild and how we work with communities," said Ross. "That's what I'm most excited about. And when I think about being a little girl loving science ... I didn't really understand that there was a whole field of science ... So the idea that someone would watch animals and record their behavior and try to understand what was going on in their mind. That didn't seem to me to be a job that was a possibility. I had only heard about veterinarians and I hated shots so I never wanted to give animals shots. So I just never wanted to go that path. So for me being a scientist and being at Lincoln Park Zoo, I just love the idea that other young people might see that I'm a scientist who studies animal behavior and see that that might be a potential career option for them."
Conservation efforts and animal welfare are central to Ross's vision for the zoo's future.
"We are one of the biggest supporters of conservation around the globe, but of course the core to who we are is how we care for animals and how we are seeking new ways to understand what individual animals need and prefer and providing that to them. So when I think about the future of the zoo, I really think about three areas: care, communities and conservation," said Ross.
Technology is also being used to create a better experience for the animals in surprising ways.
"We already do things like look at how animals spend their time, give them more of what they prefer. Take away things that they're avoiding from their spaces. But we even have computer programs now where our gorillas and chimpanzees and Japanese macaques interface with a touch screen computer and tell us things like 'I prefer grapes over carrots,'" said Ross.
"If you expand that into the future. I foresee us really being able to have the animal itself be a little bit more active in how it is cared for saying things like 'I'd like to spend time in this space or I'd like to spend time with this individual today and maybe not this individual on a different day.' So, that's one area that I'm very excited about."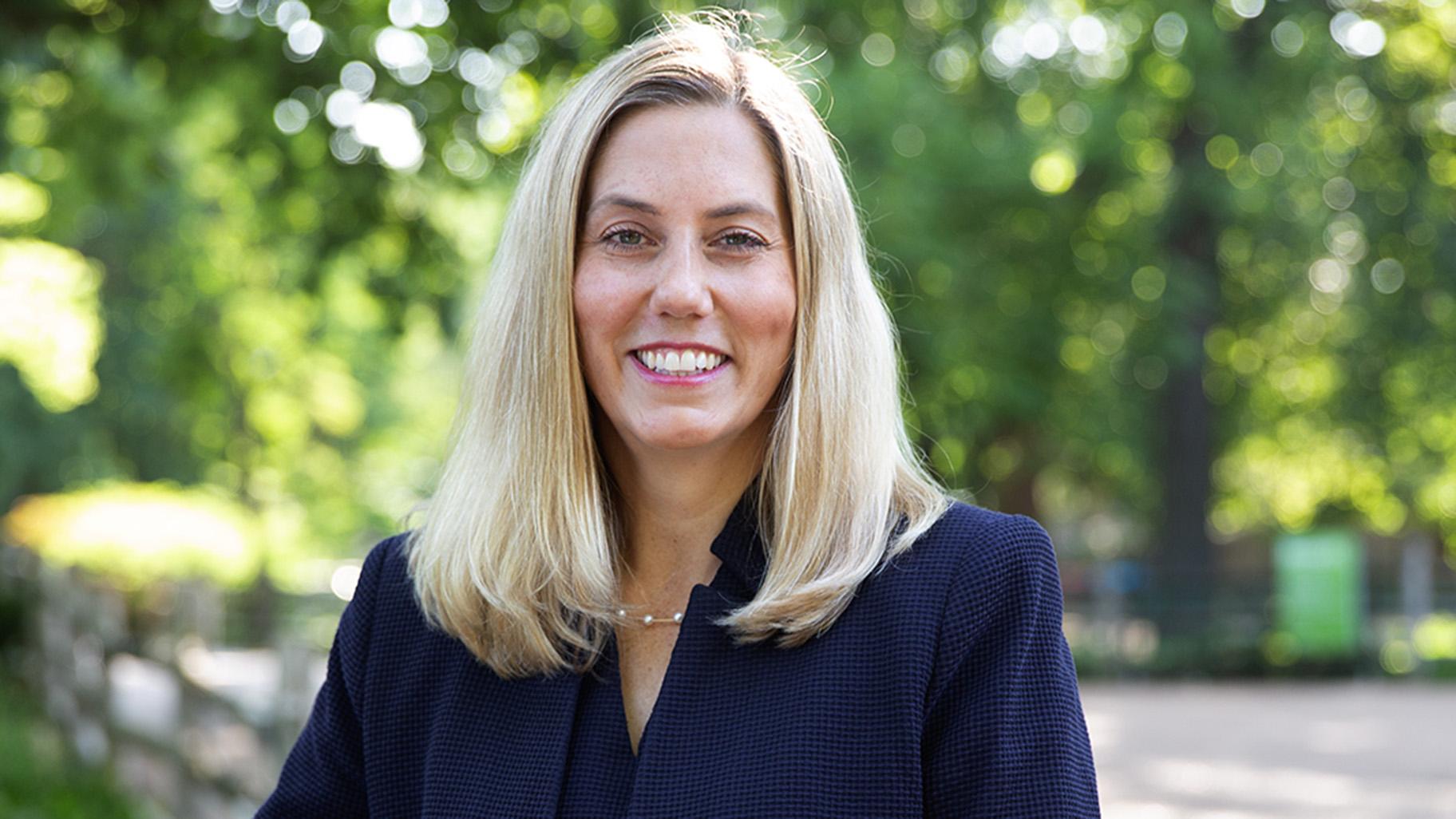 Current zoo director Dr. Megan Ross, Ph.D., has been selected to lead the venerable institution when current president and CEO Kevin Bell steps down at the end of the year. (Credit: Lisa Miller)
As zoo director, Ross currently runs the day-to-day operations, including helping the zoo through the first extended closure in its history due to the COVID-19 pandemic.
"We are for wildlife for all, and we are free and open 365 days a year. So when the pandemic hit we had only closed the doors five times to the zoo. And by five times. I mean five single days since 1868. So closing the gates for a few months at the beginning of the pandemic was completely novel to us," said Ross.
She said the pandemic presented a number of challenges.
"Obviously the gates were closed, meaning that the public wasn't here, but the staff was still here because we are caring for animals. So managing a staff of individuals who are concerned about themselves and concerned about the animals in their care was a challenge," said Ross. "And then when we were able to reopen, we had to figure out things like how do you do tickets? We've never had to do time tickets or tickets for people to come to the zoo. We've always just opened our gates and had the public be able to come through. And so there was a lot of pivots that we had to do in that way."
One challenge is protecting not just the employees and public from the pandemic, but also the animals. There have been a number of COVID-19 outbreaks among animals at zoos. Eighteen of 20 gorillas at Zoo Atlanta have recently tested positive for the coronavirus delta variant.
So far, Ross says Lincoln Park Zoo has been spared and will soon begin to start vaccinating its most vulnerable animals. She says zoo staff have also been using personal protective equipment to protect themselves and the animals.
"Our staff is very used to wearing masks or face shields or barrier clothing — we have lots of different reasons and different times when we're wearing lots of different levels of PPE here. And we've just expanded that to the rest of the zoo," said Ross. "We've also just been very fortunate that we haven't had any issues where there has been a breach of our PPE and animals have been exposed. We feel very fortunate that we have not had a single case of COVID among the animals here at the zoo. And we are very shortly going to be giving our first round of vaccination to our apes and to our big cats in the coming weeks."
Ross said the day that the zoo fully reopened from pandemic restrictions was a special moment for her.
"I felt a very visceral response on that day,' said Ross. "I went to the main grounds of the zoo and watched the gates open and I just felt this sigh of, OK, we're back. We're back to who we are, the core of who we are, where we are welcoming all of Chicago to the zoo. So it's been an interesting journey."
---