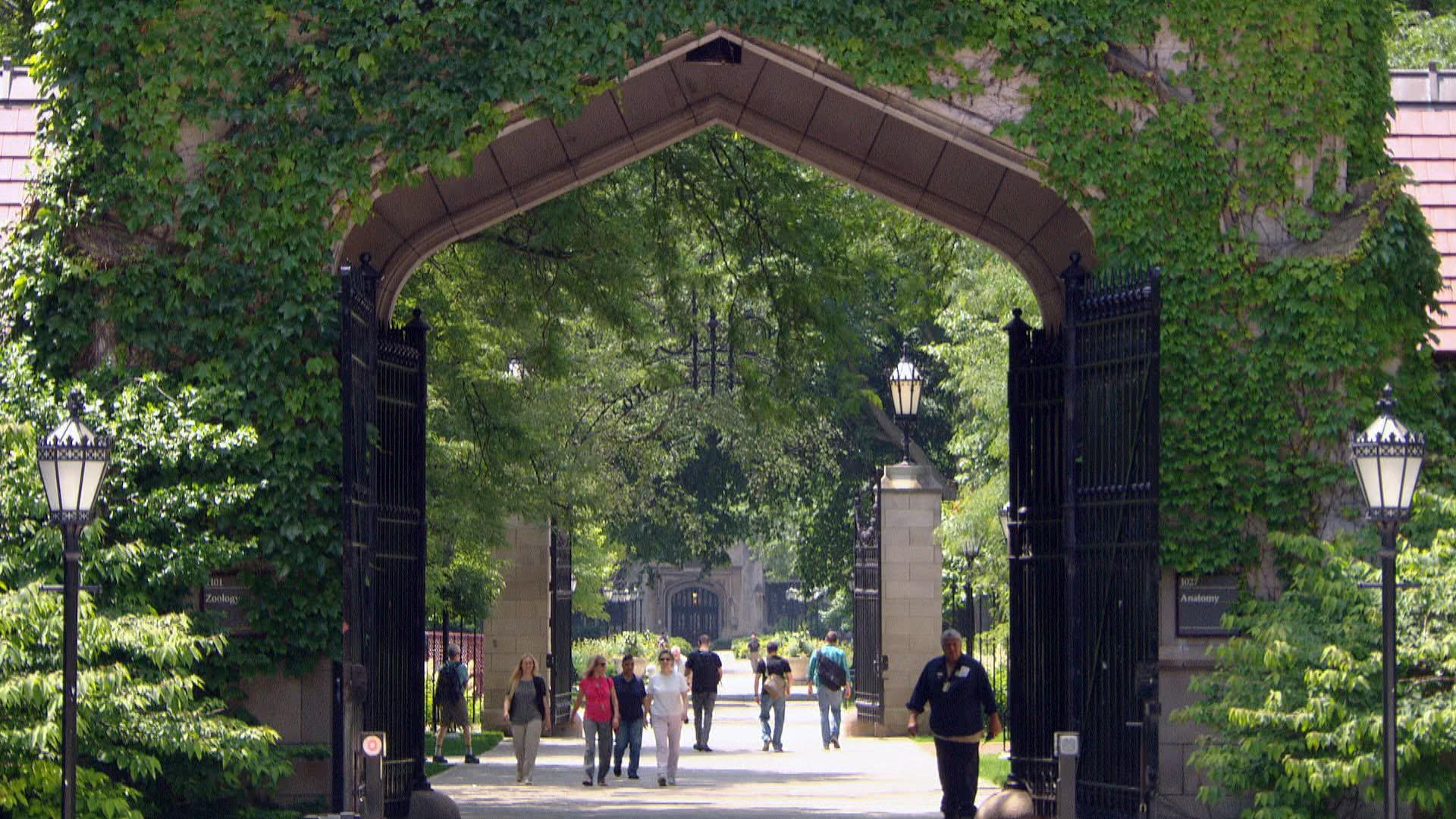 The University of Chicago reported a COVID-19 outbreak at the beginning of April. (WTTW News)
Students at a Chicago university who traveled during the school's spring break sparked an outbreak of COVID-19 that sickened 158 people, according to a report from the Centers for Disease Control and Prevention released Thursday.
Dr. Allison Arwady, the commissioner of the Chicago Department of Public Health, warned that the study should prompt unvaccinated Chicagoans to drop any plans to travel over the Labor Day holiday weekend.
"The best way to protect yourself if you're traveling is by being vaccinated," Arwady tweeted. "Period."
Chicago health officials began investigating the outbreak in early April after being notified by the university, which was not identified by the CDC in its report.
However, the University of Chicago reported a COVID-19 outbreak at the beginning of April and responded by advising students who lived on campus to stay in their dormitories for one week and held all classes remotely. The university at the center of the CDC report took the same steps at the same time.
None of the students who contracted COVID-19 were hospitalized or died, according to the report. Three of the students who got sick, two of whom experienced symptoms, were fully vaccinated. Vaccines did not become available to all Chicagoans until April 19.
University of Chicago officials initially blamed off-campus parties held by fraternities for the outbreak but later acknowledged it was concentrated among students who traveled for spring break..
The investigation by Chicago health officials attributed approximately 64% of the COVID-19 cases identified during the outbreak to spring break travel, while the rest of the cases were likely transmitted at indoor social gatherings, according to the report.
As part of the investigation, genomic sequencing of the virus found multiple distinct lines of COVID-19 that were not widely detected in Chicago before or after this outbreak, "suggesting several nearly simultaneous introductions."
"These results demonstrate the potential for COVID-19 outbreaks on university campuses after widespread student travel during breaks, at the beginning of new school terms, and when students participate in indoor social gatherings," according to the report. "To prevent SARS-CoV-2 transmission, colleges and universities should encourage COVID-19 vaccination; discourage unvaccinated students from travel, including during university breaks; implement serial COVID-19 screening among unvaccinated persons after university breaks; encourage masking; and implement universal serial testing for students based on community transmission levels."
However, the authors of the report warned that it was incomplete because "some students with COVID-19 refused interviews, omitted critical details, or provided false and conflicting information, such as denying travel when other students indicated that they had traveled together."
In addition, only students who lived on campus were tested by university officials, according to the report.
Vermont is the only state not covered by the city's COVID-19 travel advisory as the surge of COVID-19 driven by the delta variant of the virus continues.
Contact Heather Cherone: @HeatherCherone | (773) 569-1863 | [email protected]
---