Chicagoans who call 911 in two parts of the city while experiencing a mental health crisis can now get help from not just a Chicago police officer trained to assist them — but also a paramedic and a mental health professional.
The teams are now responding to calls for help from Chicagoans in Uptown, Lakeview and North Center on the North Side, with another team focusing on Auburn Gresham and Chatham on the South Side, officials told aldermen during a meeting of the City Council's Committee on Health and Human Relations on Wednesday.
Equipped with a white van, those two teams began work Monday in the two parts of the city that have the highest number of calls about Chicagoans suffering mental health crises, said Matt Richards, the deputy commissioner of behavioral health for the Chicago Department of Public Health.
The two-year, $3.5 million pilot program represents the first time in Chicago's history that the city's emergency dispatch system will send someone other than a sworn and armed police officer to a call for help, said Alex Heaton, Mayor Lori Lightfoot's policy advisor for public safety.
The teams will be charged with de-escalating the at-times tense situations, and prevent Chicagoans suffering from mental illness from being arrested and jailed, Heaton said. In some cases, mental health professionals will be able to handle 911 calls for help without dispatching anyone by directing the caller to resources nearby, he added.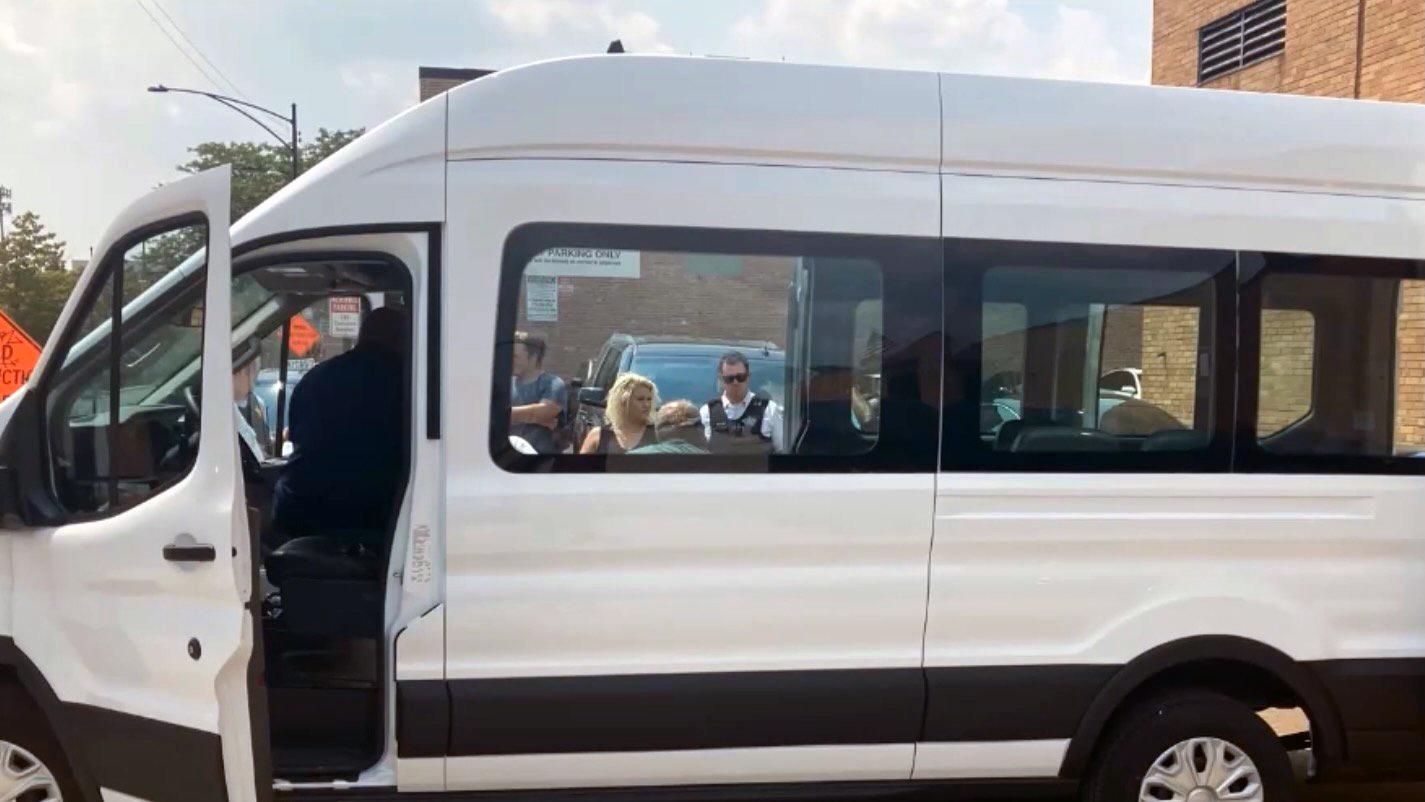 Teams of mental health professionals, paramedics and crisis-intervention trained officers will use white vans to help those suffering from mental illness in two parts of Chicago, officials said. (Credit: Chicago Department of Public Health)
The start of the effort to reconsider how Chicago responds to calls for help from those suffering from mental health crises comes nine months after progressive members of the Chicago City Council, led by Ald. Rossana Rodriguez Sanchez (33rd Ward), insisted it be included in the city's 2021 budget.
Rodriguez Sanchez lobbied her colleagues to approve a plan to send only mental health professionals and paramedics to calls for help from those in crisis, and not police officers. Lightfoot eventually agreed to test both models to win enough votes to ensure her spending plan was approved.
Rodriguez Sanchez credited the work of community organizations for pushing the effort forward in the wake of the May 2020 murder of George Floyd by a Minneapolis police officer amid calls to reduce the $1.7 billion budget for the Chicago Police Department and shift those funds to programs that address the root causes of crime, including mental illness.
Ald. Carlos Ramirez-Rosa (35th Ward) said he was glad the Chicago Department of Public Health "changed its tune" and would test a program to respond to calls for help from those suffering from mentally health crises without a police officer, but credited the shift to a new state law requiring a new approach as well as pressure from community groups.
Two teams that include mental health professionals and paramedics — but no police officers — are expected to start later this fall in two other parts of the city: Chicago Lawn, Gage Park, West Elsdon, West Englewood and West Lawn as well as Garfield Park and Humboldt Park, Heaton said.
The alternative response teams will also offer follow-up care after the initial call for help, reaching out the day after, a week later and a month later, Richards said.
In addition, the teams will offer to take those in crisis to mental health clinics, rather than the emergency room or jail, officials said.
"When we first proposed this, we were told 'no,' but now I see that is the direction in which you are moving, so I am glad but I also want to give credit to the people who pushed for this to happen," Rodriguez Sanchez said. "The administration was absolutely against the model with no officer."
Ald. Maria Hadden (49th Ward) — who voted for the mayor's 2021 spending plan because it funded an effort to send mental health professionals rather than police officers to those in crisis — said she was thrilled that the program was finally getting off the ground after months of silence from the mayor's office.
"It felt like we were talking to a brick wall," Hadden said.
However, city officials will need at least six months of data to evaluate the effectiveness of the program, and would not agree to expand it to other parts of the city until that evaluation is complete, Richards said.
Hadden and Ald. Matt Martin (47th Ward) said they were eager to see the program expand citywide as quickly as possible.
But it is not clear whether the mayor would support increasing funding for the pilot program before the first results can be analyzed, potentially delaying a citywide expansion for at least another year.
Lightfoot is set to introduce her spending plan for 2022 this month, and she has said she will ask the City Council to approve the budget in October.
"We're getting closer and closer to the goal," Hadden said.
Contact Heather Cherone: @HeatherCherone | (773) 569-1863 | [email protected]
---