Video: Meet the founder and executive director of Dion's Chicago Dream as part of our series, The Last Word. (Produced by Erica Gunderson)
---
Every weekday morning, Dion Dawson fills an outdoor refrigerator in Englewood with water bottles and produce. The free offerings include fresh tomatoes, grapes, apples, berries, citrus fruits and lettuce.
Usually, he's restocking the fridge by midday.
He calls it the Dream Fridge, and it's part of his effort to fight food insecurity through Dion's Chicago Dream, a nonprofit he founded nearly one year ago.
"Our mantra is feeding families, creating community and fueling hope," said Dawson, 31, a Navy veteran who grew up in the neighborhood.
Dawson is one of more than 24,000 people who live in Englewood on Chicago's South Side, according to the Chicago Metropolitan Agency for Planning community data snapshot. The area's median household income is $22,127, while the city of Chicago's is $58,247, according to CMAP.
"Englewood is a food desert. There's no supermarket within a mile radius besides a Whole Foods," Dawson said.
The Dream Fridge aims to address that.
"Feeding somebody one time, or offering fresh produce one time in a three-month span, is not sufficient in solving the core problem," Dawson said. "We want to show them that we're not going to focus on feeding them one time. We're going to focus on getting them healthy and feeding them consistently."
Dawson takes inspiration for the project from his own childhood.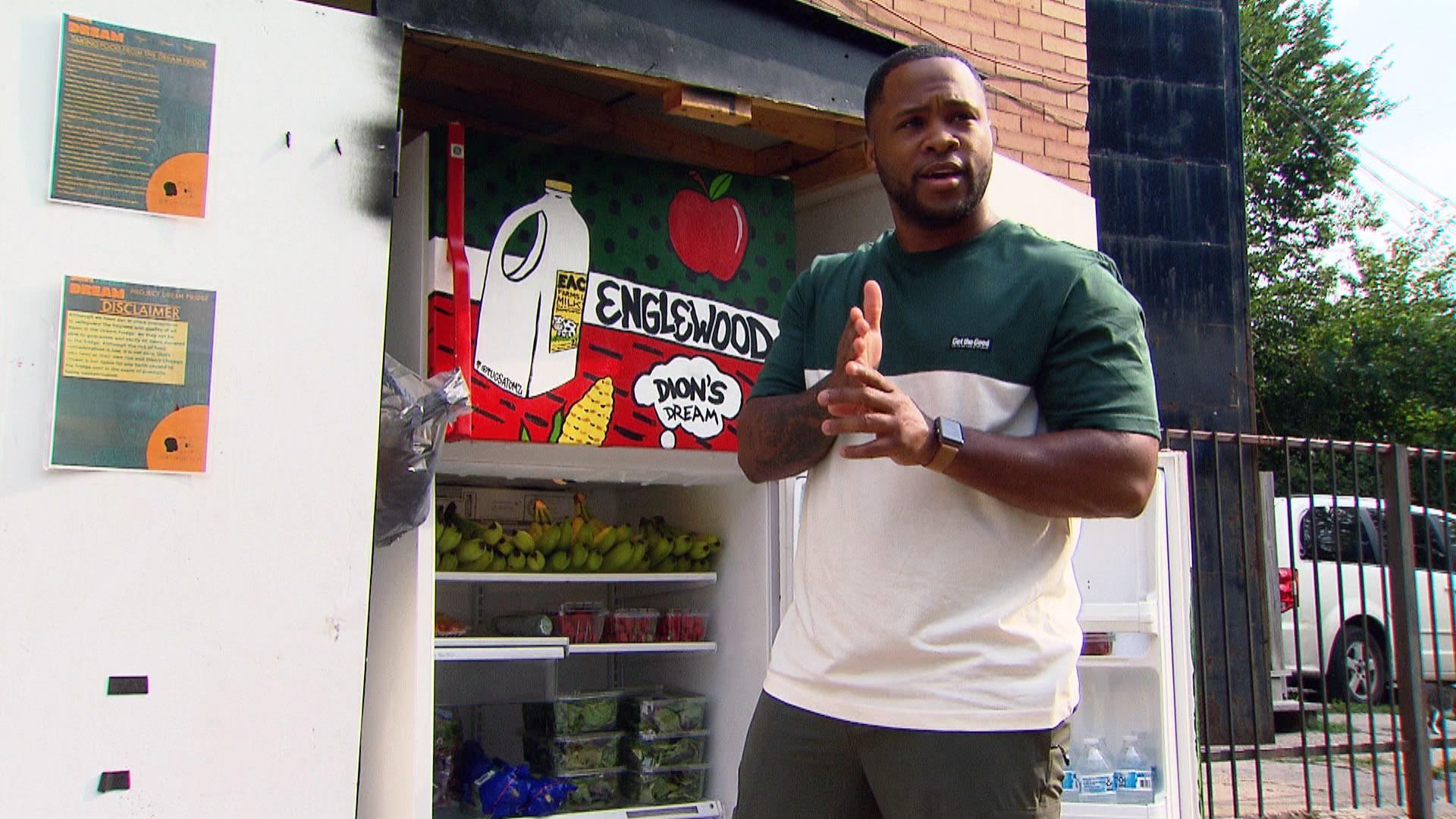 Dion Dawson, founder and executive director of Dion's Chicago Dream, stands next to the nonprofit's Dream Fridge. (WTTW News)
"When I grew up in Englewood, we struggled. We went to food pantries, we stood in lines," he said. "I wasn't treated like a human being. We stood in lines for hours on end only for us to get some of the food, but we saw people working putting all the good stuff in their cars."
His family's struggles included multiple evictions, one of which occurred when Dawson was in fifth grade. As Dawson and his friends were arriving at his home after school, he noticed his family was in the process of being evicted and their belongings were strewn about the alley.
"I was panicking," Dawson said. "We had struggled a lot prior to fifth grade, and when you're a homeless kid, your goal is to go to school and not look homeless."
Dawson braced for his friends' reactions, but to his relief they were unmoved.
"I looked at them and instead of having to lie … they accepted it, and they moved the stuff out of the way and we played basketball," he said.
The grace he experienced in that moment, and others throughout his life, motivates him to pay it forward.
"When it comes to how I was raised, I learned a lot of different qualitative things that directly relate to how we approached our programming," he said. "How do I make sure that people are treated with respect? How do I make sure that there's a certain quality … that's always met and that the end user is championed in the experience?"
Dawson does that by meeting people where they are through the Dream Fridge at 57th Street and Racine Avenue. It's open weekdays from 9 a.m. to 4 p.m. and operate on a simple, take-what-you-want basis.
"It's an essential part of Englewood," Dawson said of the location. "And it's close to me because I grew up two blocks east of here and we used to play in this park. A lot of people talk about violence and whatnot, but they're not around. I want to know people. I want to be here every day."
Residents have already gotten to know Dawson through his efforts.
"He's been good with everybody in the community," said Wayne Smith, a lifelong resident of Englewood. "All of us need this stuff – waters … vegetables and healthy stuff."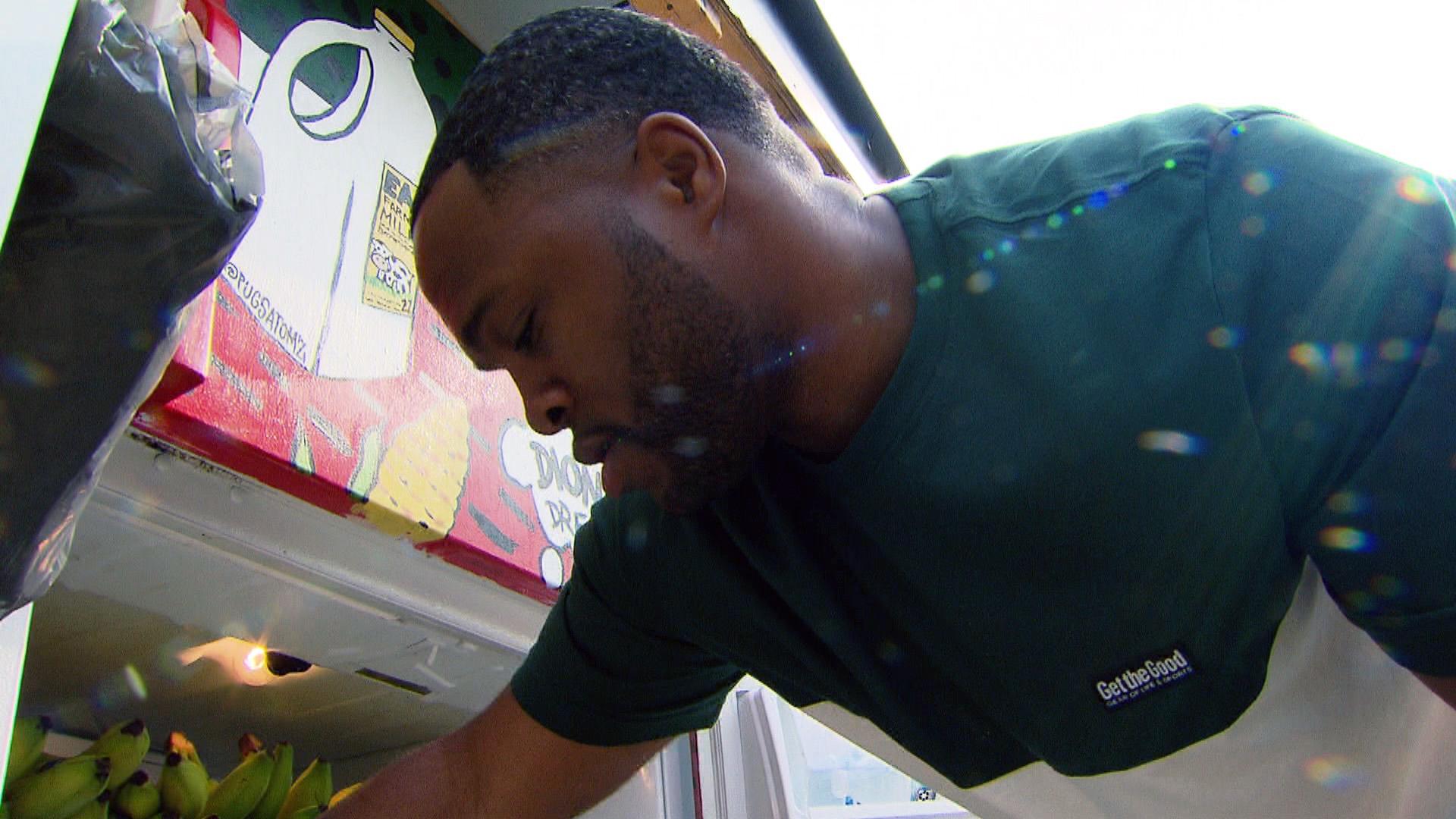 Each weekday Dion Dawson stocks the Dream Fridge, located at 57th Street and Racine Avenue, with fresh produce and water bottles. (WTTW News)
In addition to stocking his fridge, Dawson has expanded his efforts to include home deliveries, which he calls Dream Deliveries, to residents of Englewood and beyond.
The delivery service provides recipients with an 8- to 10-pound box of fresh produce weekly and is made possible through a partnership with J.A.B. Produce, a wholesaler and distributor of fresh produce.
"We want (people) to get used to a certain quality so they can feel that not only do they deserve it, but also what fresh produce looks like," he said. "As an organization, we don't shy away from spending money when we have to on this experience."
More than 40,000 pounds of fresh produce have been distributed to date through Dion's Chicago Dream, according to Dawson, who says it costs about $95-$105 to stock the fridge and $20 per fresh produce delivery per family.
Donations also play a role in Dion's Chicago Dream. Recurring donations in particular are a big help, he said. "I tell people: instead of donating $100, donate $25 monthly. Sign up for recurring donations so we can stabilize our operations so that we can feed people more often," he said.
Dion's Chicago Dream currently employs two people: a delivery driver and delivery assistant, with Dawson and others volunteering their time and skills. That allows the nonprofit to reinvest in programming and development, he said.
As the nonprofit celebrates its first anniversary this month, Dawson has no plans of slowing down.
"The only thing I can do is try to make sure that when I lay my head down every day I did whatever I could to better my community, to be a good steward of my community, be a good representation of my family and my values," he said. "And then if I'm able to see tomorrow, to do the same thing."
For more information about Dion's Chicago Dream, visit its website.
Contact Kristen Thometz: @kristenthometz |  [email protected]
---