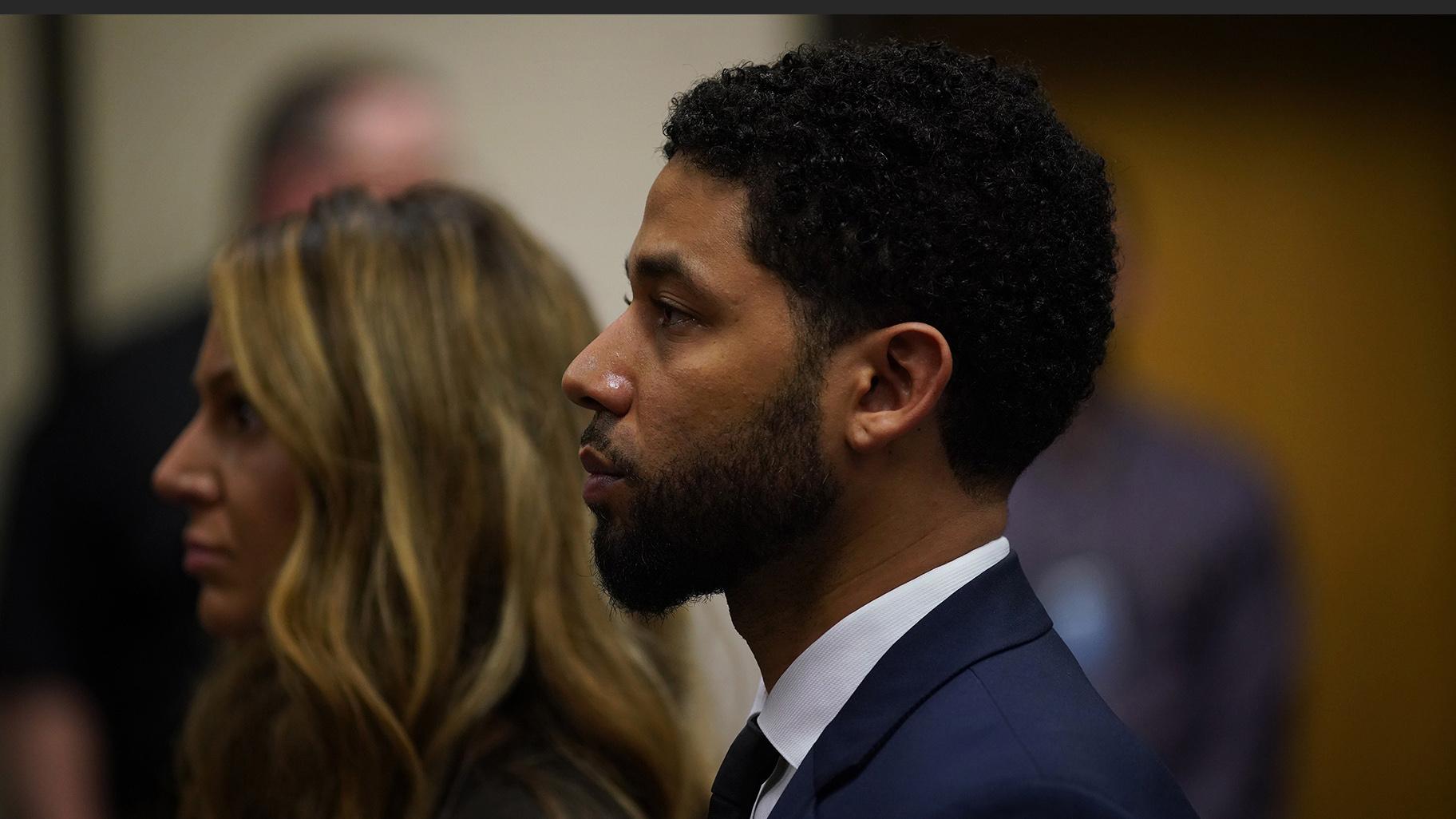 Jussie Smollett pleads not guilty at Leighton Criminal Court Building, Thursday, March 14, 2019. (E. Jason Wambsgans / Pool / Chicago Tribune)
A Cook County judge has not yet scheduled a date for the criminal trial of actor Jussie Smollett, but he did rule Thursday that attorneys for the former "Empire" star cannot call State's Attorney Kim Foxx or her chief deputy to testify.
Judge James Linn on Thursday denied a motion from Smollett's attorneys, who had sought to potentially call Foxx and chief deputy Risa Lanier to testify about statements they made to the media during Smollett's first disorderly conduct case in 2019.
Linn said he "wholly disagrees" that any of their public statements provide relevant evidence, calling the request "far afield" from what would be allowed at trial.
Linn had earlier this year admonished Smollett's attorneys against calling Foxx, her former top assistant, ex-Mayor Rahm Emanuel or former Chicago police Superintendent Eddie Johnson as witnesses to testify about any public statements they made about the case.
Smollett was initially arrested in early 2019 after he claimed to Chicago police he'd been attacked near his Streeterville apartment by two men who yelled racist and homophobic slurs at him. But after investigating that allegation over the course of weeks, Chicago police detectives determined Smollett had orchestrated the incident himself and had paid brothers Olabinjo and Abimbola Osundairo to stage a hoax attack.
Foxx's office eventually dropped disorderly conduct charges against Smollett weeks later in a widely criticized move. The handling of those charges by the Cook County State's Attorney's Office eventually led to the appointment of attorney Dan Webb as special prosecutor.
He filed renewed charges against Smollett in 2020.
During Thursday's hearing, Linn also ruled that attorneys cannot mention dueling civil lawsuits filed by Smollett and the city of Chicago against each other at trial.
But he did rule that Smollett's defense team can discuss weapons found in the Osundairo brothers' home during a search by police after they were brought in for questioning about the Smollett attack.
Webb on Thursday pushed Linn to set a trial date in the case, but the judge was not yet ready to do so, given the ongoing uncertainty surrounding COVID-19 and court operations. He did, however, say he's expecting a trial to begin and end sometime this year.
Parties in the case are due back for a status hearing Oct. 5, when Linn could schedule a trial date.
Contact Matt Masterson: @ByMattMasterson | [email protected] | (773) 509-5431
---