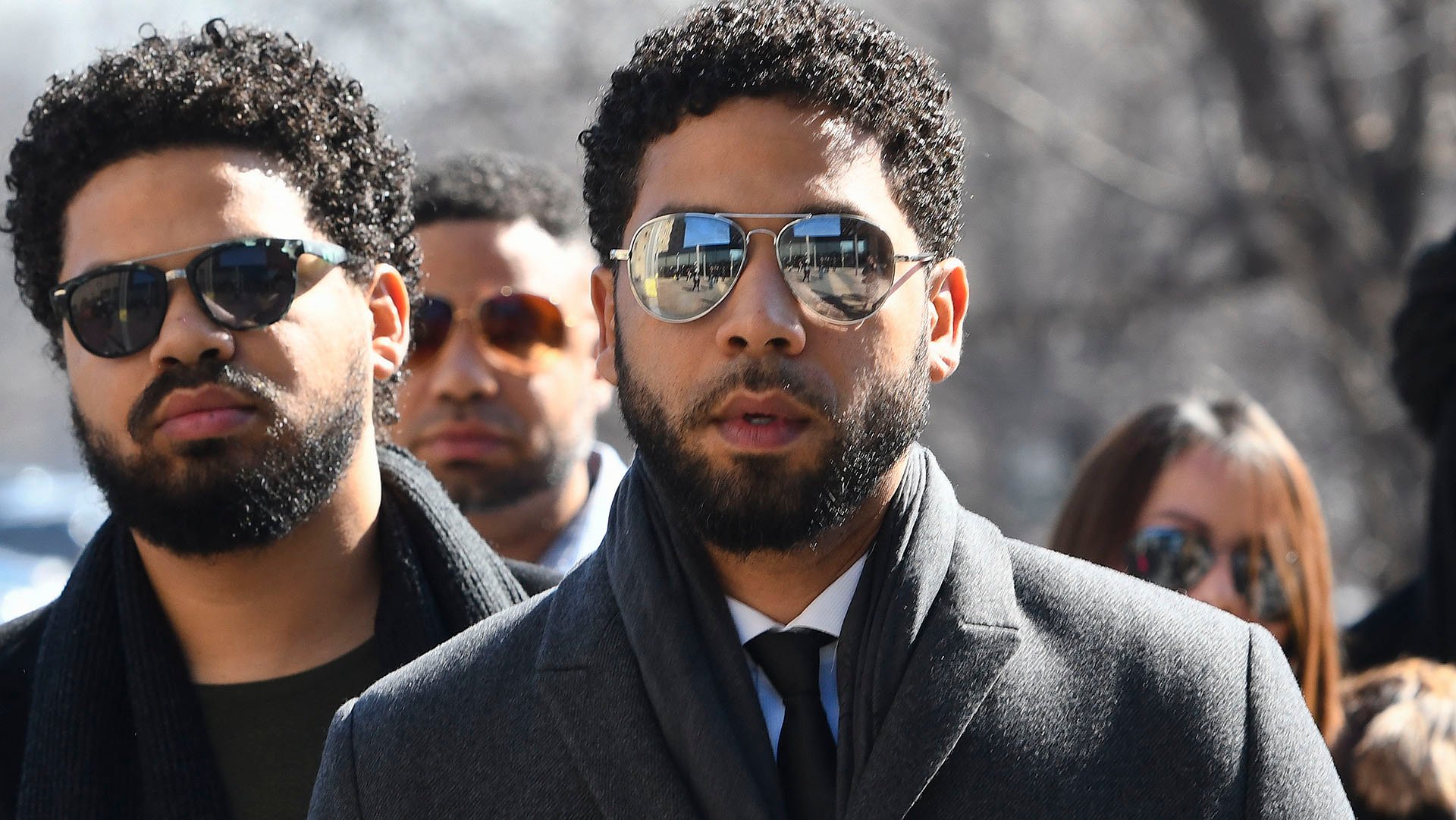 "Empire" actor Jussie Smollett, center, arrives at Leighton Criminal Court Building for a hearing to discuss whether cameras will be allowed in the courtroom during his disorderly conduct case on Tuesday, March 12, 2019, in Chicago. (AP Photo / Matt Marton)
The judge handling Jussie Smollett's second disorderly conduct case wants to keep a potential trial focused on the events that occurred the night the former "Empire" star allegedly filed a false police report, rather than the publicity and events surrounding his initial charges and their subsequent dismissal.
Cook County Judge James Linn on Wednesday said he wanted to avoid getting into the "procedural history of the case" — namely the initial charges filed in 2019 and the controversy surrounding their eventual dismissal weeks later — and the various civil lawsuits that have come from the parties involved.
In doing so, Linn admonished Smollett's attorneys against calling as witnesses Cook County State's Attorney Kim Foxx, her former top assistant, ex-Mayor Rahm Emanuel and former Chicago Police Superintendent Eddie Johnson.
"I'm real skeptical as to whether these people would have anything to contribute to the trial," the judge said during a lengthy Zoom hearing Wednesday afternoon. "They were not on the street that day when something happened .... The things that happened regarding the way they handled the original prosecution that's not going to be part of the trial in this case."
Smollett claimed to police he'd been attacked near his Streeterville apartment in the early hours of Jan. 29, 2019 by two men who yelled racist and homophobic slurs at him. But after investigating that allegation over the course of weeks, Chicago police detectives determined Smollett had orchestrated the incident himself.
Timeline: The Jussie Smollett Incident
They believe Smollett paid two brothers – Olabinjo and Abimbola Osundairo – to stage the "attack." Smollett was initially charged with disorderly conduct on Feb. 20, 2019, but just a month later, Cook County prosecutors dismissed all charges against him.
Foxx initially said she'd recused herself from the case, but her office's handling of the charges eventually led to the appointment of a special prosecutor who filed renewed criminal charges against Smollett early last year.
Smollett's attorneys Tina Glandian and William Quinlan on Wednesday indicated they may seek to call Johnson and Emanuel to discuss what they referred to as "demonstrably false" statements they made in press conferences regarding the initial case. 
Linn was not receptive to that plan, saying he had no intention of getting into various press statements at trial. Likewise, he said he would not allow Foxx or her staff's prosecutorial discretion to become an issue at trial. He called these "collateral" issues not relevant to the allegations against Smollett.
Smollett himself did appear during the hearing, telling the court he was currently in New York City.
If a trial is eventually held, Linn said he wants to keep it focused on "what happened on the street" on the night of the alleged hoax attack.
Little progress toward a trial was made through 2020 as the global pandemic delayed court proceedings throughout the county and beyond.
These issues arose Wednesday as the attorneys discussed two dozen motions in limine regarding what evidence may or may not be allowed to be presented to a jury. The parties will meet again in March to further discuss these issues.
Smollett's defense team has repeatedly expressed its desire to go to trial, though no date has yet been set and it's not clear when it could occur.
"I don't know when Cook County may open up (for trials)," Linn said. "Your guess is as good as mine."
---
Contact Matt Masterson: @ByMattMasterson | [email protected] | (773) 509-5431
---