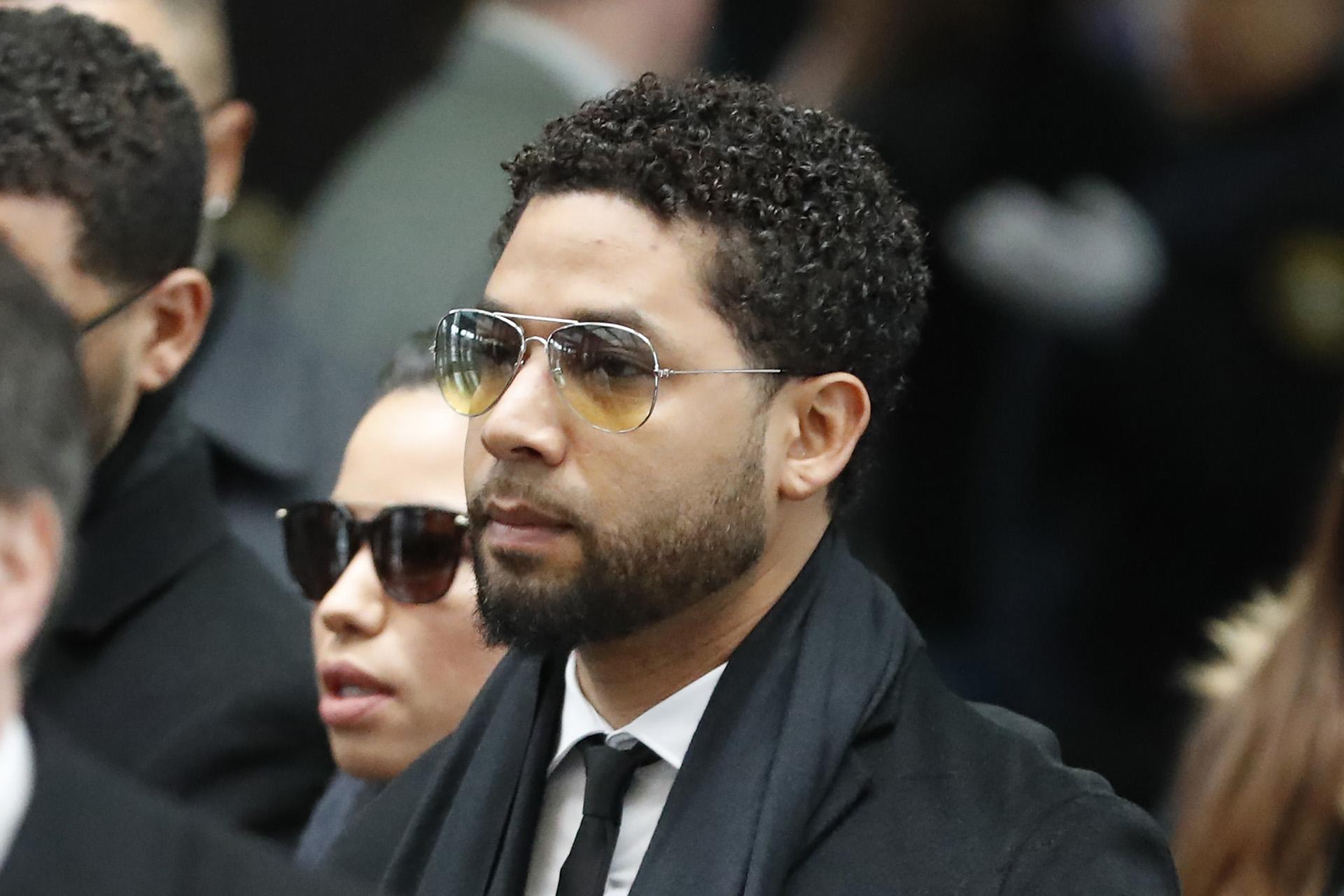 Former "Empire" actor Jussie Smollett, center, arrives for an initial court appearance Monday, Feb. 24, 2020, at the Leighton Criminal Courthouse in Chicago, on a new set of charges alleging that he lied to police about being targeted in a racist and homophobic attack in downtown Chicago early last year. (AP Photo / Charles Rex Arbogast)
Jussie Smollett has once again pleaded not guilty to felony charges of disorderly conduct for allegedly lying to Chicago police about a racist and homophobic attack investigators say he arranged on himself last winter.
The former "Empire" star appeared at the Leighton Criminal Court Building on Monday, almost a year to the day after he first entered a similar plea in the initial case against him. Those charges were eventually dropped, which sparked a wave of backlash against Cook County State's Attorney Kim Foxx, the appointment of a special prosecutor to handle the case, and a new spate of charges filed against the actor earlier this month.
Smollett arrived to a packed, first-floor courtroom before presiding Judge LeRoy K. Martin Jr., who assigned Smollett's case to Judge James Linn.
Once he relocated to Linn's courtroom, the actor entered his plea and was assigned a recognizance bond in the amount of $20,000, meaning Smollett did not need to pay any money in order to leave court.
Smollett's attorney Tina Glandian sought a delay in the proceedings after filing a motion Monday morning to dismiss her client's criminal case on the grounds of double jeopardy.
In her motion, Glandian argued that Smollett was already punished for this same offense when he was ordered to forfeit his $10,000 bond payment last year.
"Since there can be no dispute that the instant proceeding and the criminal proceeding concern the same conduct, the only question is whether the $10,000.00 bond forfeiture constitutes 'punishment' for the purposes of the Double Jeopardy Clause," she wrote in the motion. "The answer is an unequivocal yes."
That argument is not likely to hold up however, because the Cook County State's Attorney dismissed those charges before a trial could begin.
Linn refused to hold off on the arraignment, and will instead hear arguments on that motion at a hearing next month.
Glandian on Monday also filed a motion seeking a supervisory order and a stay from the Illinois Supreme Court, challenging Judge Michael Toomin's authority to appoint a special prosecutor to this case in the first place.
"His order exceeded his authority," Glandian said, arguing that Toomin made that ruling despite it not conforming to statute requirements.
A grand jury indicted Smollett earlier this month on six counts of disorderly conduct following a six-month investigation of the case by Special Prosecutor Dan Webb.
Smollett claimed to police he'd been attacked near his Streeterville apartment in the early hours of Jan. 29, 2019 by two men who yelled racist and homophobic slurs at him. But after investigating that allegation over the course of weeks, Chicago police detectives determined Smollett had orchestrated the incident himself.
They believe Smollett paid two brothers – Olabinjo and Abimbola Osundairo – $3,500 to stage the "attack" in an effort to help boost his public profile.
Glandian said both she and her client are frustrated to be back in court on a case they felt concluded last year. She said her client maintains his innocence and will not be entering any plea other than "not guilty" – even if that means going to trial.
"We welcome a trial," William Quinlan, who also represents Smollett, told media.
Smollett was initially charged with disorderly conduct on Feb. 20, 2019, but just a month later, Cook County prosecutors quickly dismissed all charges against him.
That decision has continued to be the biggest thorn in Foxx's side as critics have slammed her for appearing to give the actor preferential treatment. She initially said she had recused herself from the case, but then appointed her top assistant to take over in her stead.
That led to a challenge by retired appellate Judge Sheila O'Brien, who argued that a judge should have instead appointed a special prosecutor following Foxx's recusal. Judge Toomin agreed, and appointed Webb, who has extensive history as a special prosecutor in major cases, to the position.
In announcing the latest charges, Webb and his team took issue with how Foxx's office dismissed the initial charges last year.
The special prosecutor also criticized them for failing to turn over any evidence showing that Smollett's disposition was in line with previous cases the state's attorney had handled. Webb's team called this a "major factor" in its decision to file new charges.
Foxx is in the midst of a heated reelection campaign, which begins with a Democratic primary against three challengers next month. Her campaign initially slammed the timing of the new Smollett charges, likening them to James Comey's letter to Congress about Hillary Clinton's emails a month before the 2016 presidential election.
But Foxx later told WTTW News she was not "jumping to any conclusions" about Webb's motives in filing new charges now.
"I always said this should be a non-political review of this case," she said in a one-on-one interview last week. "I called for a review back in March hoping to take politics out of it. The fact that it's come in the middle of an election season, I could not have predicted that, but it is what it is."
Contact Matt Masterson: @ByMattMasterson | [email protected] | (773) 509-5431
---