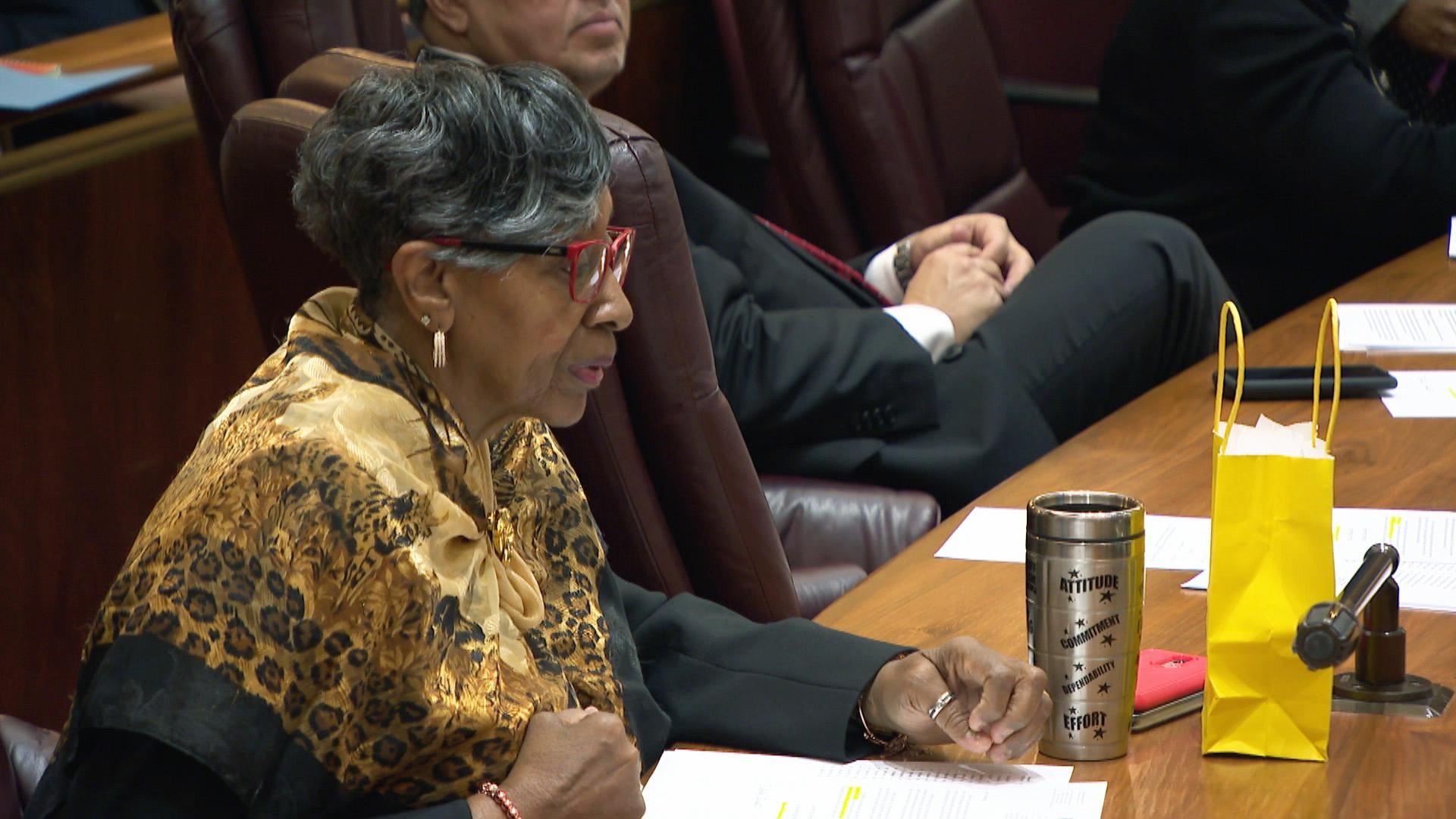 A file photo shows 34th Ward Ald. Carrie Austin at a Chicago City Council meeting. (WTTW News)
Mayor Lori Lightfoot said Wednesday she had accepted the resignation of indicted Ald. Carrie Austin (34th Ward) as chair of the Chicago City Council's Committee on Contracting Oversight and Equity.
A spokesperson for Lightfoot said the mayor "is grateful for her years of service and leadership as chairman and her work in creating equitable opportunities for Chicago and national business leaders."
Austin's resignation as committee chair comes nine days after WTTW News reported that the committee spent more in 2020 than nearly all other City Council committees while meeting only three times and not advancing a single piece of substantive legislation.
READ: City Council Committee Led by Indicted Ald. Austin Spends More, Does Less than Nearly All Others
In the letter released by the mayor's office, Austin said she would not resign from the City Council, where she has represented the Far South Side's 34th Ward since 1994. Her term ends in February 2023.
"Please know that I will continue to be a humble servant leading as God allows me in my duties as alderman of the 34th Ward," Austin wrote.
In their conversation, Lightfoot said Austin "affirmed that she plans to remain active, engaged and a fighter for her community and the city she loves."
Austin pleaded not guilty to charges that she accepted bribes from a developer and lied to FBI agents.
The second-longest serving member of the City Council, Austin has not returned multiple emails from WTTW News seeking a response to questions about the money spent by the committee she leads or the charges she faced.
Austin did not attend Tuesday's meeting of the Contracting Oversight and Equity Committee, the first since July 2020.
Austin is likely to be replaced as chair of the Contracting Oversight and Equity Committee by Ald. David Moore (17th Ward), who is running for the Democratic nomination for secretary of state, sources said.
Austin's resignation as chair of one of the City Council's 19 committees was first reported by the Chicago Sun-Times on Tuesday, which quoted her resignation letter to the mayor as saying: "I have always attempted to be loyal to the mayors whom I served, as well as work to achieve resources for my community over the last 28 years." 
It was not clear Wednesday morning why Austin sent the mayor's office two different resignation letters.
On Monday, Lightfoot stopped short of demanding that Austin step down as committee chair, telling reporters the same thing that she said after 11th Ward Ald. Patrick Daley Thompson was indicted: "I think it is virtually impossible for an alderman to be able to fulfill their responsibilities to their ward and residents who are in need especially now, with the sword of Damocles hanging over them, which is a federal indictment," Lightfoot said. "I think it is very difficult for her to be able do her job."
When Ald. Ed Burke (14th Ward) was charged with a crime in January 2019, former Mayor Rahm Emanuel demanded and received Burke's resignation as chair of the Finance Committee.
Lightfoot tapped Austin to lead the Contracting Oversight and Equity Committee in May 2019.
Contact Heather Cherone: @HeatherCherone | (773) 569-1863 | [email protected]
---