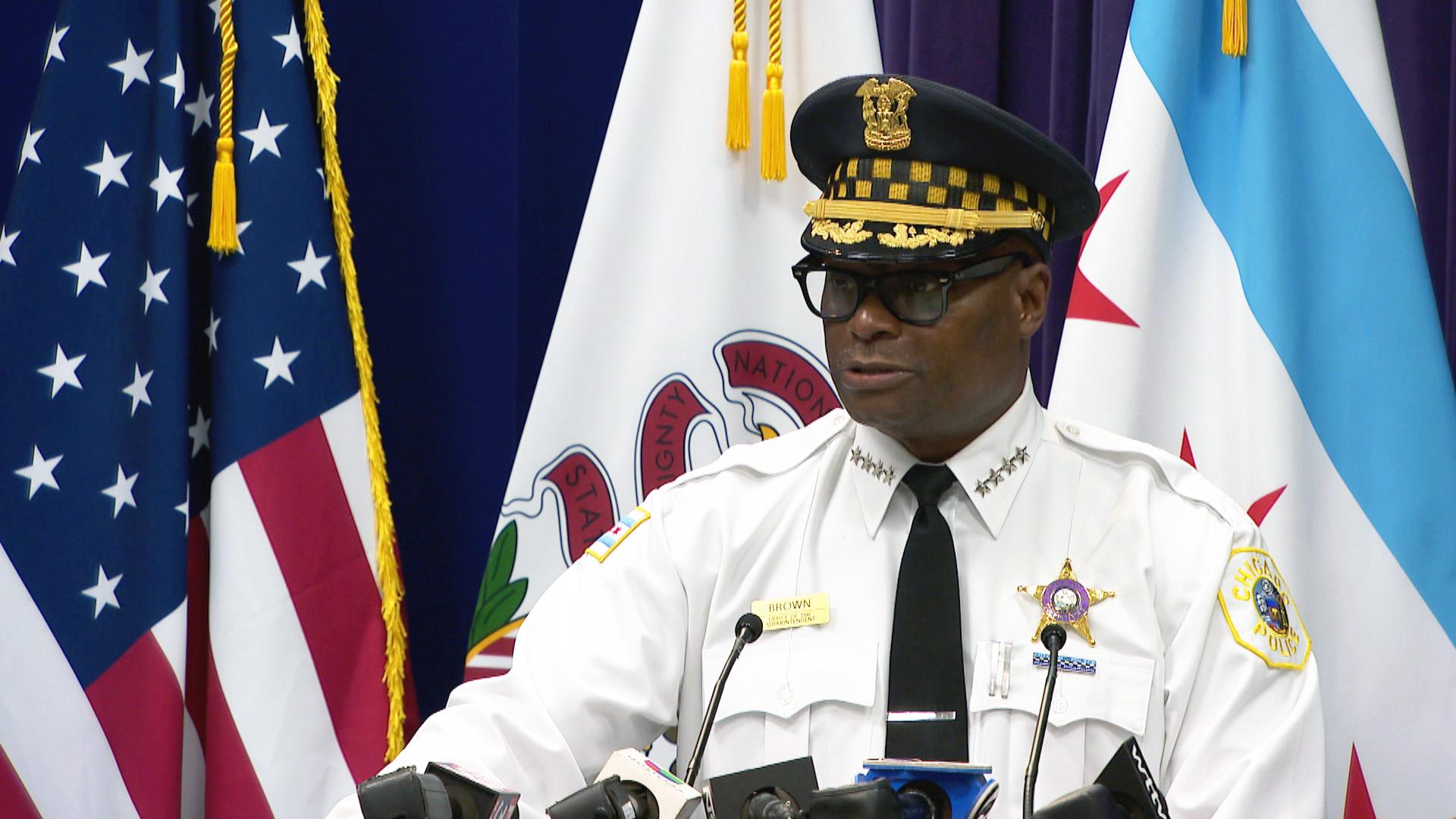 Chicago police Superintendent David Brown talks about city crime rates on Monday, Aug. 23, 2021. (WTTW News)
More than 40 people were shot in Chicago over the weekend, including nearly a dozen victims of two mass shootings.
Seven people were killed and 37 others were wounded in 29 shooting incidents that occurred between Friday evening and 11:59 p.m. Sunday, according to data from the Chicago Police Department.
That includes five people who were shot in the 3400 block of West Lake Street early Sunday, and six others who were shot Saturday evening in the 1600 block of East 87th Place.
According to police, little is known about what happened in the Lake Street shooting. Officers responded to that scene around 1 a.m. Sunday and found the victims: a 34-year-old man shot in the arm, a 28-year-old man shot in the chest, a 17-year-old boy shot in the shoulder and an 18-year-old girl shot in the torso.
A 29-year-old man who had been shot in the head was pronounced dead on the scene, police said. According to CPD Chief of Detectives Brendan Deenihan, offenders got out of an SUV and began shooting at people as they were leaving the area.
"The detectives need your help," he said. "They need people calling in and we need the tips, we need the clues to help these offenders to justice."
In the 87th Place shooting, police said six victims were outside in a parking lot when two unknown Black males opened fire from a nearby alley. A 39-year-old man was shot in the abdomen and died.
Other victims included: a 40-year-old man shot in the leg, a 39-year-old man shot in the ankle, a 32-year-old man shot in the leg, a 44-year-old woman shot in the leg and a 25-year-old woman shot in the arm. The 40-year-old was listed in critical condition.
According to Deenihan, the victims were attending a memorial at a residence when the shooting occurred. Some of those in the crowd fired shots back at the two suspects, who police are attempting to identify, Deenihan said.
Just before 3 a.m. Saturday, a man was shot and a 62-year-old woman was killed as they stood in a group of about 20 people outside a gas station in the 5100 block of West Madison Street. Police said the man was shot in the head and leg, while the woman was struck in the head, abdomen and lower back.
A third victim, a 24-year-old woman, was also shot in the back. Police said it's unclear if any of these people were the intended victims of the shooter, who began firing at the group from inside a black Dodge Charger.
At around 6:41 p.m. Saturday, a 19-year-old boy was killed when he was shot in the 4700 block of South Wolcott Avenue.
Minutes later, two men ages 30 and 36 were shot by an unknown offender as they drove in a vehicle in the 300 block of West 65th Street. Their vehicle then crashed into another car before coming to a stop. The older victim was shot in the left shoulder and remains in critical condition, while the 30-year-old man was shot in the head and pronounced dead.
Police on Sunday morning also found a woman who appeared to be between 35-40 years old dead in the 4800 block of West Polk Street at around 7:40 a.m. It appeared she had sustained stab wounds to her neck, police said.
Contact Matt Masterson: @ByMattMasterson | [email protected] | (773) 509-5431
---