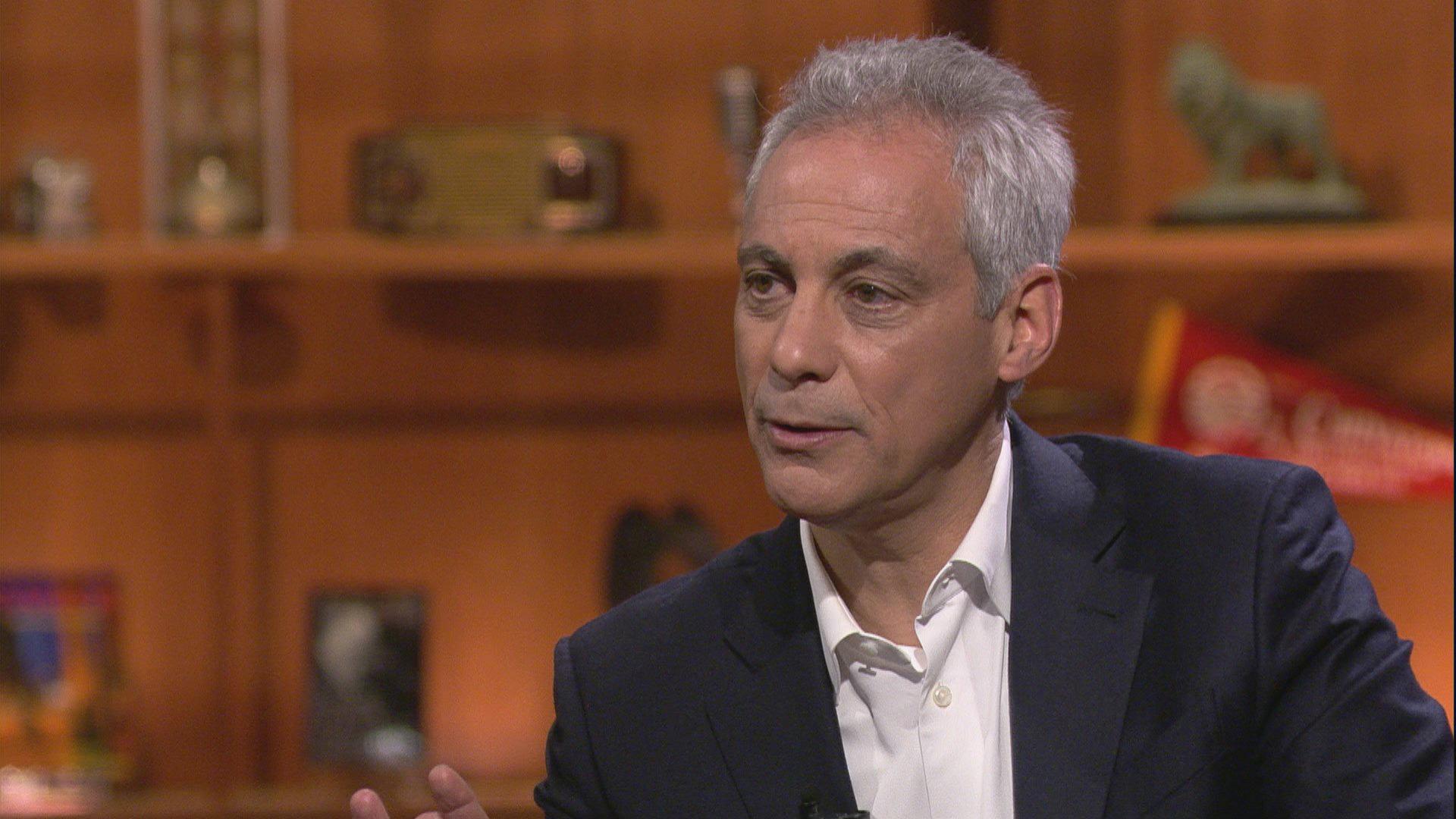 Mayor Rahm Emanuel appears on "Chicago Tonight" on Monday, May 13, 2019.
Former Chicago Mayor Rahm Emanuel will serve as President Joe Biden's ambassador to Japan, the White House announced Friday, confirming months of rumors.
The high-profile diplomatic post for Chicago's famously profane and brusque mayor is sure to be jeered by the progressive wing of the Democratic Party as well as those who believe his handling of the murder of Laquan McDonald should have disqualified him from public office.
McDonald, a black teen, was fatally shot by a white Chicago police officer in 2014.
That controversy may have cost Emanuel a spot in Biden's cabinet. Although Emanuel lobbied hard to serve as Biden's transportation secretary, that post went to Pete Buttigieg, the former mayor of South Bend, Indiana.
Emanuel must be confirmed by the U.S. Senate.
"Rahm Emanuel has a lifetime of public service preparing him to speak for America," U.S. Sen. Dick Durbin said in a statement. "Japan is an important strategic partner in Asia, particularly in light of our continued challenges from China. I will do all I can to help Rahm become America's voice in Japan."
In the official announcement of Emanuel's nomination, the White House praised Emanuel's two terms as Chicago mayor.
"As mayor, he oversaw increased economic development that revitalized the city and helped solidify its status as a global hub of culture and commerce," according to the statement. "He ensured Chicago was a leader on the global stage, hosting the 2012 NATO summit, leading the continent in foreign direct investment for six consecutive years, convening mayors worldwide to commit to the Chicago Climate Charter of 2017 and helping establish the Chicago Council on Global Affairs Mayors Forum on Global Cities."
In 2018, Emanuel took a delegation of city officials and leaders to Japan on an official trip.
Before becoming Chicago mayor in 2011, Emanuel served as chief of staff to President Barack Obama while Biden served as his vice president.
"For nearly 30 years I have worked with President Biden on behalf of the American people, and I am honored that he has nominated me to serve as ambassador to Japan," Emanuel said in a statement released by the White House. "The alliance between the United States and Japan is the cornerstone of peace and prosperity in a free and open Indo-Pacific, and I would proudly represent our nation with one of our most critical global allies in one of the most critical geopolitical regions."
Emanuel announced he would not seek a third term as Chicago mayor in 2019 just weeks before a jury convicted former Chicago police Officer Jason Van Dyke of second-degree murder for shooting McDonald 16 times in rapid succession, even as the teen moved away from officers.
A representative of Emanuel referred reporters to the statements released by the White House.
Chicago Federation of Labor President Bob Reiter, Jr., immediately hailed the selection.
"As mayor, Ambassador-Designate Emanuel used his fierce determination to innovate and complete numerous construction infrastructure projects at a critical time for Chicago," Reiter said. "This included supporting Chicago as an international convention and tourism destination through leveraging our physical assets with the best unionized workforce in the city."
Contact Heather Cherone: @HeatherCherone | (773) 569-1863 | [email protected]
---