"You're actually riding on a piece of Chicago history," said Erich Totsch, co-owner and co-captain of the Chicago Fireboat.
All aboard the Chicago Fireboat, better known as Fred A. Busse, named for the 39th Mayor of Chicago, who served from 1907 until 1911. Unlike most of the other boat on docks along lake Michigan, this one has both a special connection to the city of Chicago and the Air and Water show.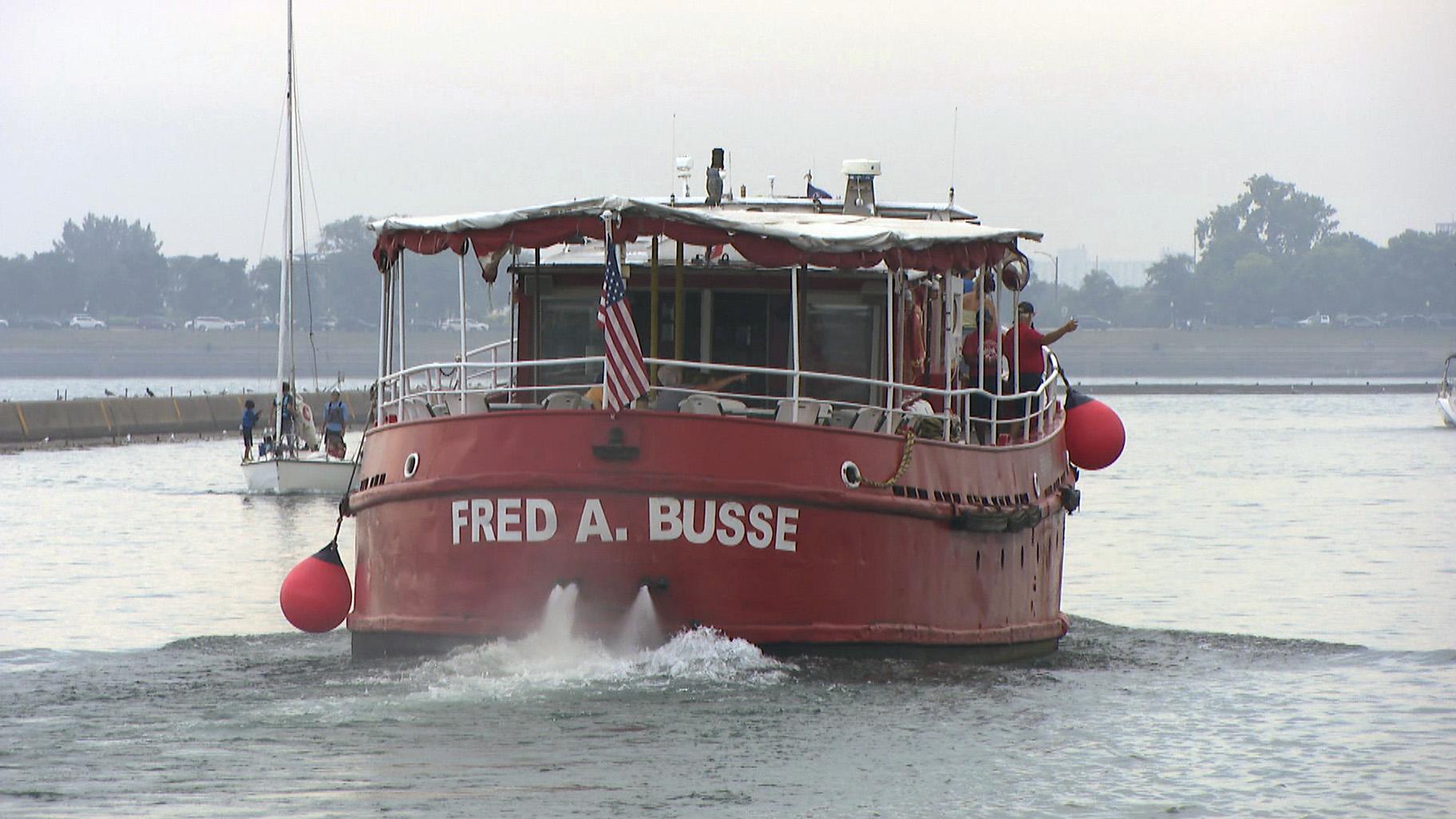 As only one of two former fireboats that offer tours in the U.S., Fred A. Busse is a piece of Chicago history. (WTTW News)
 "This is going to be one of the most unique boats you'll see out on the water. It was built in 1936 and was the first diesel powered fireboat for the city of Chicago, specifically designed to fit under all of the bridges," said Raymond Novak, co-owner and co-captain of the Chicago Fireboat.
The fireboat was fully functional until 1981. Now it just rides the waves, offering educational tours of both the city and the boat's history.
"When this was an active fireboat, it was a part of the Air and Water Show, and would shoot off all the cannons," Totsch said.
Now the boat will offer tours for the duration of the weekend's modified Air & Water Shows, in which only the Blue Angels will perform.
Regardless, for Navy veterans and co-owners Erich and Ray, being able to showcase their hometown on a military or utility type vessel is a unique experience to share with other.
"We have family members that have loved ones that served on the boat and tell stories or share photos," Novak said. "That's the most heartwarming things to get."
Whether it's for a family outing, or to learn more about the Windy City, as only one of two former fireboats that offer tours in the U.S., this is truly a ride on a piece of Chicago history.
"This weekend is a special event, the whole air and water show is pretty cool, but people want to see the Blue Angels. To be out here watching them doing their thing ... you feel the energy from the planes. It's really a special experience," Novak said.
A special solo demonstration by the U.S. Navy Blue Angels takes place along the lakefront on Aug. 21 and 22 from 12 – 1 p.m. (Aug. 20, practice runs from 10 a.m. – 2 p.m.)
Fireboat tours this Saturday and Sunday run from 11:30 to 1:30, with tickets selling for $75 dollars for adults and $55 dollars for kids.
Many more tours are offered through November. Visit FireboatTours.com for more information. 
Follow Angel Idowu on Twitter: @angelidowu3
---
Angel Idowu is the JCS Fund of the DuPage Foundation Arts Correspondent.
---