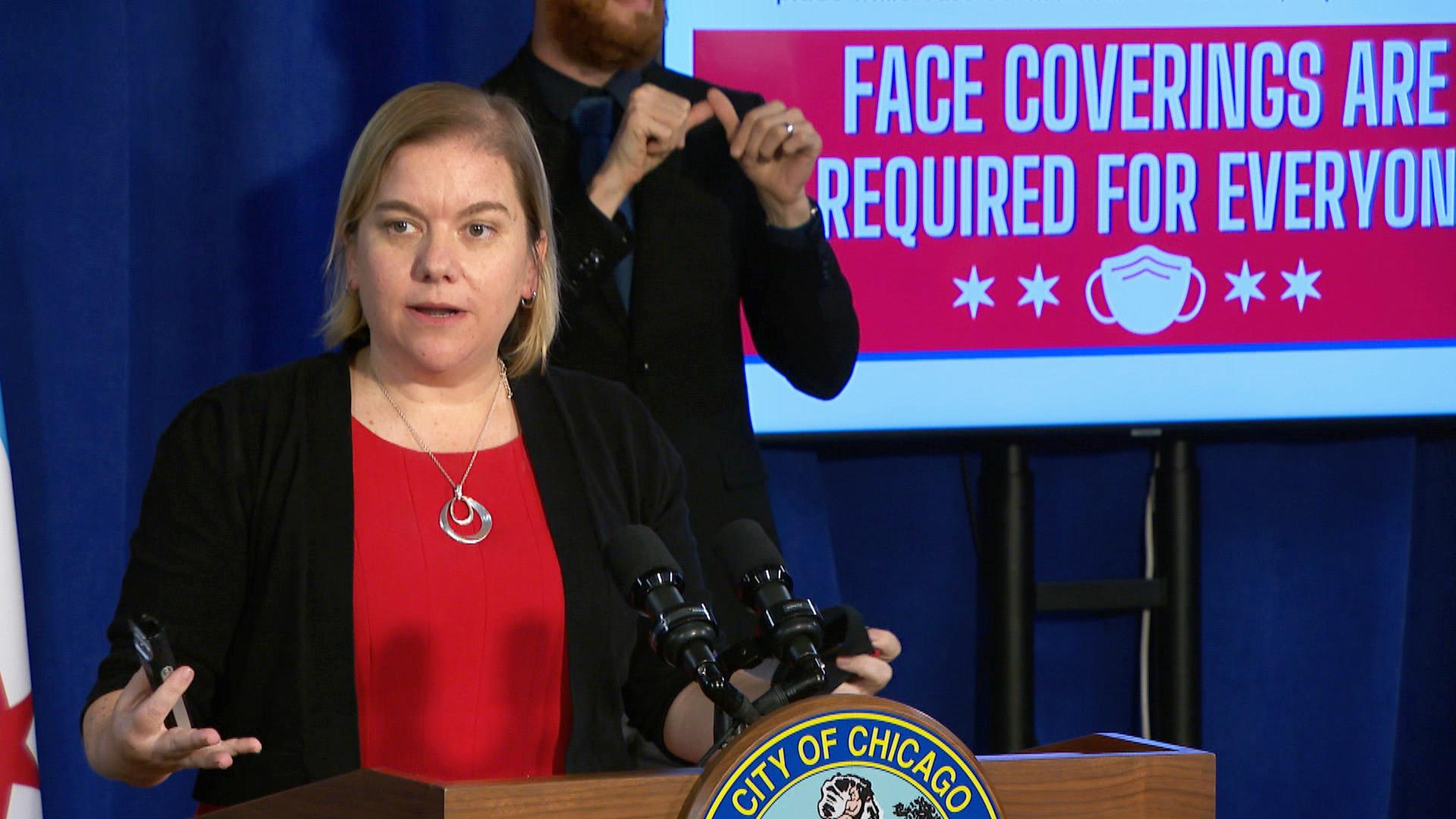 Chicago Department of Public Health Commissioner Dr. Allison Arwady announces a mask mandate for the city on Tuesday, Aug. 17, 2021. (WTTW News)
Everyone in Chicago, regardless of their vaccination status, must wear a mask indoors as the city's fourth surge in COVID-19 infections, driven by the delta variant, shows no sign of slowing, Chicago's top doctor announced Tuesday. 
The mandate takes effect Friday, officials said.  
Dr. Allison Arwady, the commissioner of the Chicago Department of Public Health, reimposed the city's mask mandate 24 hours after the city's seven-day rolling average of confirmed COVID-19 cases passed 400, an indication that Chicago residents face a "very high risk" of contracting the virus.  
"With the highly transmissible delta variant causing case rates to increase, now is the time to re-institute this measure to prevent further spread and save lives," Arwady said. "We continue to track the data closely and are hopeful this will only be temporary and we can bend the COVID curve, as we've done in the past."  
The requirement for a mask applies to patrons and employees of bars and restaurants, gyms, common areas of condos and multi-residential buildings and private clubs, officials said.  
COVID-19 infections in Chicago are concentrated among older adults who have not yet been fully vaccinated against COVID-19, Arwady said. 
"If you've been waiting to get your vaccine, especially if you're over 60, delta is here, now is the time," Arwady said. "I have been alarmed by how quickly delta has spread. It has shown the virus can mutate very quickly." 
The surge in cases and the reimposed mask mandate are not related to Lollapalooza, which took place from July 29 to Aug. 1 and drew 385,000 people to Grant Park, Arwady said. Health officials have linked 203 cases to the four-day concert. 
On July 30, city health officials recommended that all Chicagoans, regardless vaccination status, wear masks indoors but stopped short of requiring face coverings even after the Centers for Disease Control and Prevention added Chicago to its list of areas experiencing "substantial" transmission of the coronavirus. 
Arwady said she suspected that recommendation has helped slow the spread of COVID-19, but said she did not have the data available to support that belief. Arwady also said she did not regret making the recommendation on day two of the massive music festival. 
Beyond the mask mandate, city officials did not impose any restrictions on capacity limits for businesses or gatherings.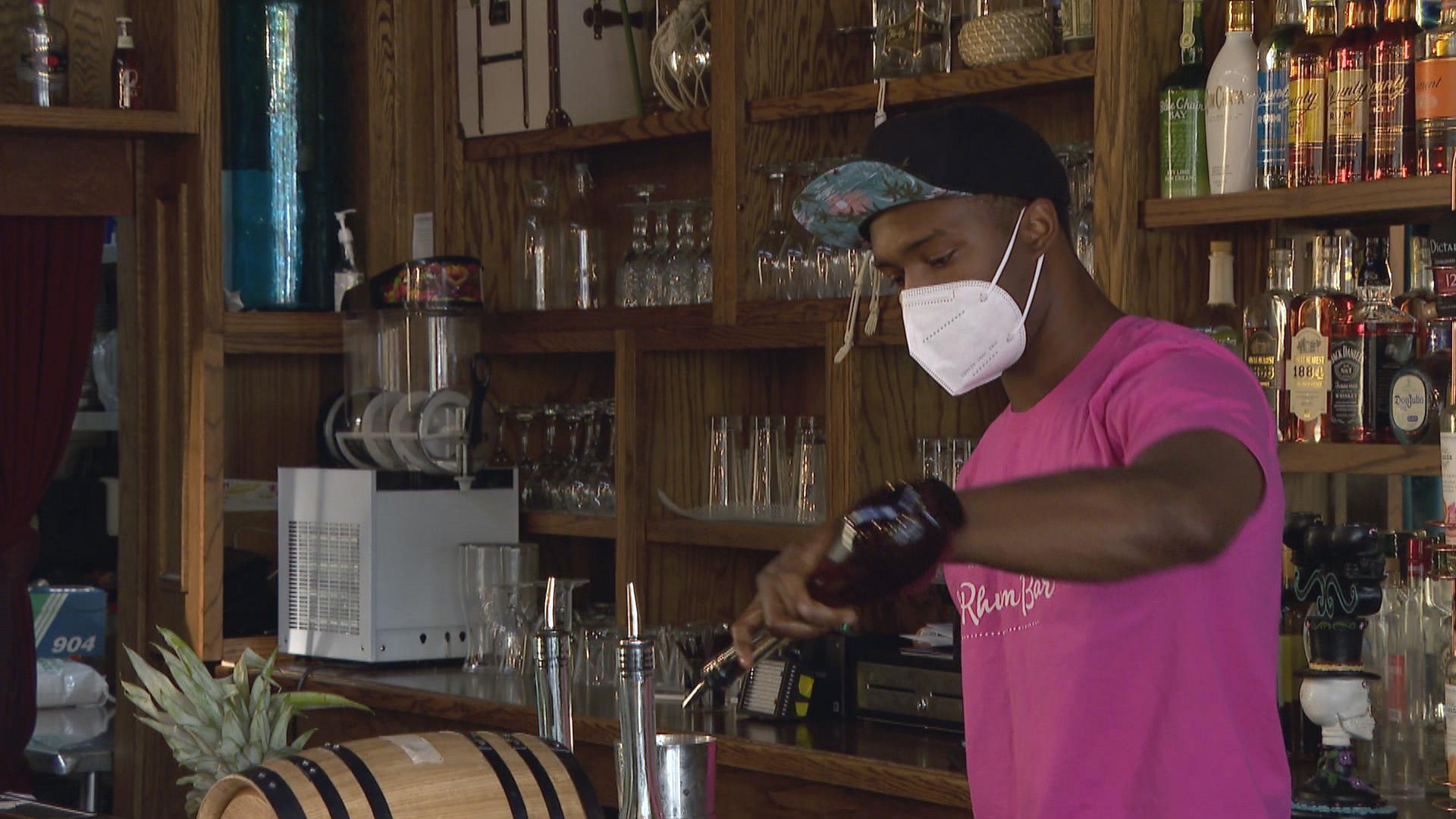 A bartender mixes a drink at the Chicago restaurant 14 Parish. (WTTW News)
However, Arwady said additional actions could come if hospitalizations spike and threaten to overwhelm the city's hospitals and health care systems or if the average number of confirmed cases rises above 800 per day. 
"Our goal is to remain open, but careful," Arwady said. 
Chicago officials are likely to impose restrictions on indoor gatherings before they impose a vaccine mandate like the ones in place in New York and San Francisco, Arwady said. 
Despite the surge in cases and the return of the mask mandate 91 days after it was lifted, Arwady told reporters she was confident it would be safe for Chicago Public Schools students to return to classes five days a week, without capacity restrictions, starting Aug. 30. 
Teachers are required to be vaccinated by mid-October and everyone will be required to wear a mask on school property regardless of vaccination status, and tests will be available on a weekly basis. 
Once school starts, the number of infections among students, including those who are younger than 12 and not eligible for the vaccine, will rise in concert with the city's overall rate, Arwady said. 
"I feel confident" that Chicago officials are doing everything to protect students from COVID-19, Arwady said. "I'm worried about the potential of months or years of our children not getting the education they deserve. Our top goal is making sure that kids can get that education with the safety things in place." 
Arwady lifted the city's mask mandate for fully vaccinated people on May 18 and the city fully reopened on June 11 as COVID-19 cases in Chicago reached an all-time low before beginning to rise along with the spread of the more transmissible delta variant of the virus.  
An average of 444 Chicagoans have been diagnosed each day with the coronavirus during the past week, a 24% increase from the previous week, according to Chicago Department of Public Health data. The city's test positivity rate has increased to 4.5% from 3.8% during the past seven days, according to city data.    
Despite the steep rise in confirmed cases of COVID-19, Arwady said she is pleased that Chicago's hospitals have ample space to care for those who are seriously ill with COVID-19 and other ailments.  
An average of 16 people were hospitalized every day during the past week after being diagnosed with COVID-19, a drop from an average of 23 people during the previous week, according to city data. Fewer than three people died of COVID-19 every day this week, city data shows.  
The new rules are required even as approximately 70% of Chicago adults have gotten at least one dose of the COVID-19 vaccine, Arwady said.  
"But with case counts now rising back to this level, the risk has increased for everyone, even those who are vaccinated," Awady said. "The time to act is now to prevent further spread. Chicago residents who have not yet been vaccinated should get a vaccine as soon as possible — it will protect you and your loved ones from the risk of serious illness or even death." 
Contact Heather Cherone: @HeatherCherone | (773) 569-1863 | [email protected]
---