(WTTW News)
Chicago officials lifted the city's mask mandate for fully vaccinated residents on Tuesday, but the city's top doctor said she "strongly advises" businesses to require their employees and patrons to wear face coverings until the city fully reopens.
The city will follow new guidance from the Centers for Disease Control and Prevention and an order issued Monday by Gov. J.B. Pritzker to lift the requirement for fully vaccinated people to wear masks to prevent the spread of COVID-19, said Dr. Allison Arwady, the commissioner of the Department of Public Health.
However, all Illinois residents must continue to wear masks in hospitals and doctor's offices as well as in congregate settings like jails and long-term care facilities and on public transportation, according to the new state rules. 
And unless Chicago businesses can verify that individuals are fully vaccinated, officials recommend keeping in place rules requiring everyone to wear a mask until the city fully reopens, Arwady said.
Mayor Lori Lightfoot has said the city is on track to fully reopen by July 4, while Pritzker has said the state is on track to reopen on June 11.
Lightfoot said Monday she plans to continue wearing a mask.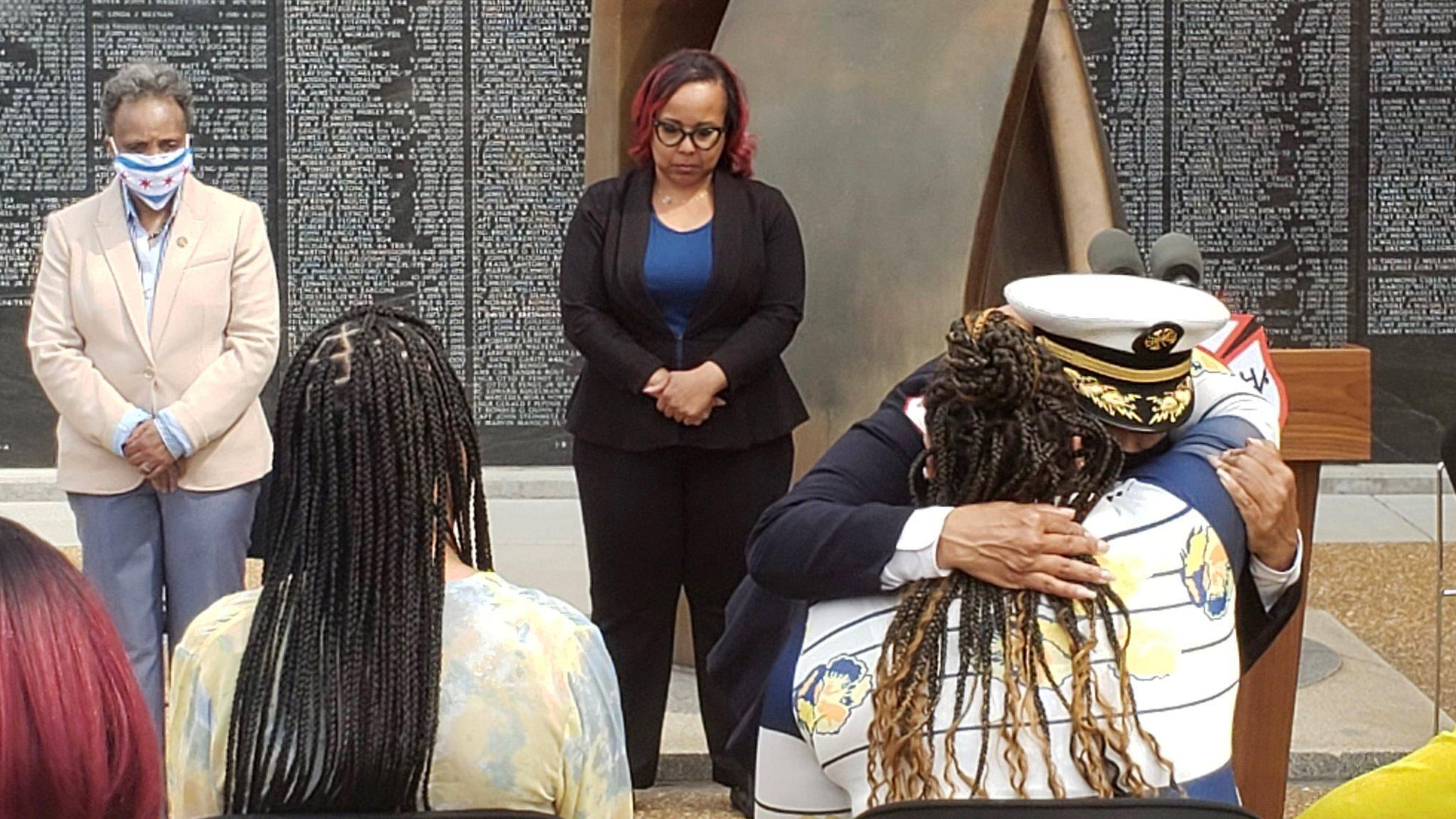 Chicago Mayor Lori Lightfoot wears a Chicago flag mask while mourning the death of Chicago Fire Department Paramedic Robert Truevillian from COVID-19 on Tuesday, May 18. (Credit: Chicago Fire Department)
While federal officials said those who are fully vaccinated do not have to maintain 6 feet of social distance from those outside their households, Chicago businesses will have to maintain capacity limits and enforce social distancing rules unless they verify the vaccination status of all employees and patrons, Arwady said.
In addition, those entering city facilities will still be required to wear a mask, regardless of their vaccination status, "at least until COVID-19 capacity restrictions are lifted," officials said.
Chicago is seeing continued progress in its efforts to stop COVID-19 from spreading, Arwady said.
An average of 311 Chicagoans have been diagnosed each day with the coronavirus during the past week, a 28% decrease from the previous week, according to Chicago Department of Public Health data. The city's test positivity rate has dropped to 3.4% from 4% during the past seven days, according to city data.  
Cases are rising fastest on the city's Far South Side, where vaccination rates are among the lowest, Arwady said.
Approximately 48% of all Chicagoans — including 60% of Chicago adults— have gotten a first dose of vaccine, while 38% of all Chicagoans and 47% of Chicago adults are fully vaccinated, according to city data. 
Children ages 12-15 became eligible for the vaccine last week.
City officials are still struggling to inoculate residents older than 65, who are at highest risk of severe illness and death if they contract COVID-19, Arwady said.
While more than 86% of Illinois residents older than 65 have gotten at least one dose of the vaccine, just 69% of Chicagoans older than 65 have gotten jabbed, according to state and city data.
Approximately 55% of Chicagoans who have received at least the first dose of the COVID-19 vaccine are white, outpacing the rate of vaccination among Black and Latino Chicagoans, who are significantly more likely to contract the virus and suffer severe illness or die, according to city data.
Approximately 32% of those who have gotten the coveted shot are Black, according to the city's data.
Chicago's population is one-third white, one-third Black and one-third Latino, according to census data.
Chicagoans can call 312-746-4835 to make an appointment to get vaccinated or request that a team of health care workers bring the vaccine to their home, Arwady said.
Contact Heather Cherone: @HeatherCherone | (773) 569-1863 | [email protected]
---