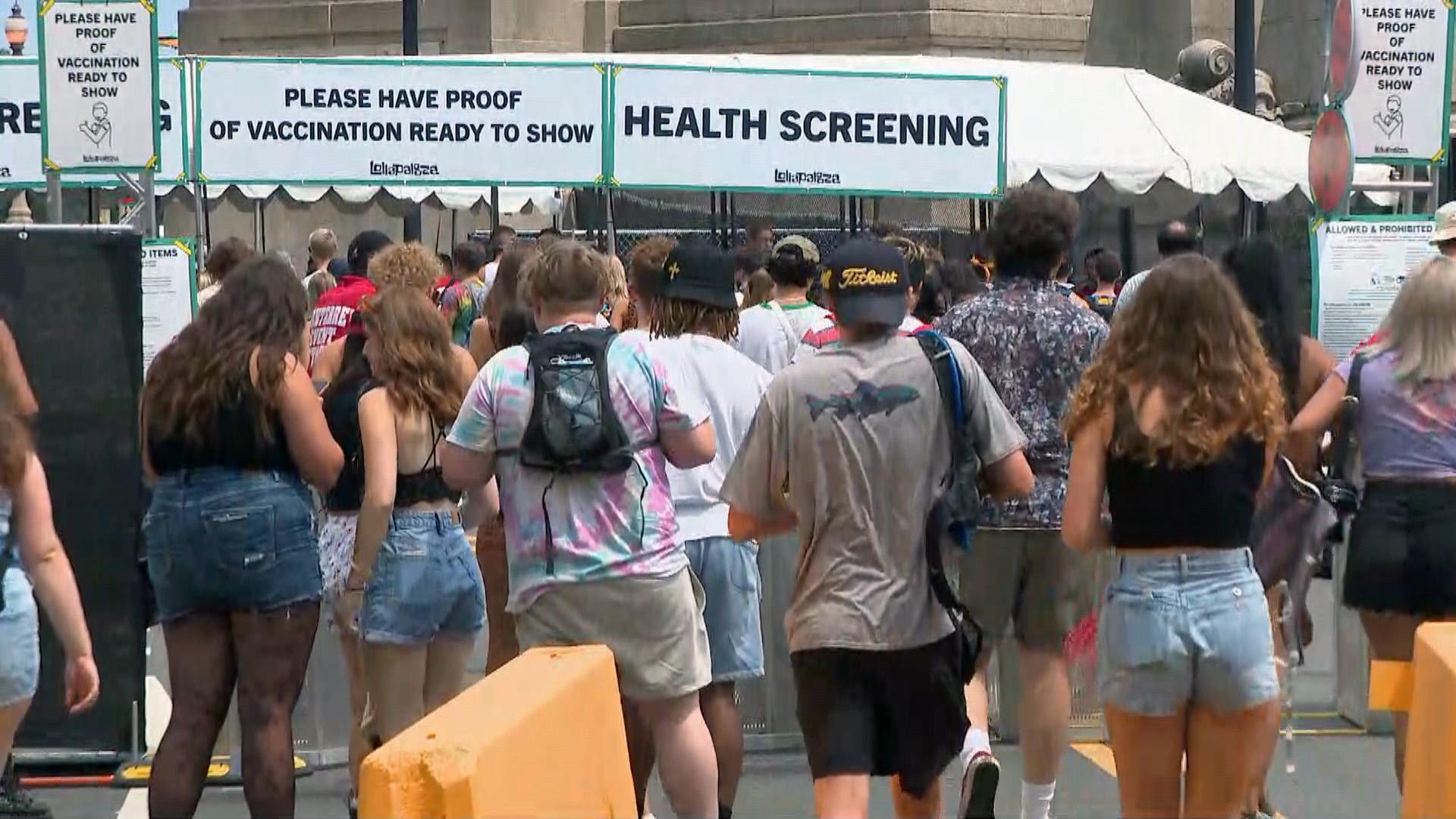 Music fans line up to enter Lollapalooza on the first day of the festival, which returns to Grant Park from July 29 through Aug. 1, 2021. (WTTW News)
There is "no evidence" that the four-day Lollapalooza concert was a superspreader event, Chicago's top doctor said Thursday.
Dr. Allison Arwady, an epidemiologist who is the commissioner of the Department of Public Health, told reporters that 203 people who attended the festival have tested positive during the 14 days since the festival started on July 29. 
"We've had no unexpected findings at this point," Arwady said. "There is no evidence at this point of a superspreader event and there is no evidence of substantial impact to Chicago's COVID epidemiology."
Arwady said she expected approximately 200 cases to be tied to Lollapalooza before the festival took place.
Most cases of COVID-19 develop within 14 days. None of the people who tested positive for COVID-19 after attending Lollapalooza have been hospitalized or died, but 82% of those who tested positive developed symptoms, Arwady said.
Citing data provided by Lollapalooza organizers, Arwady said 90% of the 385,000 music lovers who attended the festival were vaccinated. Attendees could also present a negative COVID-19 test taken within 72 hours to attend the concert.
READ: Illinois Now Has a COVID-19 Vaccine Verification System
According to data gathered by investigators working for the Chicago Department of Public Health, 127 people who attended Lollapalooza had been fully vaccinated but tested positive for COVID-19, Arwady said, adding that makes sense because of the reported high level of vaccination at the festival.
Approximately 68% of confirmed COVID-19 cases were reported by concertgoers who live in Illinois but outside Chicago and nearly 70% were younger than 30, Arwady said.
Approximately 62% of those who tested positive after attending Lollapalooza are white, Arwady said.
Of the Chicagoans who tested positive after attending Lollapalooza, 22% reported attending the concert on the day they developed symptoms or after they developed symptoms.
"We need everyone in Chicago not to ignore symptoms and assume it is a summer cold regardless of your vaccination status," Arwady said. 
Arwady said health department officials will continue to track confirmed cases of COVID-19 among those who attended Lollapalooza.
The initial data should prompt other large music festivals to follow Lollapalooza's example and only take place outside and require vaccination or a recent negative COVID-19, Arwady said. 
Mayor Lori Lightfoot said in a tweet that the data supported her decision to allow the concert to take place despite concerns that it would trigger an even larger surge of confirmed COVID-19 cases.
"In Chicago, we can be open AND be careful," Lightfoot tweeted. There was a lot of skepticism about whether it was safe to host Lollapalooza this year. This is why we rely on data."
An average of 364 Chicagoans have been diagnosed each day with the coronavirus during the past week, a 39% increase from the previous week, according to Chicago Department of Public Health data.
The city's test positivity rate is 3.8%, up from 3.5% from past week, while the number of tests rose 27% to an average of approximately 11,100 per day, according to city data.  
Daily hospitalizations have risen by 6% in the past seven days, and 58.9% of all Chicagoans have gotten at least one dose of the COVID-19 vaccine, according to city data.
If Chicago continues to experience an increase in the number of confirmed cases and reaches a seven-day rolling average of more than 400 cases, city officials will be forced to impose "more enforcement" of measures designed to stop the spread of COVID-19, Arwady said.
That increase is being driven by the more transmissible delta variant of the coronavirus, which accounts for 90% of all COVID-19 cases in Chicago, Arwady said. 
Approximately 99.7% of Chicagoans diagnosed with COVID-19 have not been fully vaccinated against the virus, Arwady said.
Chicago is not seeing a significant surge in COVID-19 among residents younger than 17, even though those younger than 12 are not eligible for the vaccine.
Black Chicagoans, who are less likely to be vaccinated against COVID-19 than any other racial or ethnic group, are most likely to be diagnosed with COVID-19, get seriously ill and die, Arwady said. 
Of the 51 Chicagoans who have died since July 11 after being diagnosed with COVID-19, 66% are Black, according to city data.
City officials are working to boost the vaccination rate among Black Chicagoans, Arwady said.
Contact Heather Cherone: @HeatherCherone | (773) 569-1863 | [email protected]
---