Illinois legislators may be back in Springfield soon for another summer special session, to try once again to pass a massive energy package that thus far has proven elusive.
The result – be it passage of a new law, or a continued stalemate — will impact everything from Illinois' role in climate change to your energy bill.
But the stakes are particularly high in one northern Illinois town. 
Byron, Illinois – about 11 miles outside of Rockford — has had various identities since its founding in 1849. It's been home to canning plants, railroad stops and a milk depot.
Mayor John Rickard says all of those have come and gone. But since 1985, Byron has had a new identity: It's home to a pair of nuclear generators.
At full power, Byron's nuclear plant is pumping out enough energy to power some 2 million northern Illinois homes.
But Byron's power is literally running out.
"This particular plant has a fixed amount of fuel loaded in it and that was loaded 18 months ago," said Exelon Executive Vice President and Chief Generation Officer Bryan Hanson. "That fuel is losing energy. In fact I think in the next couple of days we'll start to see the reactor lose its power, from 100% power it will slowly trickle down to about 70% power, then the plant shuts down on Sept. 13."
That's an important date.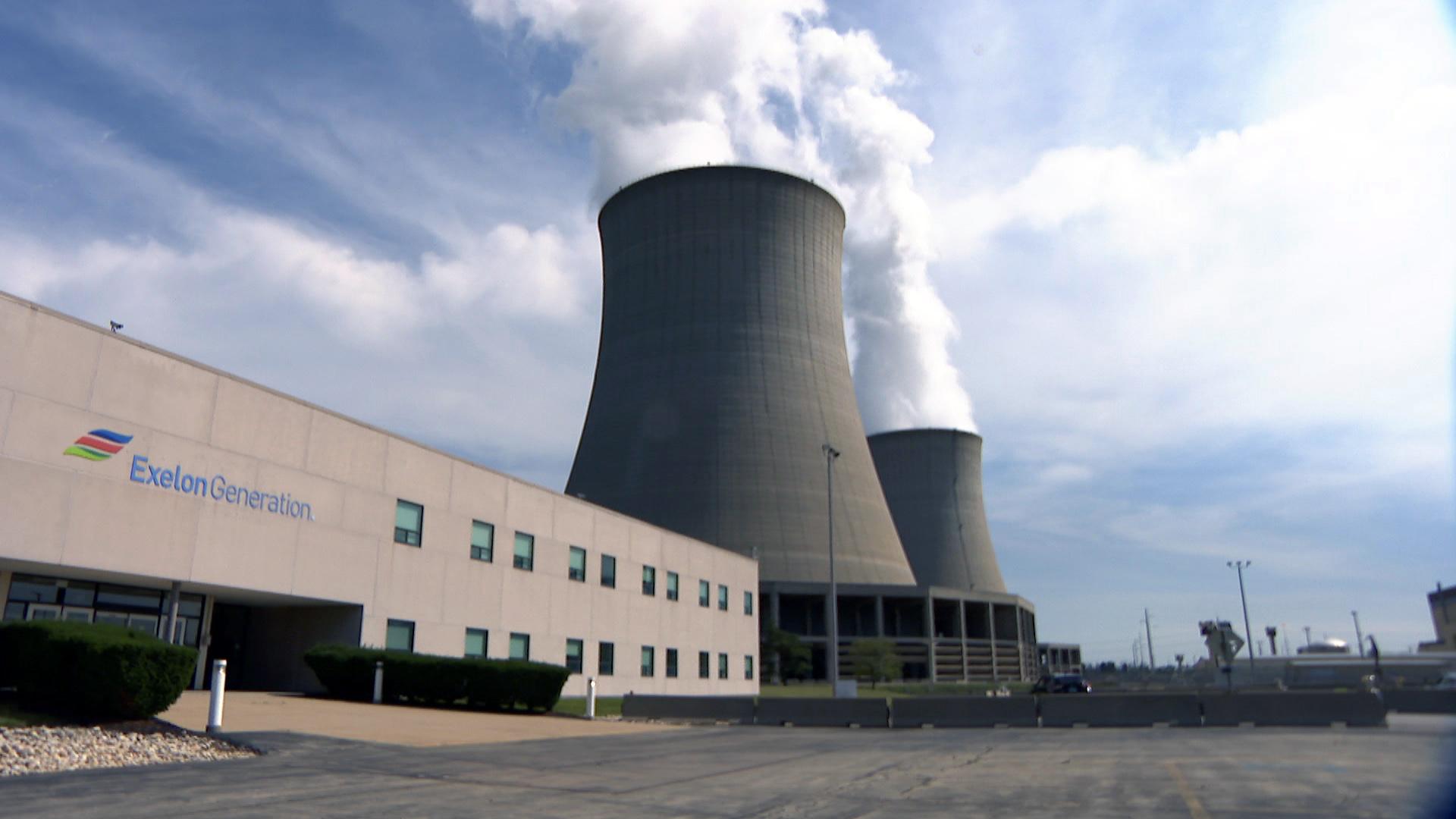 At full power, Byron's nuclear plant is pumping out enough energy to power some 2 million northern Illinois homes. (WTTW News)
Nuclear plants have to refuel from time to time; at Byron, a reactor is temporarily shut down to refuel every 18 months.  But Exelon has already given notice to regulators that it may not refuel, and may in fact retire the Byron plant completely.
That's a big deal. If you don't put more gas in the car when the tank's nearing empty, you can wait and fill it up later. When you're dealing with radioactive nuclear fuel rods, it's not so simple.
"We're preparing right now to shut down these reactors forever," Hanson said. "That means shutting the plant down, turning the turbines off, the generators off, shutting down the reactor."
Rickard says Exelon pulling the plug on the plant would be devastating for Byron and the entire region. Byron's population has more than doubled since the generators were built, from about 1,200 to 3,800.
"We feel like we're pawns in a game we can't control," Rickard said. "The discussions in Springfield we don't seem to have any influence on anymore. We're kinda sitting here going 'do you realize what you're doing to us?'"
Christine Lynde is president of the Byron school board. Her youngest daughter just graduated from Byron High School.
"To do nothing is to condemn this town, our school district," Lynde said.
Lynde has taken on double duty since Exelon announced in August 2020 that it was considering early retirement for the Byron plant; she's also part of the Byron Station Response Committee, which is fighting to keep the generation station open.
Property taxes from the nuclear plant comprise a whopping 74% of the district's budget — some $19 million that would be difficult, if not impossible, to replace.
The next few weeks will determine whether it's a reality Byron will have to face.
Exelon executives say they have no choice, and they're preparing employees at the station for that possibility.
"People are skeptical about Exelon and if they're really serious about what's going to happen and I can tell you they are," said Exelon Electrical Maintenance Department Manager Jon Banzhaf, a father of three who said if Byron did close, he would likely have to move in order to get a job at another nuclear plant.
The Chicago-based corporation has 21 reactors at a dozen sites nationwide. Nearly half are in Illinois.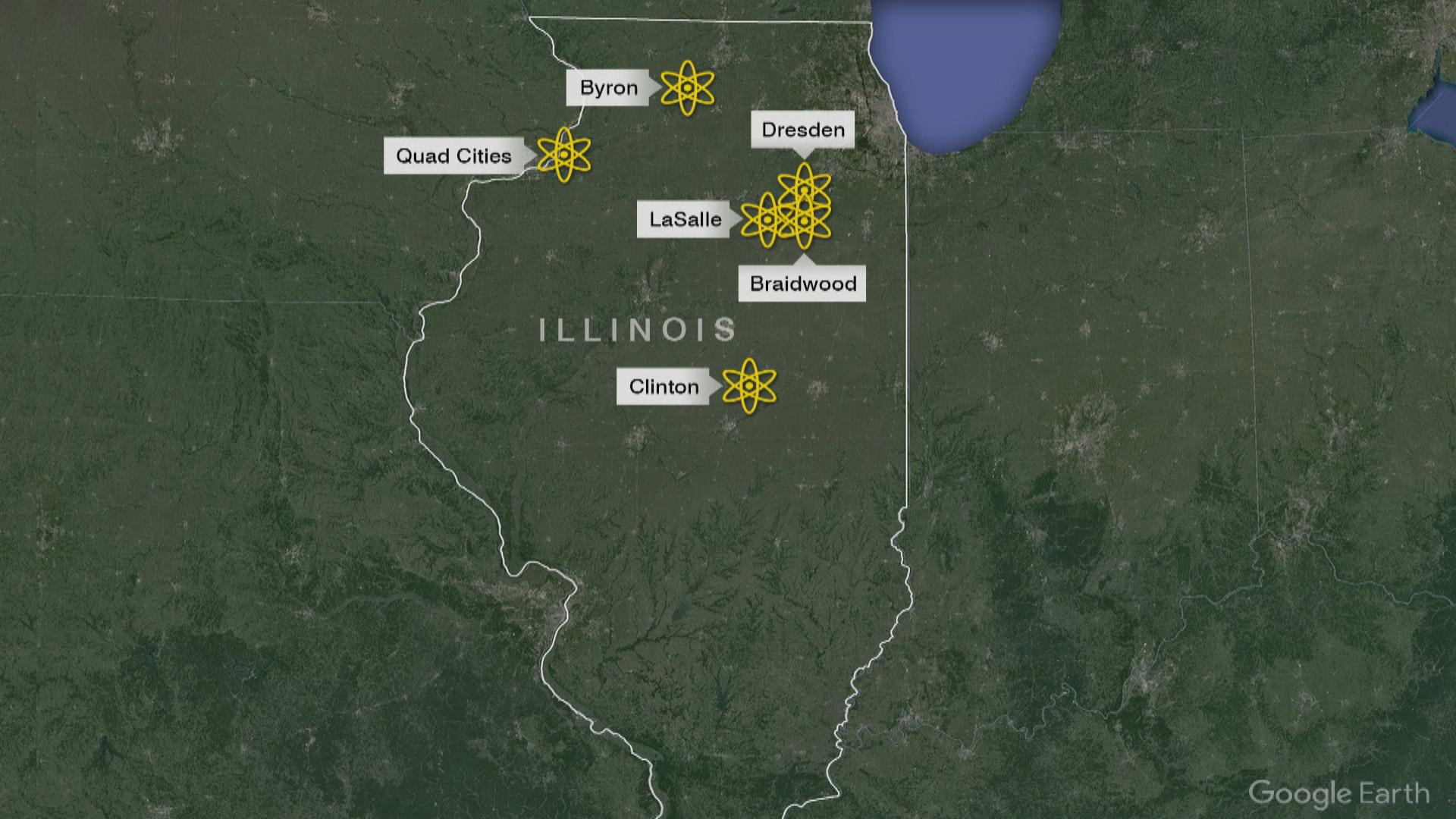 (WTTW News)
Exelon is a profitable corporation: the latest SEC filings show its CEO, Chris Crane, was compensated to the tune of more than $14 million.
But due in part to energy market particulars and cheap natural gas prices, Exelon says its Byron and Dresden stations are losing money.
It's not just Exelon that says so. The state commissioned a study and found that while they could be profitable in the future, "Byron and Dresden do face real risk of becoming uneconomic in the near term."
Exelon is moving to close them (in energy parlance, "retire" the plants, decades ahead of their scheduled retirement) unless the Illinois legislature comes through.
A proposal floated in the statehouse would have ratepayers — as in, anyone who uses and pays for electricity in Illinois — pay a subsidy to keep them open. It would take the form of an extra charge on your electric bill, worth nearly $700 million, that Exelon would use to keep the plants open for at least the next five years.
It's a big ask, especially considering what happened last July, when Exelon subsidiary Commonwealth Edison was charged with bribery.
Former Illinois House Speaker Michael Madigan — repeatedly referenced in court documents as "Public Official A" — has denied any knowledge of a bribery scheme but helped steer through legislation that helped ComEd.
Exelon benefitted too, by way of a law that currently has electricity customers paying a subsidy for two of its other Illinois plants, in Clinton and the Quad Cities.
It's a new phenomenon not singular to Illinois, as nuclear companies in deregulated energy markets like Illinois' put their corporate hands out, and as states look to reduce their greenhouse gas emissions.
The still-in-the-works energy package Illinois lawmakers are contemplating also has a goal of moving to 100% energy from renewable sources by 2050.
"Right now the markets pay a megawatt of electricity the same whether it's carbon free or whether it came from the dirtiest coal plant in the United States, " Hanson said. "There's no difference. We're polluting the environment without any consequence on the revenue, so therefore we should be designing market solutions and until we have market solutions, we're asking politicians to dive into the energy market and help pick winners and losers."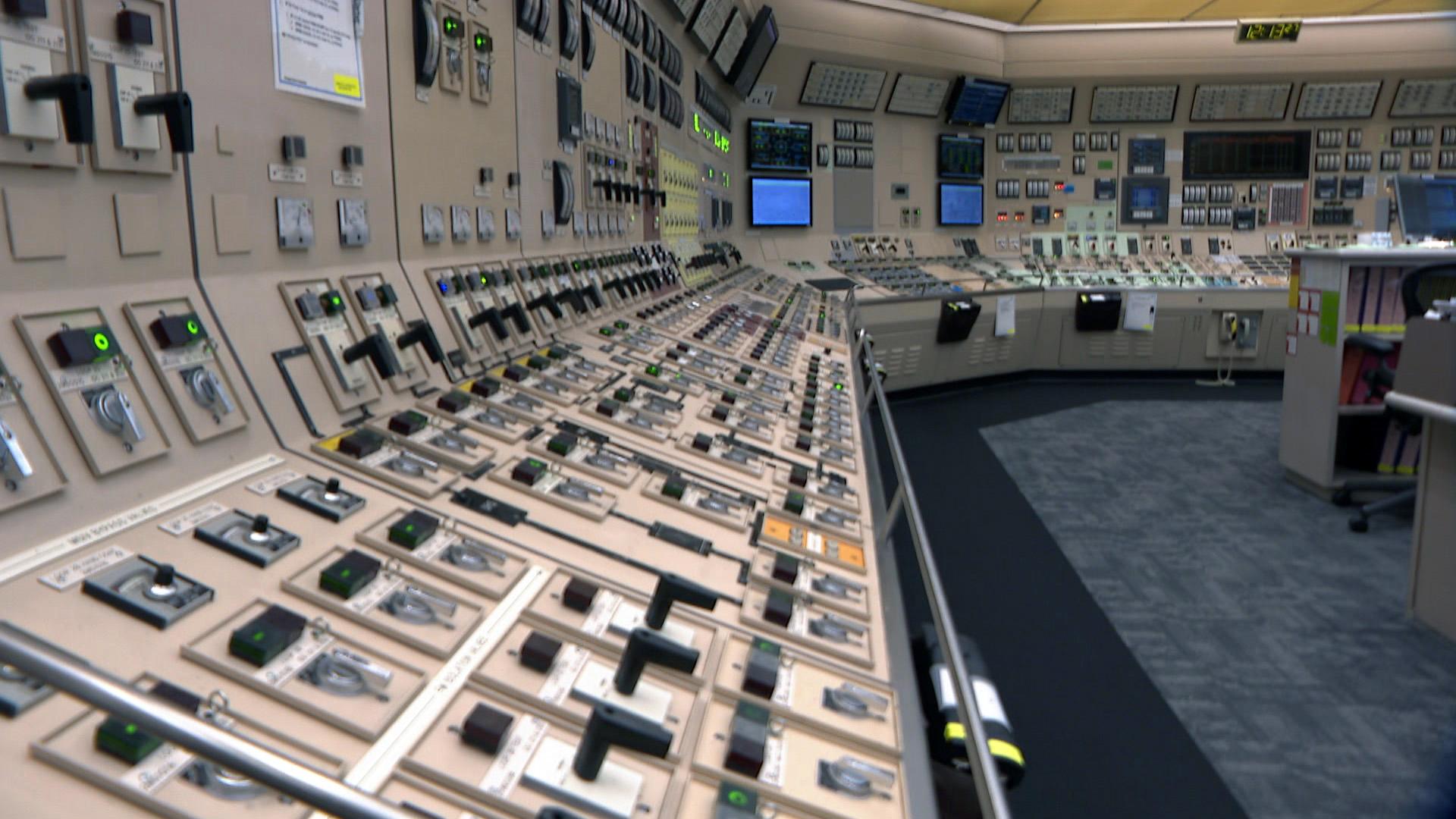 Byron Nuclear Generating Station in Ogle County, Illinois. (WTTW News)
Exelon says the uptick customers will pay to keep these plants open is less than the spike you'll see on your electric bill if the nuclear plants are allowed to retire early.
But the Illinois Chamber of Commerce is skeptical of another Exelon bailout.
"We become very concerned when a profitable company seeks to lock in profits through the Illinois General Assembly, when those profits are going to be paid for by ratepayers," said Alec Messina with the chamber's Energy Council.
And critics of nuclear energy say Exelon's threats are akin to ransom.
"Exelon first started what we've dubbed the nuclear hostage crisis. It's a pattern where a utility will for whatever reasons threaten closure, which gets the workers very upset, then the local community whose tax base depends on it gets upset, they pressure their legislators, and then the legislators grant bailouts," said Dave Kraft, head of the Nuclear Energy Information Service.
Kraft said rather than continuing to support nuclear energy, Illinois needs to redouble its commitment to wind and solar.
Despite those criticisms, Gov. J.B. Pritzker is on board with the Exelon subsidy.
It helps the Exelon portion of the broader, omnibus energy plan has the backing of labor unions (hundreds of unionized pipefitters, boilermakers, teamsters, electricians and carpenters are hired by the plant every time a reactor is refueled) as well as environmentalists, who see nuclear energy as a carbon-free path as wind and solar are built up.
But labor and backers of renewable energy remain divided over the deadline for phasing out energy plants fired by carbon-emitting coal and natural gas.
That's the main impasse preventing passing of an energy law that would not only bailout Exelon, but would also prop up renewable energy and give the state additional oversight of utilities like ComEd.
Being at the mercy of the larger fight is frustrating for Lynde, the Byron school board president.
"There's so much god that could happen here (in the energy omnibus bill), but people are digging in for something that we're talking about in 10, 15, 20 years from now. We're fighting about what's going to happen in 2035 and 2045, when in three weeks we're going to lose nuclear," she said.
Back at the Byron plant, operator Ken Feldman is manning his station in the reactor's operating room—scanning – to make sure everything's on track.
"See all these alarms up here all the way around, these are all alarms," he shows, pointing to walls of gadgets, gizmos, buttons and screens. "Even if a really important one goes off, you stay calm. There's time to just walk up calmly and take care of things."
But in this case, time is running short, and Exelon is blaring the alarm.
"Until we submit that letter to permanently defuel operations, we can reverse but reversing a decision like we're mad is like turning a cruise ship around," Hanson said.
He says once the letter to decommission is submitted – once the fuel rod's removed – Byron is closed. Forever.
Follow Amanda Vinicky on Twitter: @AmandaVinicky
---