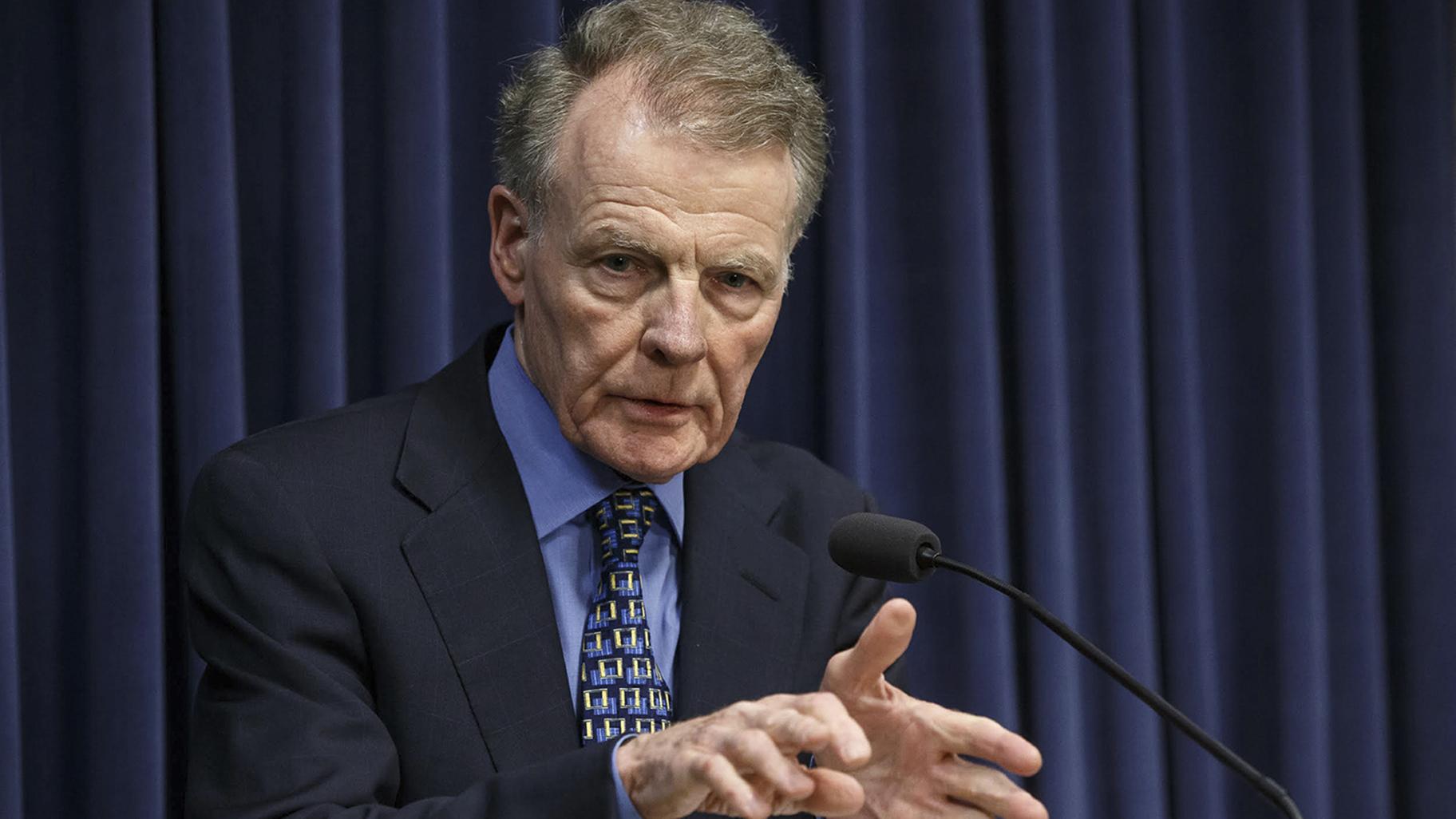 In this July 26, 2017 file photo, Illinois House Speaker Michael Madigan speaks at a news conference at the state capitol in Springfield, Illinois. (Justin Fowler / The State Journal-Register via AP, File)
Longtime Illinois House Speaker Michael Madigan denies having done anything criminal or improper despite being implicated Friday in court filings that charge utility Commonwealth Edison with bribery.
That court filing details an arrangement in which ComEd admits to arranging jobs, contracts and payoffs to Madigan associates, some of whom did little or no work for the company, from 2011 to 2019 in order to win influence and curry favor with Madigan, given the powerful legislator's ability to help ComEd advance laws that benefitted the company by paving the way for higher electric rates.
ComEd admits to payouts of approximately $1.3 million in exchange for a pair of laws that relaxed regulators' oversight of ComEd's rate-setting structure that benefited the company to the tune of $150 million.
"In many ways this agreement, including and specifically ComEd's statement of facts, should speak for itself. But it also speaks volumes about the nature of a very stubborn public corruption problem we have here in Illinois," said U.S. Attorney for the Northern District of Illinois John Lausch. "The admitted facts detail a nearly decadelong corruption scheme involving top management of a large public utility, leaders in state government, consultants and several others inside and outside government. In two words: It's not good."
A "vibrant" corruption investigation is ongoing, Lausch said.
Madigan has denied any wrongdoing or participation in such a scheme.
On Friday afternoon, Madigan announced in a statement that he was served subpoenas seeking documents, among them any papers related to possible job recommendations.
The speaker, who also served as chairman of the Democratic Party of Illinois, said he will cooperate and that those papers "will clearly demonstrate that he has done nothing criminal or improper."  
"The Speaker has never helped someone find a job with the expectation that the person would not be asked to perform work by their employer, nor did he ever expect to provide anything to a prospective employer if it should choose to hire a person he recommended. He has never made a legislative decision with improper motives and has engaged in no wrongdoing here. Any claim to the contrary is unfounded," the statement reads.
The conduct described in a 38-page deferred prosecution agreement is detailed, and at times directly quotes associates of Madigan and ComEd executives, including former ComEd CEO Anne Pramaggiore, who abruptly resigned in October 2019 and who is referred to in the indictment only as "CEO 1."
As part of a deferred prosecution agreement, ComEd will pay $200 million – the largest criminal fine in the history of the Northern District, according to Lausch –  and is agreeing to the single charge, which will be dropped in three years should the company fully abide by terms of the deal with prosecutors.
According to the filing, Madigan "for decades" also referred individuals to ComEd to work jobs like reading meters, in what one participant of the scheme referred to as "old-fashioned patronage"; ComEd could then use the hires as chips as it sought legislative action in Springfield.
Madigan's name doesn't directly appear in the filing, though it might as well have.
"Public Official A is the Speaker of the Illinois House of Representatives and the longest serving member of the House of Representatives," prosecutors wrote in one document. "ComEd understood that, as Speaker of the House of Representatives, Public Official A was able to exercise control over what measures were called for a vote in the House of Representatives and had substantial influence and control over fellow lawmakers concerning legislation, including legislation that affected ComEd."
When pressed by reporters why prosecutors did not explicitly name Madigan, and whether he may soon face indictment, Lausch was restrained.
"When an individual's not charged, we don't identify any particular individual. We describe the facts and circumstances as they are. And so that's it. We're not going to comment on the identity of Public Official A," he said.
Gov. J.B. Pritzker said he is "furious" over the allegations, which he said "strike at the core of what public service means."
"The speaker has a lot to answer for," the Democratic governor said. "If these allegations of wrongdoing by the speaker are true, there is no question that he will have betrayed the public trust and he must resign therefore. In the meantime, I urge the speaker to fully cooperate with the investigation."
Other officials say there's no need to wait and that Madigan should resign now.
State Sen. Melinda Bush, D-Grayslake, said in a statement that Madigan should "resign not only his Speakership and his legislative seat, but step down as chairman of the Democratic Party of Illinois, effective immediately."
Republicans are likewise calling for the speaker to step down, and for the General Assembly to tackle ethics measures that were pushed aside during this spring's brief legislative session.
Madigan, after chairing a meeting of the state party in Springfield, was asked by reporters about the GOP's calls for ethics reform. He said Republicans should be concerned first with the ethical quandaries of President Donald Trump.
ComEd continues to be the subject of an investigation by the U.S. Securities and Exchange Commission.
"We are committed to maintaining the highest standards of integrity and ethical behavior. In the past, some of ComEd's lobbying practices and interactions with public officials did not live up to that commitment," Christopher Crane, CEO of ComEd parent company Exelon, said in a statement. "When we learned about the inappropriate conduct, we acted swiftly to investigate. We concluded from the investigation that a small number of senior ComEd employees and outside contractors orchestrated this misconduct, and they no longer work for the company. Since then, we have taken robust action to aggressively identify and address deficiencies, including enhancing our compliance governance and our lobbying policies to prevent this type of conduct."
Follow Amanda Vinicky on Twitter: @AmandaVinicky
---