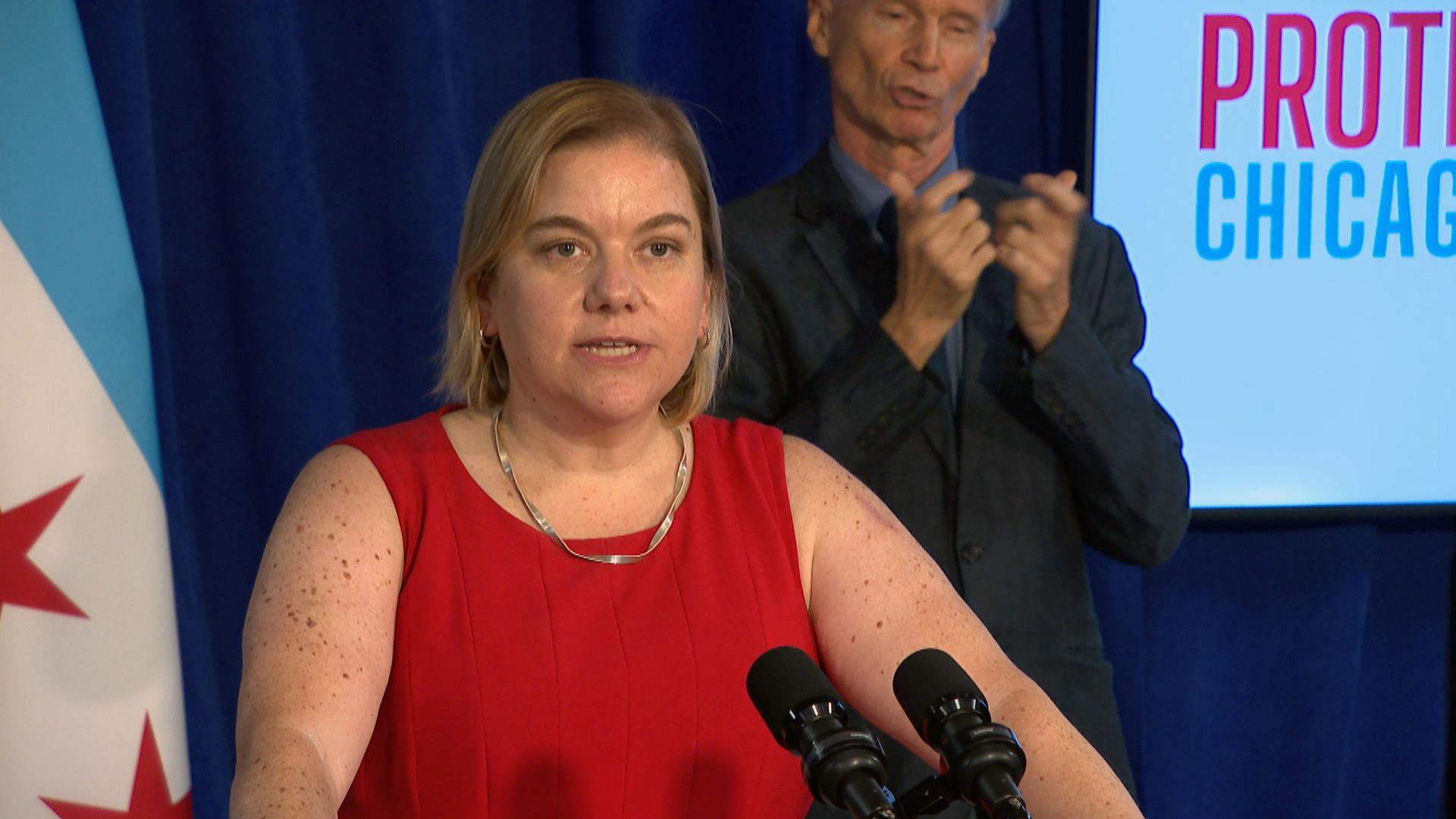 Dr. Allison Arwady, commissioner of Chicago's public health department, talks about the rise in COVID-19 cases on Tuesday, July 27, 2021. (WTTW News)
Some people are certain to contract COVID-19 after attending Lollapalooza, but Chicago's top doctor told reporters Tuesday she is "hopeful" that it will not turn into a superspreader event.
Dr. Allison Arwady, an epidemiologist who is the commissioner of the Department of Public Health, said rules requiring concertgoers to be fully vaccinated against COVID-19 or to test negative for COVID-19 within 72 hours of the event are sufficient to allow the festival to go forward despite a surge in cases.
"I'm certainly hopeful that we won't see a significant problem," Arwady said when asked whether she is confident that Lollapalooza won't turn into a superspreader event. "And I certainly know we're being a lot more responsible than many other settings that are just as large that are gathering around the country."
More than 100,000 fans are expected to attend the rock festival each day of the four-day festival, which will be allowed to operate at full capacity. Miley Cyrus will headline the concert Thursday, with Tyler the Creator and Marshmello on Friday, Post Malone, Megan Thee Stallion and Journey on Saturday and Foo Fighters and DaBaby on Sunday.
Mayor Lori Lightfoot said Monday she is not having second thoughts about allowing the event to take place in Grant Park despite the continuing uptick in COVID-19 cases and hospitalizations, along with confusion over the testing requirement for music fans who are not vaccinated.
When Lightfoot and Arwady announced the festival's return after its cancellation in 2020, officials said attendees who are not fully vaccinated would have to show proof of a negative COVID-19 test taken within 24 hours of arriving at the event.
However, entry protocols outlined on the event website require a negative test within 72 hours — a period three times as long as originally announced that expands the window in which a music fan could contract the virus after taking the test and before attending the show, where revelers are packed together.
Arwady said that was changed by festival operators because a 24-hour requirement was not practical.
City officials also announced Tuesday that they had added nine states to its travel advisory, which was reinstituted on July 13. In all, the advisory covers 14 states and one territory.
Alabama, Alaska, Arizona, Kansas, Mississippi, Oklahoma, Tennessee, Texas and Wyoming joined Arkansas, Missouri, Florida, Louisiana, Nevada and the U.S. Virgin Islands to its travel advisory, which was reinstituted on July 13.
Unvaccinated visitors to Chicago from those states are urged to quarantine for 10 days or record a negative test for the coronavirus within 72 hours of their arrival, officials said.
After hitting an all-time low of 34 cases per day based on a seven-day average on June 28, Chicago is now recording 176 cases per day, according to data from the Chicago Department of Public Health. In the past week, the number of cases has risen 69%, according to city data.
The city's COVID-19 test positivity rate is now 2.8% after dropping to 0.4% on June 27.
On June 11, Chicago officials dropped all restrictions on businesses and gatherings designed to stop the spread of COVID-19. Sixteen days later, new cases of the coronavirus began to rise in Chicago. New cases develop within two weeks of infection, according to health officials.
Contact Heather Cherone: @HeatherCherone | (773) 569-1863 | [email protected]
---