An estimated 21 million Americans believe that Joe Biden is an illegitimate president and that former President Donald Trump should be restored to the White House by force.
That's the disturbing finding of a new report from the University of Chicago that seeks to understand what motivated the insurrectionists who attacked the U.S. Capitol on Jan. 6.
The research, which surveyed 1,070 Americans, was led by Robert Pape, a political science professor at the University of Chicago and director of the Chicago Project on Security and Threats.
The new report is the fifth in a series of reports the research institute has produced on the Capitol attack.
Researchers found that approximately 65 million adult Americans, roughly 26% of the population, believe the Biden presidency is illegitimate and that 23 million, roughly 9%, support the use of force to restore Trump to the presidency.
But, says Pape, the most important finding is that 21 million Americans believe both of those things.
"That is 21 million adults in the United States believe both that restoring Trump to the presidency by force is justified and that Biden is an illegitimate president," said Pape. "That's very important because they're holding two beliefs together, not just like one or the other. It's like disturbing squared."
Pape says the fact these Americans believe both things means they're more adamant in their beliefs.
"You could be concerned that somebody would just like randomly respond to a radical question," said Pape. "But when they respond to multiple radical questions in the same extreme way, that's not just randomly checking boxes."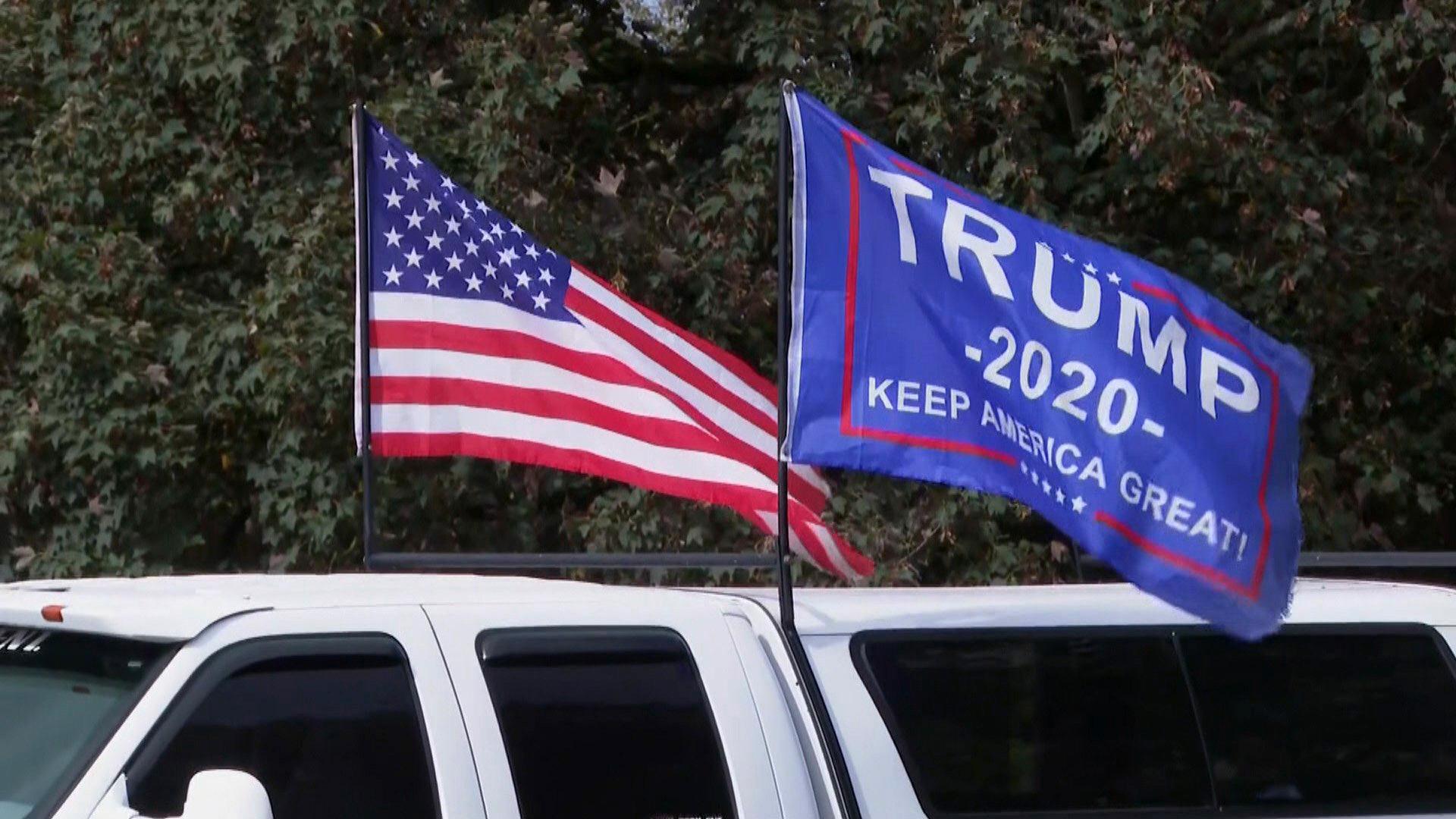 An American flag and Trump campaign flag fly at a Proud Boys rally ahead of the 2020 presidential election. (WTTW News via CNN)
He said the impact of having so many people holding such extreme beliefs was akin to having dry forests in a time of global warming.
"They are the fuel that any political match could touch off into a wildfire," said Pape.
Researchers found that the twin core beliefs — that Biden is an illegitimate president and Trump should be returned to office by force – are underpinned by the openly racist great replacement theory that the rights of Black and Latino people will outpace the rights of white Americans, and the QAnon conspiracy theory that a satanic cult of pedophiles is running the U.S. government.
"We know that in recent years there has been more and more discussion by pundits on TV, by politicians, (talking about the idea) that whites will lose their rights compared to minorities. We also know there has been more and more concern about a deep state running the federal government," said Pape. "What we're seeing now is that morphing into action."
While it may be tempting to write off such beliefs, Pape thinks that's not a good idea.
"We've already had the Jan. 6 insurrection. So we've seen action in relation to these ideas," said Pape. "And what we're finding in this survey is that the insurrectionist movement and the ideas driving the movement are continuing and they're large and they're dangerous because the capabilities (to use violence) are there."
---