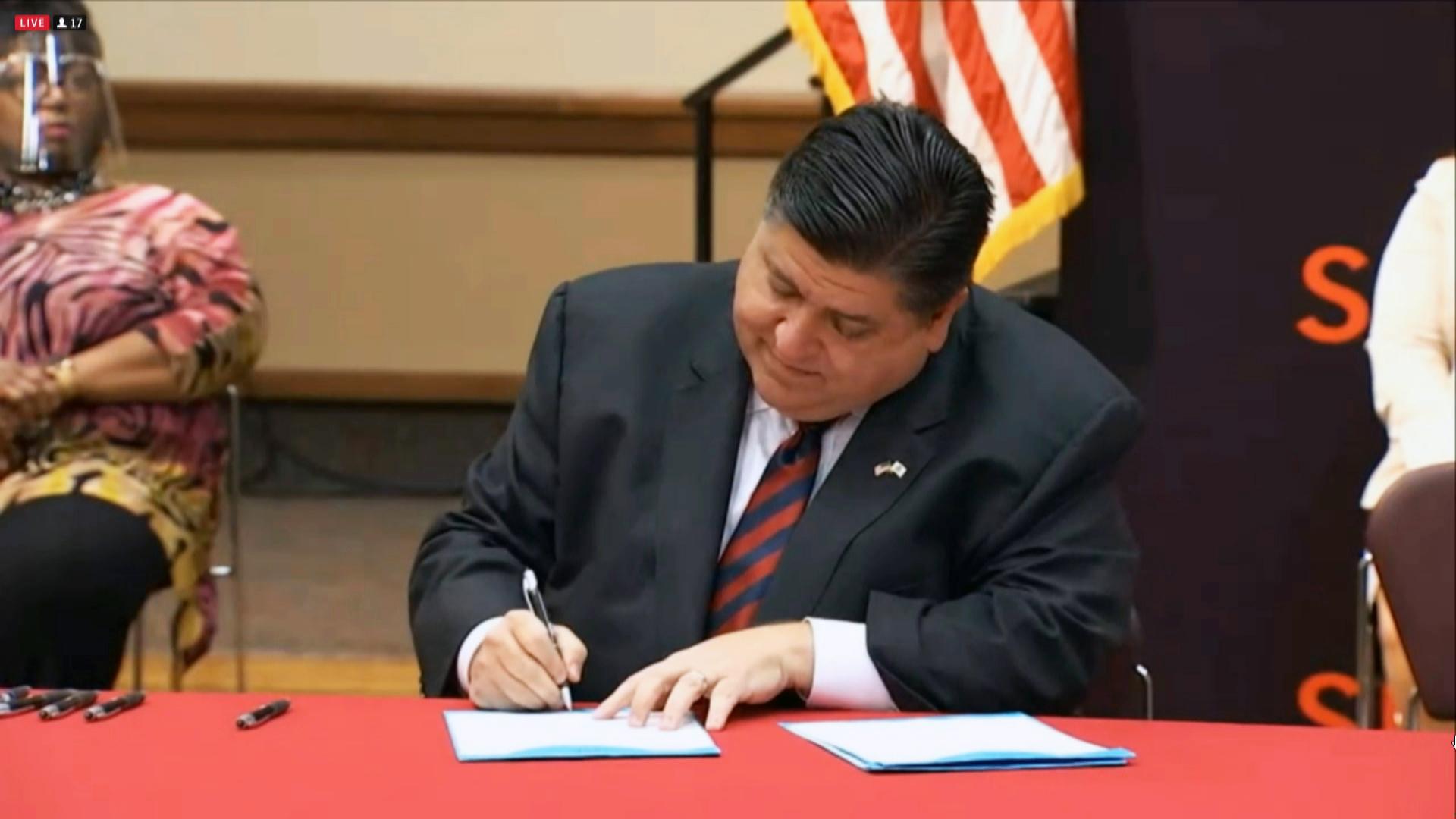 Gov. J.B. Pritzker signs the Feminine Hygiene Products for the Homeless Act on Thursday, Aug. 5, 2021. (WTTW News via Governor's Office)
Gov. J.B. Pritzker signed legislation Thursday that makes menstrual products available for free at homeless shelters, public universities and community colleges throughout Illinois.
"The pandemic has laid bare many of the quiet sacrifices that women are disproportionately forced to make in the face of financial instability: keep a job or stay home to take care of kids, pay the rent or buy groceries, pay medical bill or keep the lights on," Pritzker said.
"Given the high price of menstrual products, such as pads and tampons, it's no wonder that many women below the poverty line have had to sacrifice. Today, we're reducing the burden of period poverty and making those very difficult personal choices a little bit rarer in Illinois."
The Feminine Hygiene Products for the Homeless Act (HB0310), effective Jan. 1, will require all homeless shelters that grant temporary housing to women and youth to provide products such as sanitary napkins, tampons and panty liners free of charge, if their budget allows for it.
"People who have been deprived of so much should not be forced to use other items as makeshift sanitary products," said state Sen. Christopher Belt (D-Swansea). "I cannot personally imagine the indignity women in homeless shelters feel. Today, however, is a step toward ensuring no one else has to feel the pain or embarrassment of not having clean, safe feminine hygiene products."
House bill 641, effective immediately, requires all Illinois public universities and community colleges to provide free feminine hygiene products in campus bathrooms.  
"This legislation is an important because it recognizes a simple fact of biology: about half our population experiences menstruation throughout a significant portion of their lifetimes," state Rep. Katie Stuart (D-Edwardsville) said.
"We all agree collectively that soap, toilet paper, tissues, napkins, seat covers and all those kinds of things are provided for us in public spaces," Stuart said "This legislation puts menstrual hygiene products in that same category, which is exactly where they belong."
Boards of trustees at colleges and universities will determine what funding is needed to meet the newly created requirement, according to the governor's office.
Pritzker also signed legislation (HB155) that would pave the way for recipients of the Supplemental Nutrition Assistance Program (SNAP) and the Special Supplemental Nutrition Program for Women, Infants and Children (WIC) to use those programs for diapers and menstrual products, which isn't currently allowed. The bill, effective Jan. 1, requires the Illinois Department of Human Services to apply for a waiver from the U.S. Department of Agriculture's Food and Nutrition Service make that possible.
"Across the country, 1 in 4 women regularly struggle to purchase menstrual products due to lack of income," said state Rep. Barbara Hernandez (D-Aurora). "Today in Illinois, we're taking steps to help low-income menstruators in our state overcome that burden."
Contact Kristen Thometz: @kristenthometz | (773) 509-5452 |  [email protected]
---