Lollapalooza wasn't the only event making noise downtown this weekend.
Caravans of motorcycle riders across the city were performing stunts and making a lot of noise.
Michigan Avenue resident Alan Ruffin says the problem has become an almost daily occurrence. 
"I've lived in the neighborhood for 20 years and I've never heard the noise level to this extent before," he said. "Between motorcycles and cars with modified engines, it'll drown out my radio, television, it's that loud."
Ruffin says he's witnessed drag racing, wheelies and other stunts along Michigan Avenue and Roosevelt Road.
James Levine, who lives off of Wabash Avenue in the South Loop, says the noise starts between 9-10 p.m. and goes until 2-3 a.m. "It used to be isolated on just the weekends, but we're hearing it during the week as well," he said.
The groups usually organize via social media and attract riders from the city, suburbs and over the border in Indiana and Wisconsin.
DuSable Lake Shore Drive has long been a favored destination, but the problem has also spread to neighborhoods.
"It sounds like you're being taken over by some foreign force," said Deborah Gershbein,  president of Streeterville Organization of Active Residents. "We've never had anything like this before and apparently nothing is being done to stop it."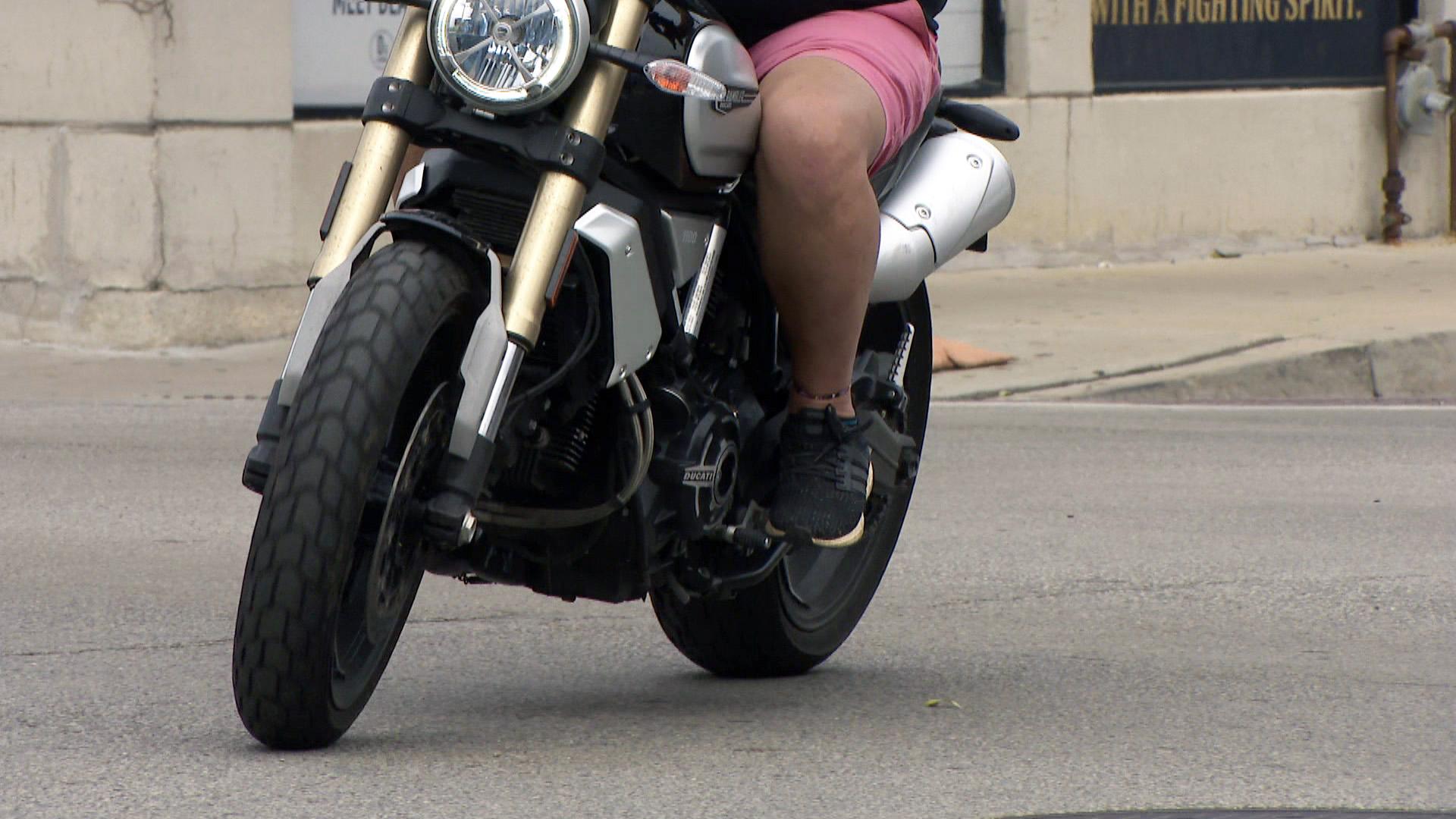 A person rides a motorcycle in Chicago. (WTTW News)
Gershbein and other residents we spoke with say they wonder why law enforcement isn't stepping in.
"There are no consequences at this point, and until the city comes up with consequences for criminal activity, what's going to stop them?" Gershbein asked.
Ald. Brian Hopkins, 2nd Ward, says these caravans are lawless — but law enforcements' hands are tied.
"It's not that we need more laws on the books, we need to more effective enforcing the laws on the books right now," he said.
Hopkins says there are video and audio scanners that can detect this type of activity. But its hard for police to go after offending riders because chases can turn deadly.  He says City Council might have to pass an ordinance to go after the body shops that soup up the vehicles.
"Almost every one of them has an illegally modified vehicle that is not street legal and shouldn't be driving on the public way," Hopkins said.
As with crime, police Superintendent David Brown blames the court system, saying there are too few consequences for offenders.
"We do what we can in citing and arresting them where appropriate, but it is the courts that don't," Brown said. "Low-level crimes are just a thing of any consequence in our courts … the revolving door spins quickly for traffic violations, if at all."
That is likely little comfort to residents who say the problem is making their neighborhoods almost unlivable.
"Moving is definitely a consideration at this point if nothing can be done to curb this," Ruffin said.
Follow Paris Schutz on Twitter: @paschutz
---