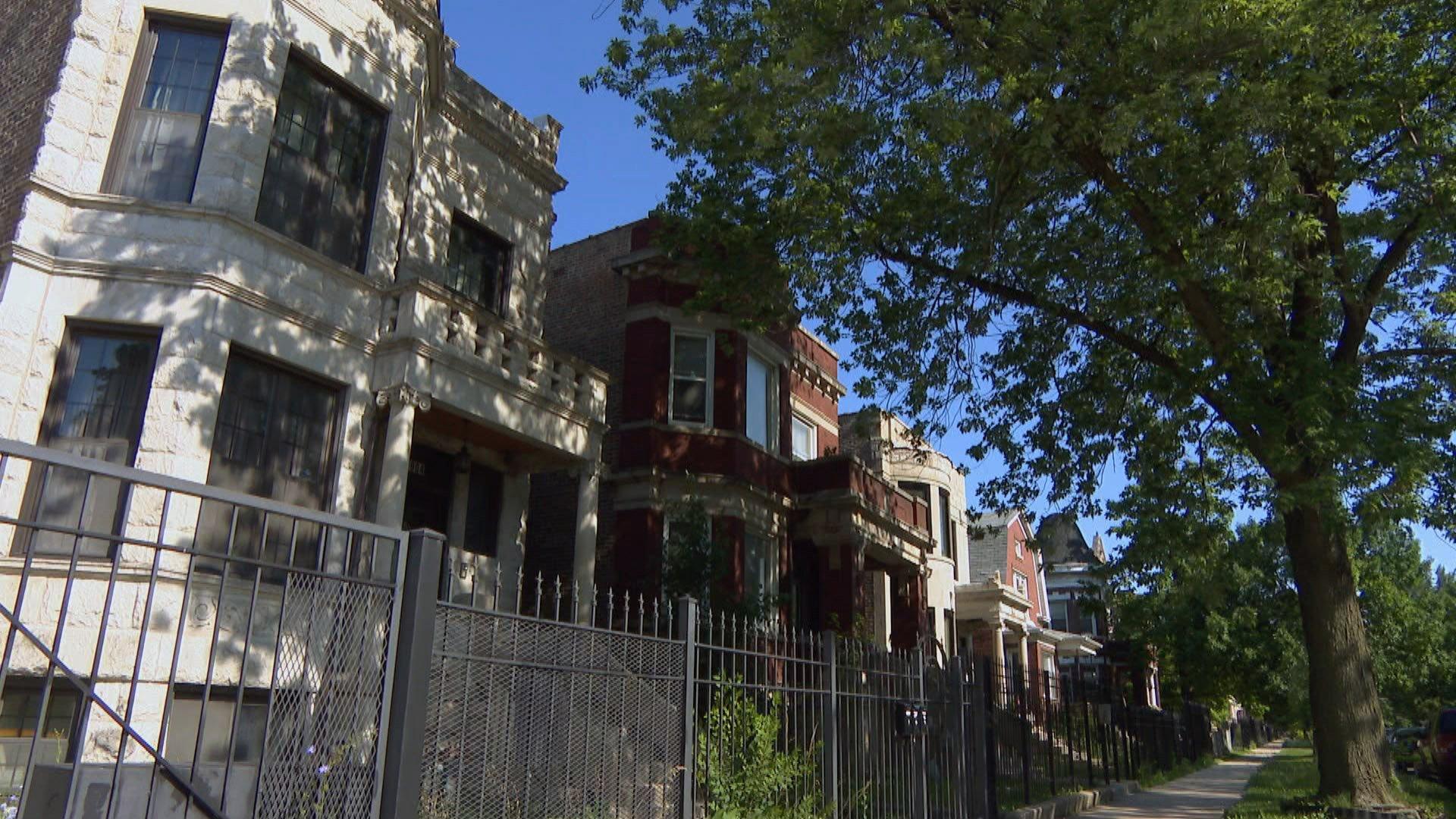 In this file photo, houses sit behind metal fencing on a tree-lined street in Chicago. (WTTW News)
Gov. J.B. Pritzker signed legislation Thursday that creates new resources and incentives to finance affordable housing across the state and helps low-income residents access assistance for heat and other utilities.
"These two new laws mark another step forward by state government on our collective mission to ensure all our residents have the basic foundation upon which to build a successful future for themselves and their families," Pritzker said at a bill signing ceremony. 
House Bill 2621 directs the Illinois Housing Development Authority to create a COVID-19 Affordable Housing Grant program to support the construction and rehabilitation of affordable rental housing in communities that have been disproportionately impacted by the pandemic. The program will direct $75 million in federal funds from the American Rescue Plan to multifamily development costs in an effort to help keep rent affordable for low-income households. Officials expect it will fund the development and preservation of up to 3,500 affordable rental homes and apartments by the end of 2024.
"Even before the COVID-19 pandemic, Illinois was already facing a shortage of safe, affordable housing for extremely low-income households -- those earning well below the area median income or about $28,000 annually for a four-person household in Cook County," said IHDA Deputy Executive Director Karen Davis. "House Bill 2621 is a tremendous step forward in helping IHDA continue its mission to provide affordable housing for Illinois residents."
The bill, which is effective immediately, also extends the Illinois Affordable Housing Tax Credit through 2026 to encourage monetary or real estate donations to affordable housing developments. That program provides a one-time state income tax credit equal to 50% of the value of qualified donations to affordable housing developments, according to officials. Since the program's inception in 2001, it has led to the creation or preservation of 21,000 affordable rental units statewide, according to Davis.
The bill also creates two separate property tax incentives to support the preservation of affordable housing, including a provision that encourages owners of multifamily buildings with seven or more units to invest in their properties and keep rents affordable by providing reductions in post-improvement assessed value, according to the governor's office.
"What's so great about this omnibus legislation is it's really comprehensive and offers incentives and resources in all types of markets and communities in Illinois," said Bob Palmer, policy director of Housing Action Illinois, an advocacy group that works to protect and expand affordable housing throughout the state. "For example, if there's an owner of a small apartment building here in Englewood who's trying to figure out how to put a new roof on their home or improve their heating or cooling system and keep the rents affordable, provisions in the bill are going to help them get the financing they need to make improvements to the building and keep the rents affordable," he said.
The legislation also strengthens existing state law requiring communities with limited stock of affordable housing to create plans to address their local housing needs, according to officials.
"There's no excuse in 2021 for people in the state of Illinois to be living under viaducts, to be living out of their cars, to be living out of their duffle bag," said state Rep. Will Guzzardi, who called the legislation "an incredibly important step toward making sure everyone in Illinois can be housed."
Last year, the state temporarily expanded eligibility to the state's Low-Income Heating and Energy Assistance Program amid the pandemic, which resulted in 289,000 families receiving $343 million in utility assistance, according to Pritzker.
"Having a roof over your head is only one component of shelter. It's also having heat on a frigid night in the winter or cooling your home in a dangerously hot summer day," Pritzker said.
The governor also signed Senate Bill 0265, which is effective Jan. 1 and permanently increases access to the Low-Income Heating and Energy Assistance Program for families with young children and expands access to undocumented residents.
Contact Kristen Thometz: @kristenthometz | (773) 509-5452 |  [email protected]
---