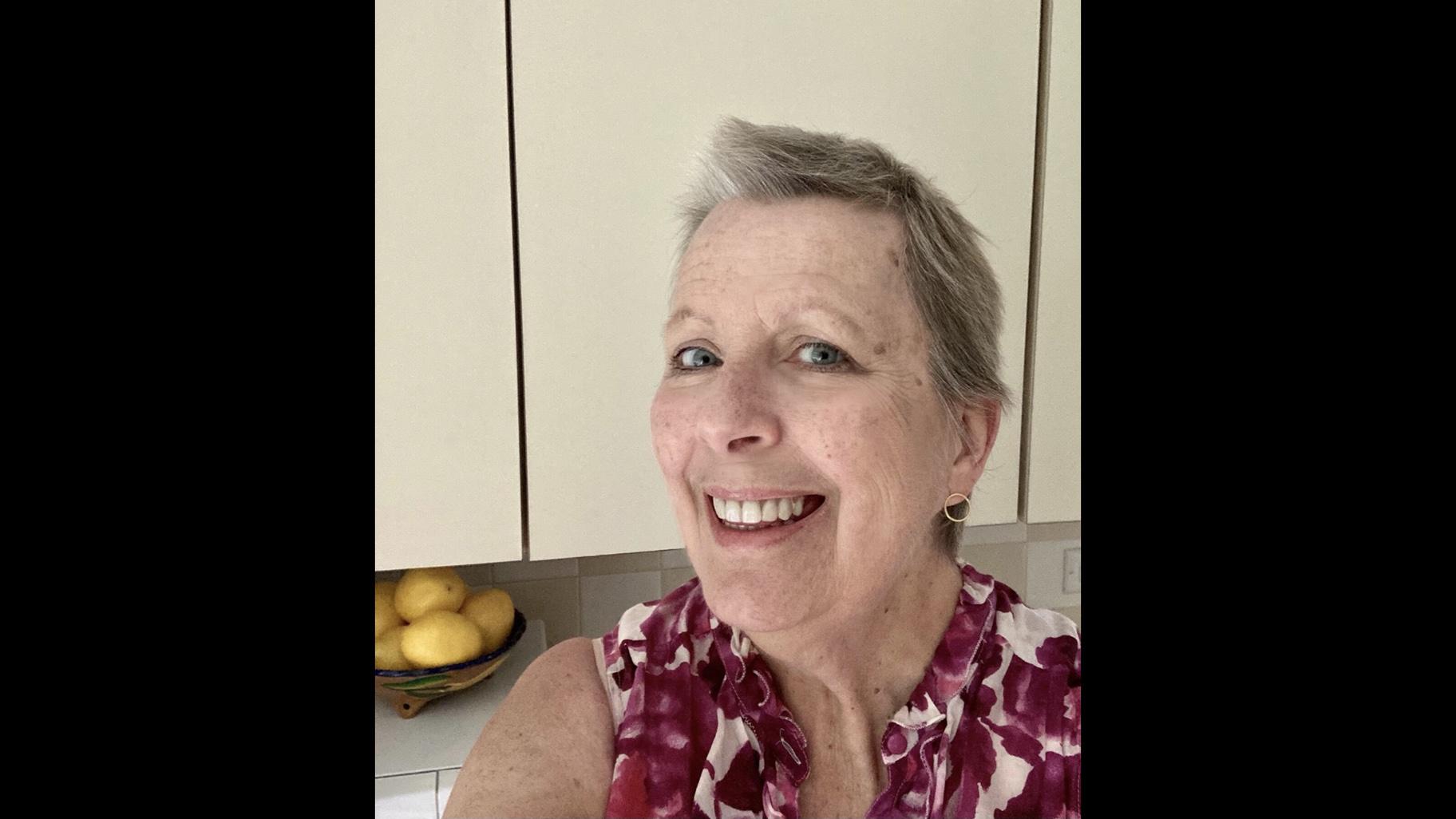 Wheaton resident Jeri Davis was diagnosed with an aggressive form of non-Hodgkin's lymphoma last September. (Courtesy Jeri Davis)
Wheaton resident Jeri Davis had certain preconceptions about chemotherapy before she began treatment last year for an aggressive form of non-Hodgkin's lymphoma.
"I thought it's all supposed to be quiet and reserved, but it wasn't," she said. "I heard nurses cracking up at the nurses' station."
Inspired by the nurses and their unexpected laughter, Davis began to jot down some of her irreverent thoughts about cancer and her hourslong chemotherapy sessions. 
"I like to write," Davis said. "I envisioned keeping a chronicle of this. … So, I started writing some one-offs about my chemo."
These slice-of-life moments described how she felt when, for example, she was confronted with a drawer full of headbands she no longer needed.
"What am I supposed to with all these headbands?" Davis pondered. "I don't know where the thoughts came from, but I just kept writing them down."
Davis' nurse and oncologist encouraged her to share her musings with others "because people don't always think they can laugh or think like this while they're going through chemotherapy," she said.
Soon, she had more than 50 one-liners about her experiences. With the help of more than a dozen artists, Davis has turned her witty insights into a coloring book aptly titled "Greetings from Chemo Country."
"A year ago, I didn't know I had cancer. Now I have a book and this great community of people who came together," said Davis, who has been cancer free since March.
(Courtesy of "Greetings from Chemo Country." © 2021)
Rather than write a traditional book, Davis opted for a coloring book. "Part of it was I wasn't coming up with paragraphs at that point in time because of the chemo brain fog. One-offs, yeah, I had plenty of those," she said. "Those tend to lend themselves better to illustrations."
Davis also saw the role coloring books could play in chemotherapy. "TV can be boring, and sometimes, when you're done with that chapter in a book you need a break," she said. "I had gotten into some adult coloring books with patterns."
Davis, who had worked in advertising, turned to friends and colleagues to illustrate her one-liners. Artist Cheryl "Cookie" Cook was among those who donated her time and talent to the endeavor.
Cook said she was fearful and heartbroken when she heard about Davis' cancer diagnosis. "But in her usual fashion, Jeri made lemonade out of lemons," Cook said. And she wasn't surprised that Davis was able to find humor and lightness in her situation. "That's just her nature. … She's always had a great sense of humor," she said.
Take, for example, Davis' thoughts about losing her long hair during chemotherapy: "You sit there and you see your hair falling out, and say, 'Well, this is a really expensive haircut,'" she says, laughing.
Or how she felt when she tried to find gifts for the medical professionals who she credits with saving her life.
"We were coming up on the holidays, and I wanted to give something to my chemotherapy nurse and doctor – something that acknowledges them and their support. I remember how awkward I felt when I gave my oncologist a jar of candy," she said. "It's like, you saved my life. Here, have some candy."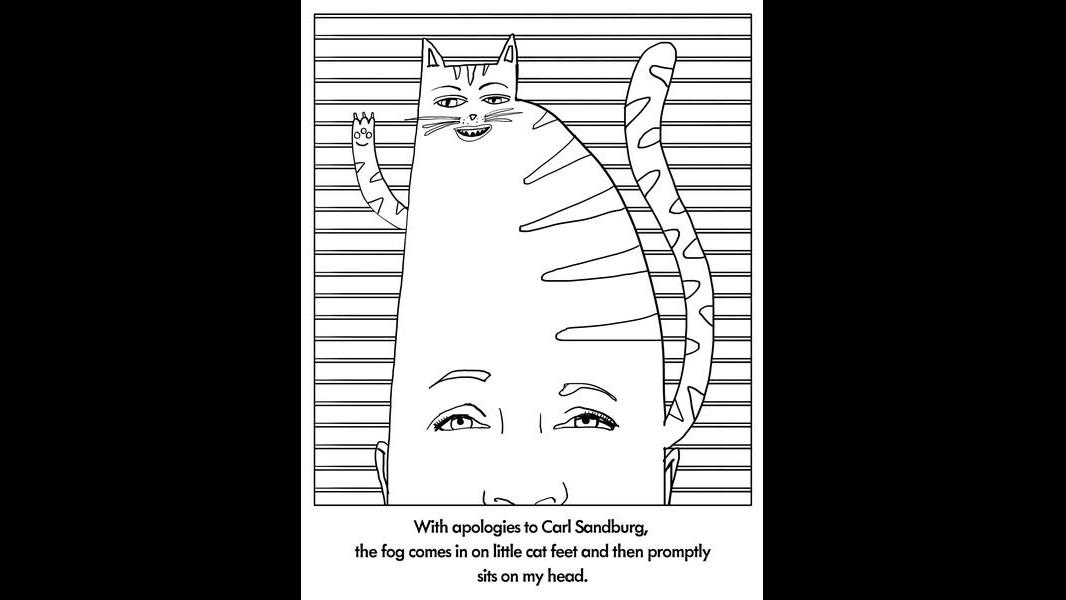 (Courtesy of "Greetings from Chemo Country." © 2021)
Artist Tim Souers submitted multiple illustrations for the book, including what became the book's cover, which depicts Davis' head as a billboard.
Another of his illustrations fuses Davis' head with a cat.
"I made a comment that my chemo brain came in on little cat feet — with apologies to Carl Sandburg — and that it sat on my head and the fog just overtook me," Davis said, laughing about Souers' illustration of that thought.
Souers, whose close friend Brad Morgan died a few years ago from cancer, sees the coloring book as filling a void. There are many inspirational and motivational gifts you can give to someone who has cancer, he said, but often, they lack insight into the experience of living with that reality.
"There's nothing that really talks to them at a kind of a cancer level, if you will," Souers said. "Something like this coloring book that has so many different ideas in there —somebody's going to relate to that."
As for Davis, she hopes the book helps others.
"I needed to smile along the way cause this was not easy," she said. 
Chronicling her experiences helped take her mind off her diagnosis and treatment, and she said it gives permission to others in her situation to have a sort of "inside joke."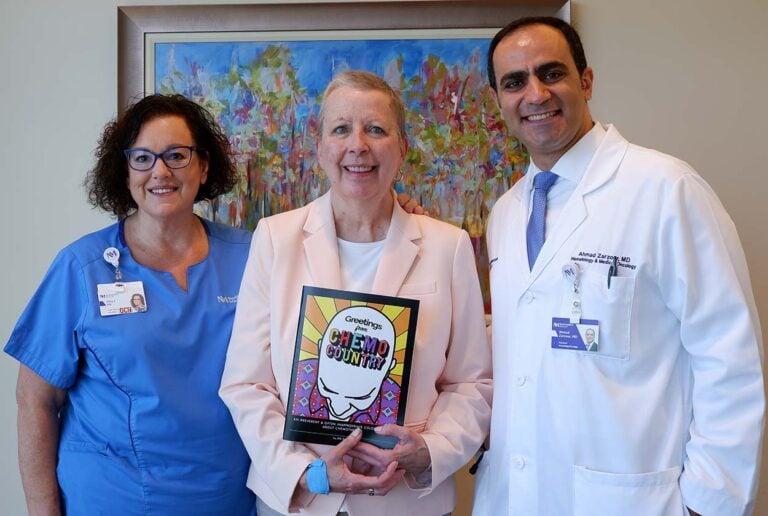 Wheaton resident Jeri Davis (center) poses for a picture with her chemotherapy nurse Amy Forde (left) and Dr. Ahmad Zarzour. (Photo by Michelle Green)
Northwestern Medicine's LivingWell Cancer Resource Center in Geneva has started sharing pages from "Greetings From Chemo Country" with its patients, according to Director Angela McCrum.
"There's so much relatable material in here, and we presented it to patients who are in the right frame of mind," McCrum said. "Not everyone will find humor in losing their hair or having one eyelash. Jeri wrote in her foreword that she recognized that and the book was of her own experience, and she felt so grateful that she hoped the book would bring some smiles to people going through the same experiences."
The center has received positive feedback from patients who've received pages from the book, according to McCrum. "Having humor can be therapeutic and healing."
The book is also timely. During the coronavirus pandemic, patients have been unable to have visitors during their chemotherapy sessions.
"Cancer's such a lonely and isolating journey anyway and then couple that with COVID, it intensifies that feeling of isolation when you can't have a familiar person with you," McCrum said. "This isn't the same as having someone hold your hand, but we felt it was important to have our art instructor do chair-side art and to use Jeri's book."
The center plans to have Davis and the art instructor host a class together in the fall.
Meanwhile, Davis is planning to make another coloring book and is working on possibilities with an organization that caters to children who have cancer.
"Greetings from Chemo Country" is available online for $20. Proceeds will go toward promoting art and humor in chemotherapy, according to Davis.
Contact Kristen Thometz: @kristenthometz | (773) 509-5452 |  [email protected]
---