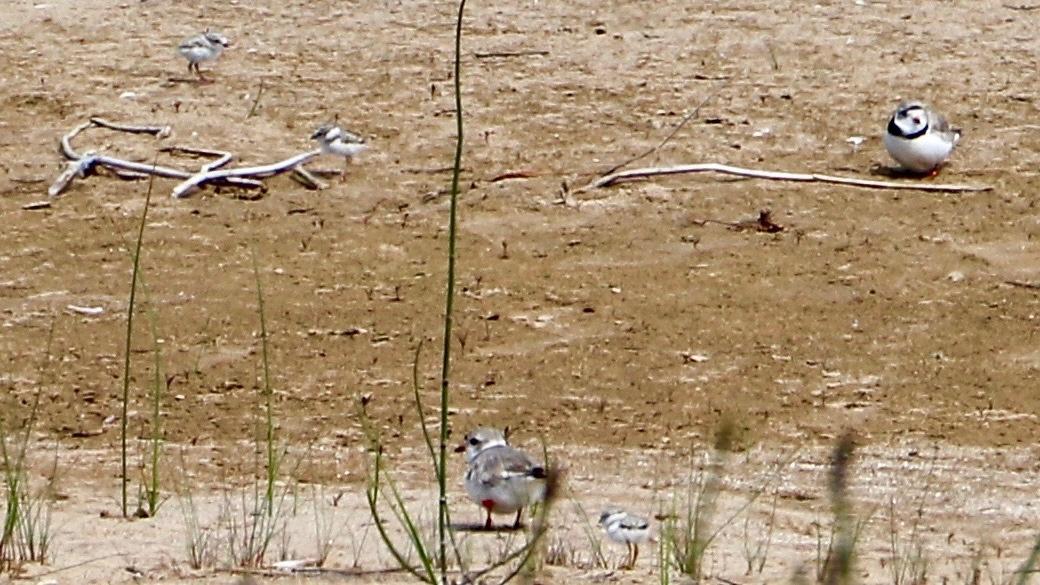 Monty and Rose with three chicks, photographed July 9, 2021. (Evan Garcia / WTTW News)
Two days after welcoming three healthy chicks, Monty and Rose, Chicago's beloved piping plovers, added a fourth hatchling to their growing family, the newcomer arriving thanks to a little help from the Lincoln Park Zoo.
Wildlife officials had been keeping a close eye on the plovers' nest at Montrose Dune, where Monty and Rose have been incubating four eggs since mid-June. The first three hatched between Wednesday and Thursday but the fourth did not. At that point, Monty and Rose turned their attention to raising their chicks and halted incubation. 
Wildlife officials were able to rescue the egg and it was taken to Lincoln Park Zoo, where the zoo's brooder kept the egg safe and at the right temperature. The fourth chick hatched Saturday — strong, healthy and vocal, zoo officials said — and after evaluation, it was reintroduced to its family.
Rose immediately ran over and began brooding and caring for the chick, which is visibly smaller than its siblings but already making small forays of its own in search of food, according to Louise Clemency, field supervisor for the Chicago office of the U.S. Fish and Wildlife Service.
"We are so grateful to our partners at Lincoln Park Zoo, who are always ready to help us at the last minute and provide their expertise to get as many healthy piping plovers back out into the wild as possible. In this case, their care and their careful release were a huge success," Clemency said via email.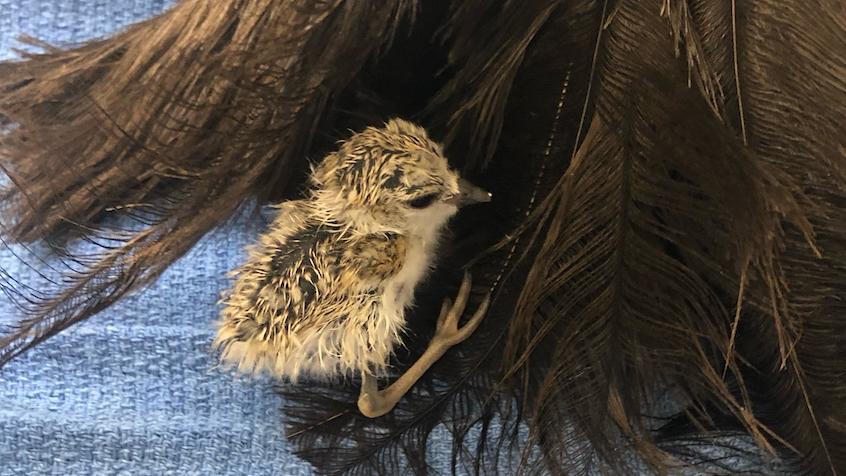 Monty and Rose's fourth piping plover chick, hatched at Lincoln Park Zoo. (Courtesy of Lincoln Park Zoo)
A similar situation arose in 2019, the first year Monty and Rose nested at Montrose. In that instance, a fourth egg also didn't hatch, but a rescue attempt was deemed too risky, with the anxious plover parents keeping their other three chicks close to the nest. In 2021, with Monty and Rose straying further away, it was possible to save the fourth egg.  
The win is being celebrated by U.S. Fish and Wildlife Service, Illinois Department of Natural Resources, Chicago Park District, Lincoln Park Zoo, Chicago Ornithological Society, Illinois Ornithological Society, Chicago Audubon Society and all of the many dedicated volunteers monitoring the birds around the clock.
"We are honored to play a part in the recovery and conservation efforts of these incredible plovers," said Sunny Nelson, Hope B. McCormick curator of birds and wildlife policy at the zoo. "We are cautiously optimistic but remain hopeful the chick will thrive alongside its parents."
Contact Patty Wetli: @pattywetli | (773) 509-5623 |  [email protected]
---